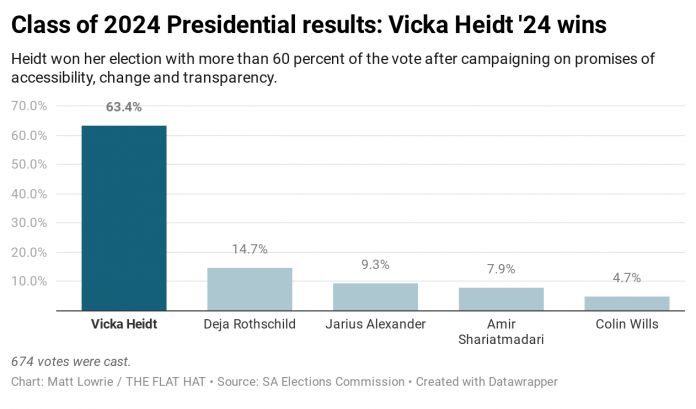 Thursday, Sept. 17, the College of William and Mary's Student Assembly held its annual elections. Freshmen cast ballots for the class of 2024 presidency and four Senate positions, and students also voted in special elections for two vacant class of 2021 Senate seats and one unoccupied class of 2023 Senate seat. 
Headlining the competitive class of 2024 races, Vicka Heidt '24 was elected as class of 2024 president, while Sailor Y. Miao '24, Mia Tilman '24, Gloriana Cubero Fernandez '24 and Isabella Strauss '24 were elected to become the class's new senators. 
Randy Riffle '21 and Helen Tariku '21, as well as Shaunna Scott '23, were elected to fill vacancies in the class of 2021 and class of 2023 respectively.
"I would just want to thank the class of 2024 for electing me to be their President," Heidt said in a written statement.  "This campaign was the product of the hard work of so many passionate students that want to make a difference here on campus.  I am so excited to ACT and serve the class of 2024!" 
680 students voted in the class of 2024's elections. The special election for the class of 2021 Senate seats saw 355 students cast ballots and the special election for the class of 2023 Senate race resulted in a voter turnout of 451 students. 
In the class of 2024 presidential race, Heidt won 427 votes, winning by a margin of 328 votes. Heidt's contenders for the presidency all received less than 15 percent of the vote; Deja Rothschild '24 received 99 votes, Jarius Alexander '24 received 63 votes, Amir Shariatmadari '24 received 53 votes and Colin Wills '24 received 32 votes. Karam Soufi '24, a former presidential candidate, was removed from the ballot today following his failure to submit mandatory campaign finance paperwork to SA's Elections Commission.
In the class of 2024 Senate race, Miao received 360 votes, Tilman received 324 votes, and Cubero Fernandez and Strauss both received 212 votes. Students are able to cast ballots for up to four Senate candidates.
In her platform, Tilman articulated her desire to represent the entirety of her class, and said she is qualified to fill this role because of her dedication to equality and accessibility. 
"It is simply not enough for the William & Mary institution to serve just the majority of students," Tilman said in a written statement on her campaign Instagram page. "It is our duty as members of the community to ensure that every student feels safe, comfortable, accepted, appreciated, and celebrated on campus. While it is true that progress has been made in recent years on our William & Mary campus, we can always do better. As a woman of color and an intersectional feminist, I am unwaveringly committed to fighting for equality and accessibility for every underrepresented and marginalized student on campus." 
Cubero Fernandez also highlighted the importance of discussing campus inequities in her platform. Additionally, she conveyed concerns many students have for their health and social well-being amid constraints related to COVID-19.
Strauss also emphasized oddities of the 2020-21 academic year in her campaign platform, promising to do her best to create opportunities for her constituents despite restrictions.
Miao addressed COVID-19 concerns as well, but instead focused his campaign on looking towards the administration's testing procedures. He suggested that the administration has lacked transparency during this crucial time, and he plans to make progress on this as a senator. 
"Our school is doing 'better' than many many schools across the country in terms of the coronavirus count," Miao said in a written statement on his campaign Instagram page. "But it's far from enough. They messed up when they chose Kallaco and still lack transparency that every student at W&M deserves … As your senator, I will push the school to be more transparent about the numbers and ways to contain the virus."
"Our school is doing 'better' than many many schools across the country in terms of the coronavirus count. But it's far from enough."
Simon Zhang '24 fell just 20 votes short of securing a senatorial seat, earning 192 votes, followed by Hudson Fortney '24 with 176 votes, Ciara Curtin '24 with 171 votes, Sarah Kopp '24 with 160 votes, Bartholomew Kaminski '24 with 144 votes, Austin Doyle '24 with 104 votes, Daly Martorano '24 with 98 votes, Stavan R. Bhakta '24 with 90 votes, Mark Ledeczi Domonkos '24 with 81 votes and Noah Lansing '24 with 73 votes. 
In the class of 2021 race, newly elected senators Riffle and Tariku received 218 and 209 votes respectively, out of 355 students voting to fulfill the class's two senatorial vacancies. John Lesko '21 fell short with 195 votes. 
Riffle ran a platform centered around increasing permanent outdoor spaces and seating, improving physical accessibility, advocating for students and athletes and improving parking.
Tariku, who previously served as SA Attorney General and has run for the class of 2021 presidency twice, emphasized COVID-19 precautions, diversity, equity and inclusion as her primary platform objectives.
"One of the main changes things that I would like to see changed that is something I'm passionate about is mental health reasons and issues caused by the recent pandemic and remote learning –faulty internet connection, lack of resources at home, and more need to be considered reasonable excuses by faculty and the administration for classes," Tariku said. "I feel that especially now we need to be more considerate and empathetic towards students in regard to academia since we are not in a completely new and unfamiliar time."
In her successful bid for the class of 2023's vacant seat, Scott ran a campaign focusing on transparency from both the administration and within SA. Additionally, Scott discussed mental health and possible solutions she would like to see in SA, including organizing student-run support groups, creating more representation for all students, and acquiring more counselors at the College. 
Lastly, Scott made diversity a priority of her campaign, discussing possible implementations like an SA race and diversity forum, organizing more events for multicultural groups on campus, and implementing an anonymous reporting system around bias, discrimination and microaggressions. 
In the race for the one vacant class of 2023 Senate seat, Scott secured the win with 198 votes. Kieran Mangla '23 fell short with 104 votes, followed by Riya Chhabra '23 with 89 votes and Anna Kuzmic '23 with 60 votes. 
The newly elected SA members will attend their first Senate meeting Tuesday, Sept. 22.