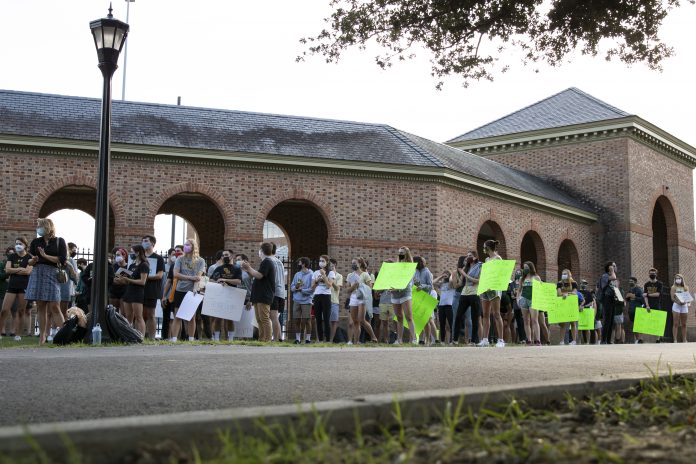 Students athletes associated with College of William and Mary's seven cancelled varsity sports organized a "Save Tribe Sports Rally" Wednesday Sept. 23 in front of Zable Stadium and the Alumni House. The rally occurred in response to the College's termination of several athletic programs, including men's and women's swimming, men's and women's gymnastics, men's indoor and outdoor track and field and volleyball.
Numerous athletes, students and community members attended the rally, with student athletes on the cut teams giving speeches to urge the College to reverse its decision.
Track and field athlete Spencer Tsai '21 expressed frustration and disappointment with the administration but emphasized the athletes' willingness to fight a prolonged battle to reinstate their sports.
"We feel that the decision made on Sept. 3 was a product of mismanagement," Tsai said. "A lot of the decisions that the current administration has made have reflected poorly on the program. We feel that the tradition that comes with the programs here has clearly been mistreated. There's been such a lack of transparency. Hopefully tonight we get answers. If we don't, we're going to keep fighting. I want everyone to know that all the seven teams represented here, especially Track & Field, we're not backing down."
The College cited financial concerns as the main reason for the cuts, and Tribe Athletics projects to save $3.66 million annually as a result of this decision. The decision prompted financial responses from alumni and student athletes; within two weeks of campaigning, the swim team raised $1 million towards maintain their varsity status. However, the College said this amount would not be enough to reinstate the team. According to an FAQ on the Tribe Athletics website, an endowment of at least $150 million would be needed to save the teams, though it did not explain how this number was calculated.
"The decisions to reduce our sports offerings are final, and any future philanthropic gifts intended for these sports may be directed towards supporting scholarships and existing programs to help promote the future success and financial sustainability of W&M Athletics," the FAQ said. "Despite the support of many generous donors, their support can not be expected to cover the increasing cost of sustaining 23 competitive programs."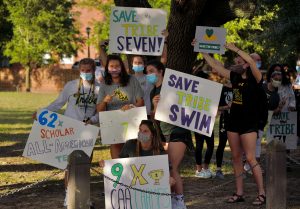 The athletes were notified of the College's decision earlier this month during a seven-minute Zoom call with Athletic Director Samantha Huge, during which the athletes were not given the opportunity to respond or ask questions. This position is Huge's first as a university athletics director. Previously, she has served as an assistant AD at several universities, including Georgetown University and Texas A&M. Huge has been at the College since 2017.
Huge has come under controversy for her department's decision, as well as for her use of phrases taken verbatim from a similar notification of varsity sports cuts at Stanford University in a letter she sent out to student-athletes. Huge responded with a statement, in which she claimed to have consulted with peers at Stanford to emulate but not imitate best practices.
As the administration manages ongoing communication issues brought on by the plagiarism allegations, many cut teams have taken to social media to fight for their survival. Several athletes said that Huge had blocked them on Twitter in response.
At the rally, Gymnast Christian Marsh '22 addressed the crowd, highlighting the cutting of Olympic sports and asserting that the cuts were a blow to the values of the College.
"What happened to this College is a shame," Marsh said. "I came to William & Mary to compete in Division I college gymnastics and pursue my academics at the highest level possible. Olympic sports have been getting slashed across the country for decades. We are some of the most accomplished athletes and students to ever walk on this campus. If they think we're going to go down without a fight, they're wrong. That's not what we stand for here. This is what we do — we're fighters."
The teams produce more than just athletic success, according to swimmer Elizabeth Intihar '23.
"These programs have done a lot for the school and they've produced not only great student-athletes but also wonderful people," Intihar said. "I don't think that they're finished doing that and I think they should be able to stay in existence."
Track and field athlete Colin Grip '21 said that the rally was planned to align with the Board of Visitors meetings, which began Wednesday evening. After the rally, many students, alumni and community members lined up to deliver remarks to the board.
Grip was encouraged by the turnout from other students and members of the Williamsburg community.
"It's really great to see all these people," Grip said. "Obviously, we knew it affected everyone on the teams that were cut, but seeing people from the community—coaches, parents, and other students—is kind of humbling. It reminds you that we're not alone in this."
A nine-year-old local resident Lauren Inge came to the rally with her parents. Inge trains at Williamsburg Gymnastics and hopes to one day be a collegiate gymnast herself but is disappointed that she will no longer be able to watch College gymnasts compete. Many gymnasts at the College also foster gymnastics programs in Williamsburg, potentially undermining the local gymnastics scene.
"It's really great to see all these people. Obviously, we knew it affected everyone on the teams that were cut, but seeing people from the community—coaches, parents, and other students—is kind of humbling. It reminds you that we're not alone in this."
"A lot of the coaches at my gym are on the teams," Inge said. "Most of my coaches may stop coaching."
Cindy Walker owns Williamsburg Gymnastics with her husband Peter Walker '93, who competed as a member of the Tribe gymnastics team during his time at the College. Walker came to the rally to show support as well as to deliver a speech to the Board of Visitors highlighting the implications of the cuts on the surrounding community. Williamsburg Gymnastics relies on members of the College's gymnastics team to serve as dedicated coaches and mentors for younger gymnasts. Walker also noted the involvement of other teams, such as Tribe Swim, in youth leagues.
"Not to negate from anyone else or any other team, but I think it's very short-sighted," Walker said. "The athletes, for swimming and for gymnastics, coach in this community consistently. The summer swim leagues don't happen without the William & Mary athletes. Our coaches who work with the kids are all alums and they mentor our kids in such an amazing way. They show our kids that there is more than just one path and how to be good leaders and how to be good role models. That if you work hard, you can achieve anything. That's why it's really important. It devastates the whole community because this is a huge swimming and gymnastics community. They're cutting their nose to spite their face."
Walker said she was disappointed by the way the College's student athletes were treated during the decision process and highlighted a need for greater transparency.
Like many of the athletes, swimmer Christopher Pfuhl '21 questioned the wisdom of the decision given what he feels is a lack of evidence from the athletic department for the justification of the cuts.
"We were really disappointed on Sept. 3 when we were unceremoniously cut by the school and the athletic department," Pfuhl said. "We feel it was a wrong decision. We feel it was made in haste without true hard data. We're looking for accountability from the athletic department. We're looking for accountability from the school as a whole. We want answers and they have yet to give them to us."