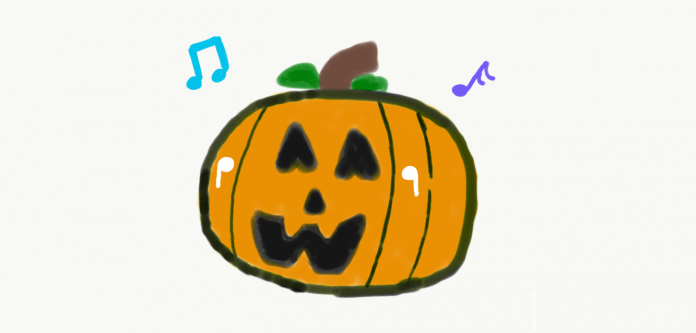 I have always loved Halloween; my childhood best friend's mom was born on Oct. 31 so we have a lot of tradition surrounding that day. Furthermore, I began my emo phase with my adoration of the "Nightmare Before Christmas" when I was nine years old. Every year, that best friend would host Halloween parties where we would get in costume, eat Halloween-themed goodies, and dance to Halloween-themed music. Now, flash forward to 2017: my distaste for Christmas music at an all-time high, I wanted to stop my friends from listening to Mariah Carey's "All I Want For Christmas is You" as soon as October began, so I started my Halloween playlist.
It began with, of course, the "Nightmare Before Christmas" soundtrack, in addition to the best of Tim Burton's "Corpse Bride" and the "Other Father Song"  from the "Coraline" movie soundtrack. I scoured Halloween playlists on Spotify in an attempt to find more music, but once I added the classics like "Monster Mash," "Time Warp" and "Purple People Eater," I had exhausted most of the inspiration that I would get from other people's playlists. By August of this year, I was already getting into a spooky music mood and was occasionally listening to my six-hour long playlist that included a few classic rock hits like Blue Oyster Cult's "Don't Fear the Reaper" and CCR's "I Put A Spell On You," as well as some alternative rock like "I Don't Belong Here" by Travelers and "Drunk on Halloween" by Wallows. However, during my two-week complete lockdown after a close contact with COVID-19, motivation struck.
Every year I have people try to tell me that there isn't Halloween music, and every year that drives me to make my Halloween playlist even longer. Since the semester started, I have added 13 hours' worth of music to this playlist by scouring the depths of Spotify and searching for keywords that might give me Halloween-themed music. First, I must say, there are a lot of bedroom trap — as well as so many Wiggles-wannabe — music groups making Halloween music, but those have not contributed to the 19 hours of music I have curated thus far. I have kept some level of integrity in my choice of music added to this playlist, attempting to give it some variety in genre so that anyone can find music they like.
The part of this playlist that I am most proud of, though, is that I have it ordered by genre, to the best of my ability. This playlist starts with children's Halloween including the Wiggles, "Calling All The Monsters" and a few appearances of Disney Villains. It then goes into classic Halloween, with songs like the Glee mashup of Michael Jackson's "Thriller" and "Heads will Roll" by the YeahYeahYeahs or "Witch Doctor" by David Seville. Here is where the music gets just subtle enough that if my sister hands me the aux on our trip to the mountains this weekend, I'm sure that I could play quite a few songs before she caught on. I put more jazz-inspired music up top, with "Trick or Treat" by Chuck Berry and "Witchcraft" by Frank Sinatra. Gradually, my playlist moves into classic rock with "Dead Man's Party" by Oingo Boingo and "Witchy Woman" by the Eagles. The music then blends older punk rock bands like the Misfits with "Pumpkinhead" into Billy Cobb with "Killer Clowns." That pushed the genre into alternative rock and indie with Suede Silver's "Spooky Chills" and "Halloween" by Elder Brother. This section is probably the largest, since apparently indie artists really like making Halloween bops. The playlist then features a short pop section with bangers like Jon Bellion's "A Haunted House" and "Monster" by Lady Gaga, before ending with R&B and trap featuring "Boogieman" by Childish Gambino and "Halloween" by Kodak Black, and to end it all, white boy satirical rap featuring hits from vine-stars turned YouTubers Cody Ko and Danny Gonzalez.
This fall, there won't be any Halloween parties or hanging out in a friend's dorm watching scary movies, so join me Saturday, Oct. 31 in listening to spooky-themed music while re-wearing an old costume and munching on a personal bag of candy all day. This holiday typically serves as a break in our busy, never-ending midterm season and I will do my best to spread spooky joy this October. Halloween is the only thing that stands in the way of many Christmas-music listeners starting their season on the first day of fall. I will do my best to delay this as much as possible, so tune in next month to hear about my Thanksgiving playlist.
Becca Klinger '22 is a Sharps and Flats columnist who wants you to put away the Christmas themed music and spend some time savoring Spooky Season before the candy-filled holiday goes away for another year.
Listen to Becca's playlist by clicking here or using the embedded player below.