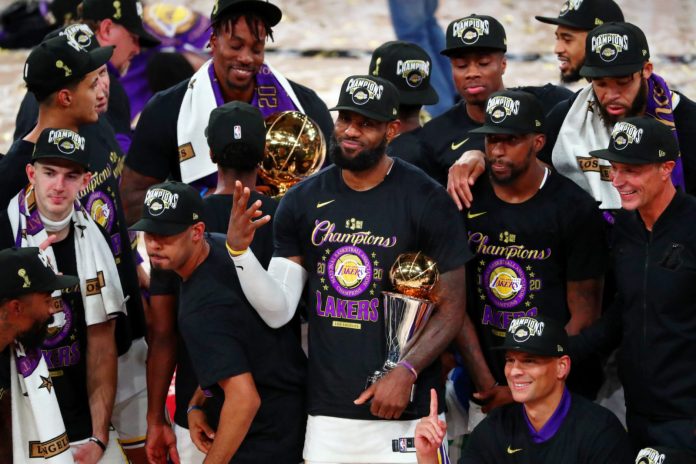 Sunday, Oct. 11 marked an extremely anticlimactic conclusion to one of the most competitive NBA playoffs in recent memory as LeBron James and the Los Angeles Lakers, as predicted by my co-editor Zoe Beardsley '22, captured the 2020 NBA championship and James' fourth title with a 106-93 win over the Miami Heat.
The routine nature of the game was by no means representative of the gravity of both James' fourth title and the unprecedented conclusion to a season that many labeled doomed mere months ago. After the COVID-19 pandemic forced the season to relocate to Walt Disney World in Orlando, Fl. to create a bubble environment, as well as the protests of widespread social injustice around the county, the mental toughness of the players cannot be underestimated. James' title did  not have an asterisk next to it. One could argue that, if anything, this Larry O'Brien trophy was one of the hardest to capture in the modern era.
However, the title means even more than that and is far more important than simply a team winning a championship. In a year where we seem to hear the word "unprecedented" in every other sentence, this Finals made one player's career just that.
One of the most frequently debated and exhausted topics in sports is the 'greatest of all time'  debate, especially in basketball. This typically takes the form of two talk show hosts endlessly bickering over whether Michael Jordan's six rings or LeBron James' perpetual dominance is more important, who was more clutch, etc. And among the many stats and accolades James amassed in 2020 (champion, Finals MVP and runner-up to the league MVP), he entered a class all his own Sunday, becoming the first NBA player ever to win a Finals MVP with three different teams.
This will undoubtedly send daytime sports TV into a frenzy as everyone under the sun hypothesizes whether this means James surpassed Michael Jordan, who won all six of his titles and Finals MVP's with the Chicago Bulls.
2020 has made the debate even more salient still, as sports fans in quarantine were glued to their TVs for the highly anticipated April docuseries The Last Dance, which chronicled Jordan's final championship team and introduced basketball fans of the younger generation to a legend they really didn't know all that well, save a few grainy highlights on ESPN Classic. Then, hoops fans were treated to a display of present-day greatness, as we were all witnesses once again to LeBron James putting up numbers that have become commonplace for him but simultaneously out of this world to 95 percent of the league. The kid from Akron, Ohio versus his idol, the increasingly blurred line as apprentice reaches master.
But this debate will never be solved. These are two players that never went head-to-head and played in completely different eras made up of evolving rules and differential physicality. They were both simply so great that they just cannot be ranked, save the improbability that LeBron James grabs two more titles as he approaches 20 years in the league. So in a world where sports discourse is increasingly given attention regardless of whether someone is a "stan" or just a hater, would it be too much to ask to take a step back, appreciate the incredible theatre that was these NBA playoffs and appreciate the greatness in front of us as well as the joy it brought to a tumultuous year?
These playoffs felt like the most glorified American Athletic Union tournament of all time, with teams playing in a centralized location and players even running into each other on the ESPN Wide World of Sports complex in Orlando after down-to-the-wire games and posting videos on Snapchat. It gave us exciting new stars like Bam Adebayo and Jamal Murray, buzzer beaters, new chances to laugh at the Clippers and many evenings in which Netflix wasn't the primary entertainment option.
So yes, this result does fuel the fire of the 'GOAT' debate, but it should also be appreciated for what it was — a sports oasis in the desert, a bright spot in a tough year. The players and staff at Disney World deserve praise for providing entertainment amidst  pandemic turbulence.
Jordan and James will never be statistically analyzed to the point of determining a winner. However, this does not mean we can afford to overlook greatness before our eyes in the present. James is especially right about one thing he said after the win: He deserves, as he said in his postgame interview, "his damn respect."