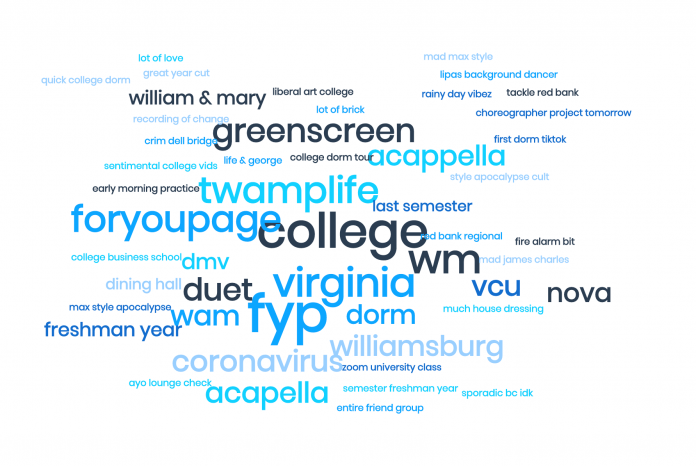 As TikTok — a popular social media platform — rises in popularity, College of William and Mary students have engaged on the app to release academic steam and develop creative content both in Williamsburg and from remote locations. Through a Flat Hat analysis of the captions in Tik Toks created by College students, the most popular hashtags on these Tik Toks are #williamandmary, #college and #fyp.
The hashtags #williamandmary and #college are popular among students at the College on TikTok, through which students offer comedic content and advertise school events or groups. Caitlin Wingertzahn '24 noted that TikToks offer a taste of what campus is like for those who may not be able to visit.
"I know with covid that some of these students may not have been able to visit the campus in person, so knowing that my short video of campus could have helped their decision was a great feeling," Wingertzahn said in a statement.
Due to the isolation of the pandemic, Wingertzahn also said that TikTok offers a platform for students to connect virtually, both at the College and from other universities.
"I think tiktok adds to the w&m experience because it allows students to connect online during a time where it may be hard to do so in person," Wingertzahn said.
Other students talked about how Colonial Williamsburg's scenery is ideal for social media as its aesthetic is perfect for a college student.
"The video I posted was following a trend where people of showed off how beautiful campuses are," Therese Cooney '21 said in a written statement. "Coming from out of state, a lot of my friends don't know much about WM and colonial Williamsburg and always find it so funny when I talk about the re-enactments and what it's like going to school around colonial Williamsburg, so I thought the video would be cute."
Caroline Tucker '24 also commented on how the College campus offers a unique take on the trend of TikToks that use the hashtag #virginia, a popular hashtag among campus TikTok videos.
"I had seen other people do the trend and i knew people would love to see william and mary's campus because it's so beautiful and unique," Tucker said in a written statement.
Outside of the colonial aspects of campus, students also popularly describe what it means to be a 'twamp' – or typical William and Mary person – through the hashtag "#twamplife" in their captions.
The most popular word that William and Mary students used in their captions through the hashtag #williamandmary is FYP. FYP is an abbreviation on TikTok that stands for "for you page," and it is used in hashtags so that the short videos that will land on an individual's curated page for more targeted views and likes.
Cooney's video that includes the tag FYP has about 19.3k likes.
"I think the video got likes just because it was both following a trend and also a bit different from other videos in the trend because it was centered around how unique it is to go to school in a living history site," Cooney said.
Other words such as "Virginia" and "coronavirus" were some of the biggest in the cloud, demonstrating the effects of COVID-19 on a student community and how social media is connected and can help people as a coping mechanism.
"It's a great opportunity to meet new people over the shared interests of william and mary and the app and it allows for us to introduce ourselves through a creative platform," Wingertzahn '24 said.
Methods: The data set analyzed in this article was downloaded through Popsters, a social media content analytics tool.  The article analyzes Tik Toks published between Nov. 28, 2019 and Nov. 18, 2020.