Bryana Moyler '23 is the founder and owner of Beauty by Bri, a hair salon operating between Williamsburg and Norfolk, Virginia.  
"Basically, you look good, you feel good," Moyler said.  
Moyler runs her creative side-hustle while simultaneously attending kinesiology classes and juggling college life.   
She began styling Black women's hair during her senior year of high school, but didn't consider expanding her skill set into a business until she arrived at the College of William and Mary.  
"Once I came to school, at first I wasn't going to advertise," Moyler said. "But people always ask in the group chats like, oh, who does hair on campus? And nobody else would ever say, oh, I do hair. I was like, okay, it seems like I'm the only one that does hair." 
Moyler understands why there's a demand for an independent stylist.  
"Initially, I started doing hair because I just wanted my hair done, basically, and I couldn't really afford to always go to the shop," Moyler said. "Certain styles are kind of expensive, like, you could pay up to $200 for certain braids."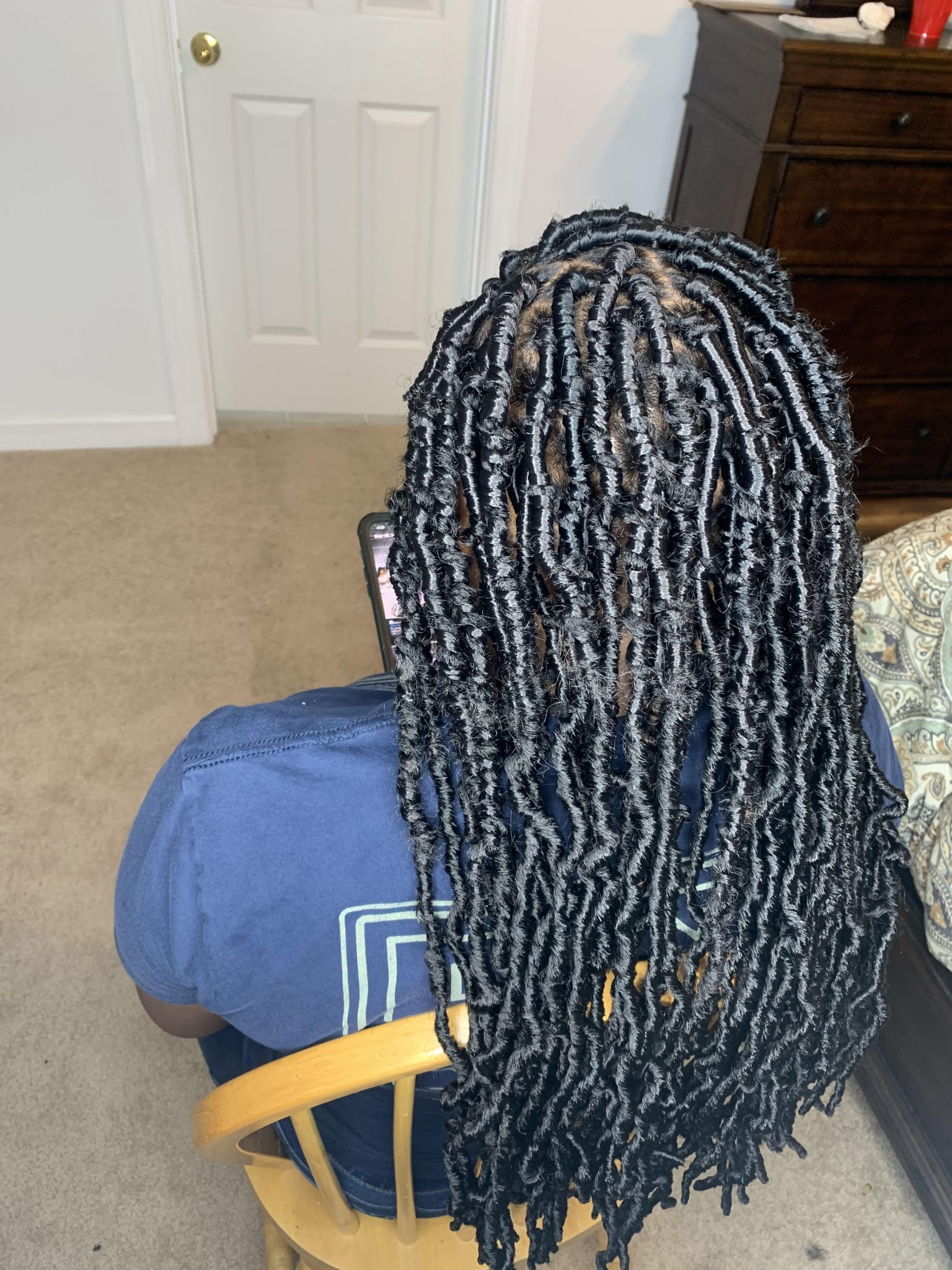 Determined to find a workaround to salons' hefty price tags, Moyler scoured the internet for tutorials and recommendations, practicing on her younger sister's hair. She has come a long way since watching her first YouTube tutorial in middle school. Still, Moyler admitted that building up the confidence to promote her services and work with unfamiliar clients was a laborious process. 
"My family, even my friends, told me, oh, that looks good, it really didn't mean that much to me sometimes because of course, they're going to be positive," Moyler said. "But I would definitely say, once I started getting clients that I really didn't know and they would come back, and also if you look at my hair page and you go from the beginning to now, I just feel like even the aesthetics of the page have improved — that definitely motivates me."  
Throughout the year 2020, Moyler spent a considerable amount of time honing her craft and evaluating her goals. In January, she created an Instagram page to advertise her business. From then on, hairstyling transformed from being a personal routine to a full-fledged service for other women and a steady stream of income. 
"My [New Year's] resolution was like, you know, just take myself seriously, take my skill set seriously [and] build my confidence," Moyler said. "I made a hair page, which I guess when you hear, oh, hair page, you might think that's no big deal. But to me, it really was because I really had no confidence in myself." 
The transition from personal passion to formal business was far from smooth. Hair braiding, Moyler's primary service, is a physically demanding job. Traditional box braids take six hours to complete, and more complex styles like soft locs and goddess braids can take seven and eight hours, respectively. 
"When my business first started, I would try [to braid] in one sitting and braided with no breaks," Moyler said. "So I just [stood on my] feet for eight hours plus braiding. I started to get carpal tunnels in my wrist. I started getting really sick because I wasn't eating."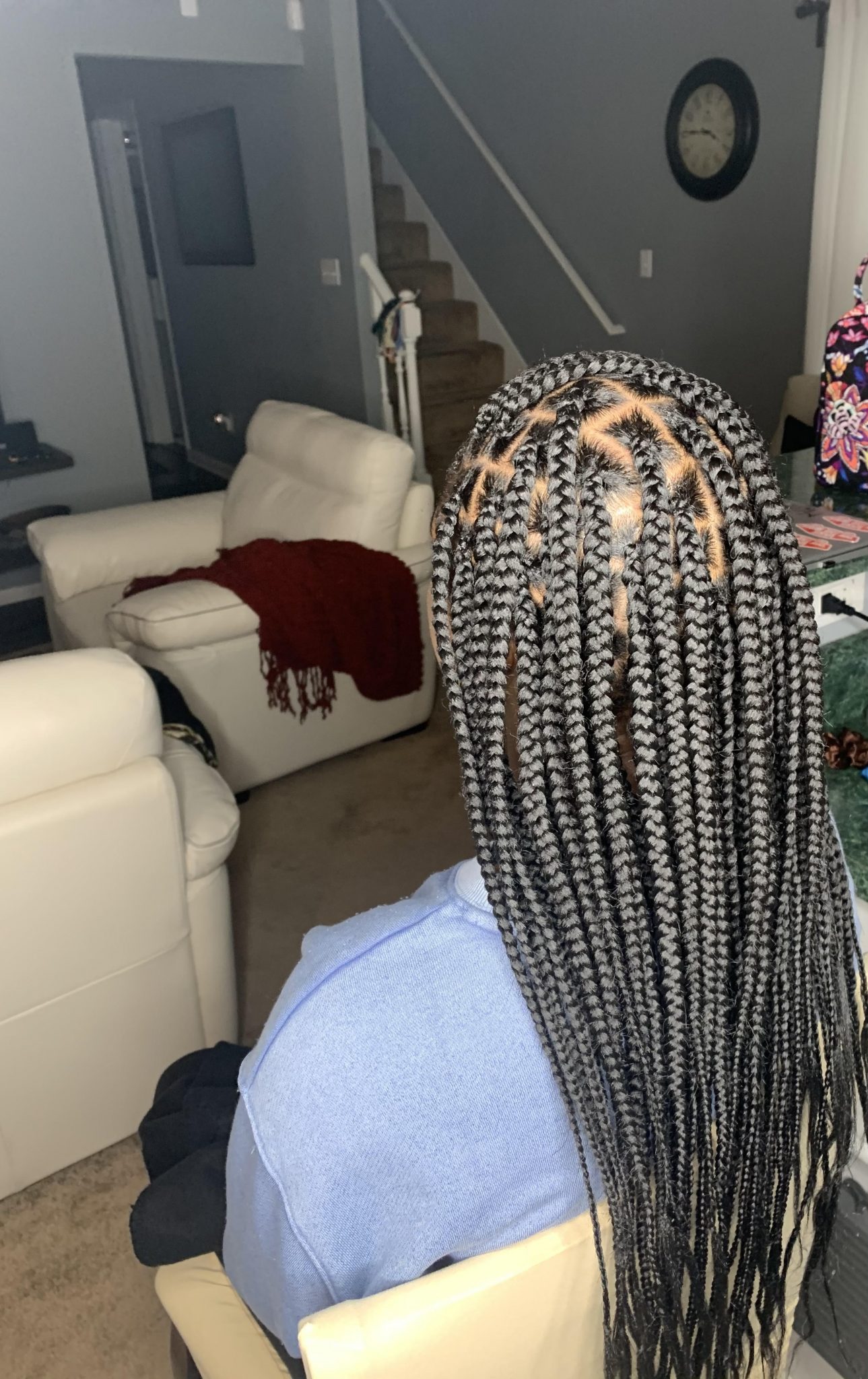 Moyler has since adjusted her practice to incorporate breaks in between braiding, and the past year allowed her to take some time off and reorient the direction of her business.  
"As my skills have grown over time, I can kind of find enjoyment," Moyler said. "Once quarantine happened, I couldn't take on as many clients…and I just had time to really evaluate what I wanted to do. I got to practice different skills, different styles. I was able to broaden my selection of styles." 
Though Moyler has been braiding hair since middle school, she doesn't regard herself as an expert, but rather a seasoned enthusiast. As such, she always strives to improve her work. 
"I take pictures of all my work, so I'm able to literally compare everything, and that has definitely helped me," Moyler said. "It is, I guess, a lot of trial and error. I knew that I couldn't find confidence externally; I had to reflect and, you know, pinpoint exactly what I needed to feel comfortable and confident." 
A little more than a year since creating her Instagram page, Moyler is eagerly envisioning Beauty by Bry's future. Realizing that moving back and forth between Williamsburg and her hometown, Norfolk, cost her customers, Moyler began branching out into wig-making to reach a broader customer base. 
"My thought process was, okay, I need to think of something I can do anywhere — and that's the wig," Moyler said. "I could sit in my dorm; I could make a wig. I could stop. I could go do my homework. So I took a class online. I'm still in the process of learning, I feel like I know how to do them." 
Her game plan is multipronged — and wig-making is only the beginning. Moyler is considering releasing new products, as well as potentially creating a YouTube channel for hair advice. 
"I kind of like to label myself as a naturalist — I'm all about natural hair as well," Moyler said. "I want to branch off into selling natural hair care products, and I think what my plan right now is to make a separate business for that." 
For Moyler, hair care and hairstyling represent more than a simple beauty routine. While Beauty by Bry helps her gain self-confidence, Moyler's more affordable services also uplift Black women who have limited options in Williamsburg. 
"Black hair to me means a lot because when you see someone, the first thing you pay attention to is their hair," Moyler said. "And as a Black woman, I think, especially in a place like Williamsburg, it can be very hard to find places that will accommodate your hair." 
Moyler is proud to enrich a component of her clients' identities and brighten up their days. 
"If you're not good at doing hair, if you don't know how to do your hair…I just know how it feels — you know, you feel really bad about yourself," Moyler said. "I definitely feel a lot of people, when their hair isn't done, they're not gonna look in the mirror and feel like oh, yeah, I'm capable of anything."