The Flat Hat is committed to providing high-quality content to College of William and Mary students, faculty and community members. An important way of making sure that our news is accessible, relevant and comprehensive is ensuring the diversity of our newsroom. A stagnant and homogenous newsroom cannot produce the content we hope to provide to our broader campus community. Unfortunately, too many college newspapers at predominantly white institutions are complicit in this behavior.
In that light, The Flat Hat is instituting an annual internal diversity report, as inspired by the excellent work being pursued at other universities across the country. At the end of each year from fall 2020 onwards, we will ask our staff members to complete a voluntary form pertaining to their background and experiences in the newsroom. We hope that providing transparent information and insight into The Flat Hat's staff will keep us accountable and enable us to work on recruiting diverse voices to join the newsroom moving forward.
Staff members completed a voluntary form of nine questions asking questions about their demographic background, experiences at the College and tenure at The Flat Hat. This form was enclosed on our staff application. Of the 37 staff applications we received, 21 Flat Hat staff members submitted a completed form.
Racial Background
When asked about their racial background, 71% of survey respondents identified themselves as white, with an additional 9.6% of survey respondents identifying as mixed between white and another racial background. About 15% identified as Asian or South Asian, and 4% identified as Ashkenazi Jew. According to College Simply, the College as a whole is 59% white, 9% Hispanic, 8% Asian, 7% Black, 4% mixed-race and 6% international students.
These results suggest our newsroom is disproportionately white, even when compared to the College's overall demographic makeup.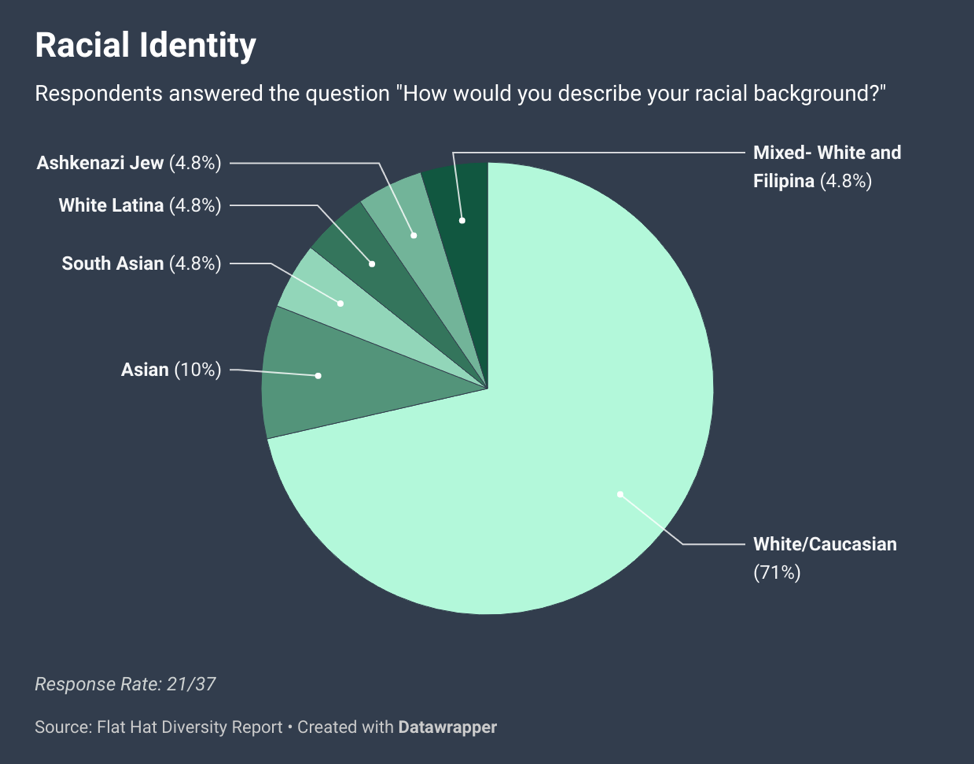 Gender identity
A little over two thirds of the survey respondents identify as female (71%), while less than one third identify as male (29%). In data published by US News and World Report, William and Mary is made up of 58% of people identifying as women, and 42% of those identifying as men.  The gender composition of the Flat Hat staff who responded to the survey shows that the number of respondents identifying as women is around 13% higher than the amount of women at the College. One group that is not accounted for in the data on US News and World Report is the amount of non-binary and genderfluid identifying students at William and Mary. Out of the respondents of the Flat Hat survey, none identified as non-binary or genderfluid.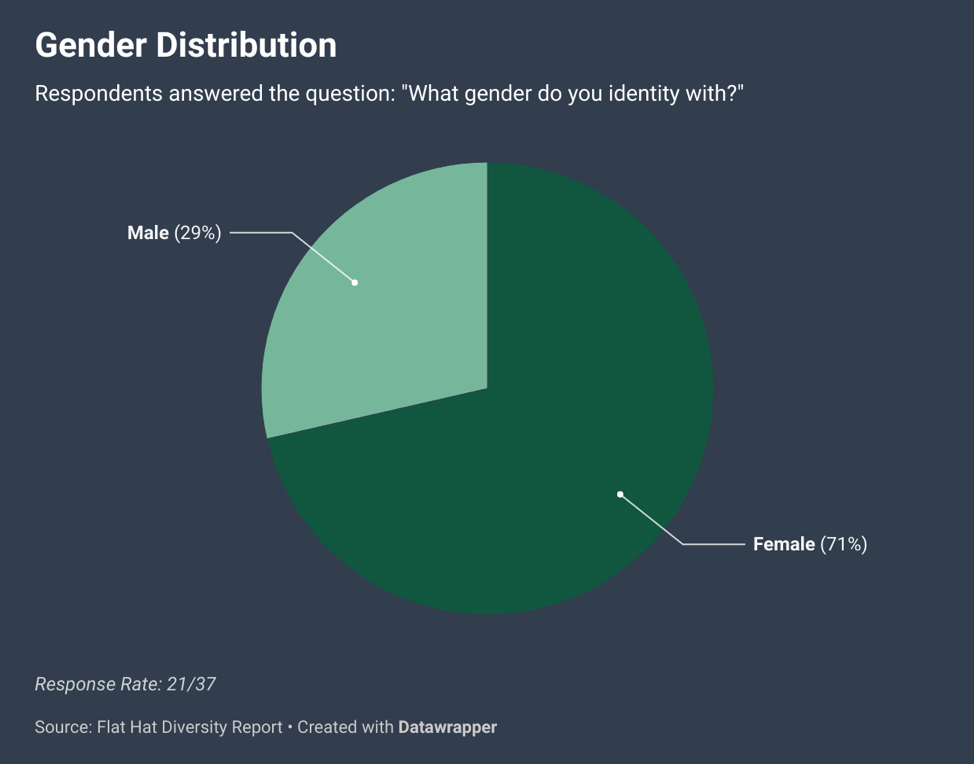 Sexual orientation
Slightly over half of survey respondents identified themselves as heterosexual or straight (52%). About a quarter of respondents (24%) said they were bisexual, and an additional 20% identified as either lesbian or gay. Five percent of survey respondents chose to identify as queer. The College does not provide statistics on the sexual orientation of its students. However, these results suggest that the Flat Hat's staff is more diverse in its sexual orientation than the U.S. population at large, which typically places estimates of the LGBTQ+ community at around 5-10% of the general population.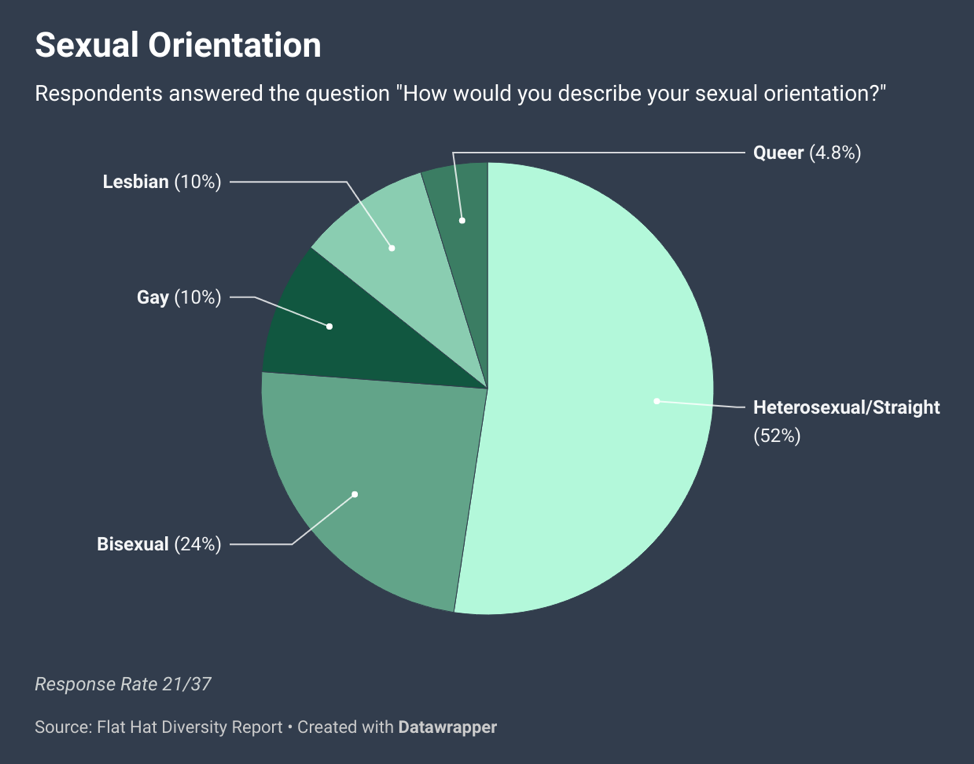 Location of Origin
A majority (71%) of the survey respondents indicated that they are Virginia residents, with the rest indicating they are out-of-state. It is unclear how many Flat Hat staff members are international students. This is mostly consistent with the Class of 2024's demographic profile, which comprises 67% Virginia residents and 33% non-Virginia residents. Four percent of students in the Class of 2024 are international.
First-generation status
Of the 21 survey respondents, only one indicated that they were a first-generation college student, comprising about 4.7% of our staff. The College estimated that about 10% of students in the Class of 2024 are first-generation students. These results suggest that the Flat Hat does not currently have adequate representation for first-gen students in its newsroom.
Campus employment
Over half of respondents indicated that they are currently employed in a paying job, and several respondents stated that they had in the past. William & Mary does not provide publicly accessible data regarding how many students work paid jobs, so it is unclear how this statistic compares to the general population.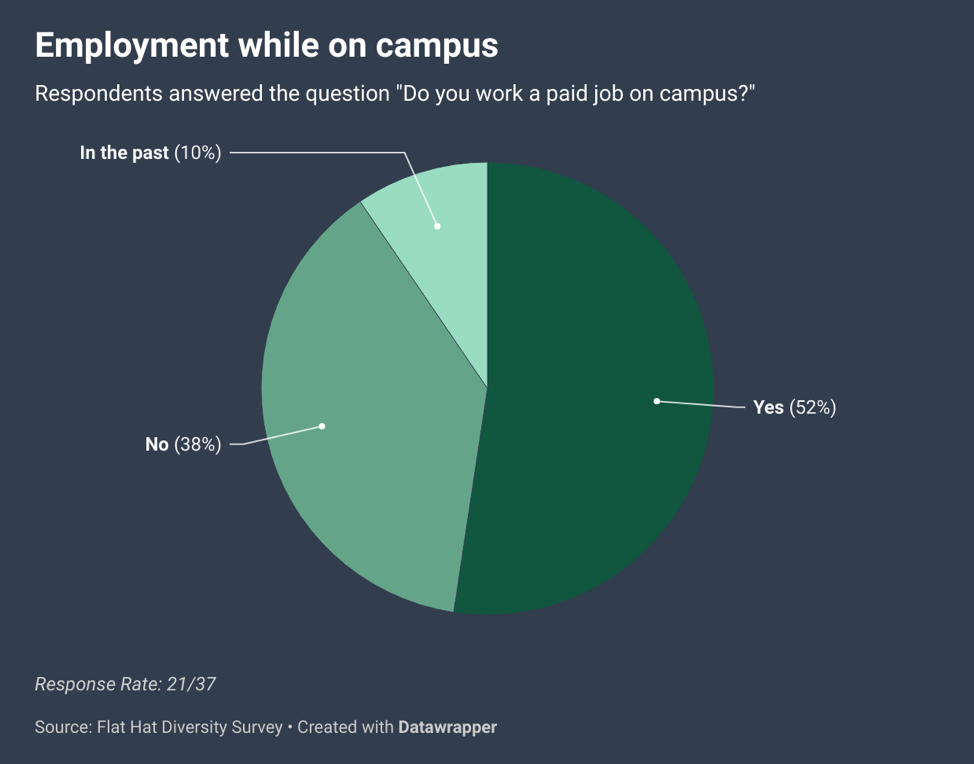 We hope providing insight into our staff's makeup is the first step toward creating a more accessible and welcoming newsroom for all students at the College. The Flat Hat looks forward to seeking out new voices to highlight as we continue covering important issues on campus for years to come.