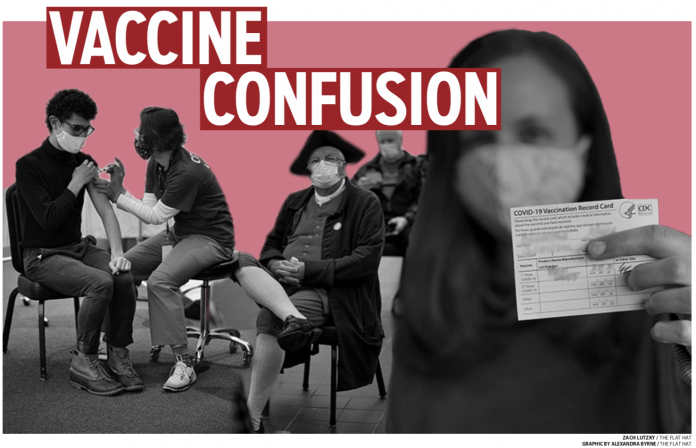 During a COVID-19 vaccine rollout that has been chaotic at times, confusion has mounted at the College of William and Mary over eligibility requirements to receive the coveted inoculation. As some regions of Virginia moved into stage 1c of vaccine distribution last week, which includes an expanded group of essential workers, some students at the College have reported being granted appointments because they live in residence halls. 
The rumors, which began early last week, contend that dormitories are considered "congregate settings," under the language used by the Centers for Disease Control and Walgreens, the pharmacy where many students were able to secure appointments. Though they are technically not eligible under Virginia's 1b or 1c guidelines, a number of students reported that they had called Walgreens, and even the College's Student Health Center, both of which reportedly confirmed their eligibility under Walgreens' definition.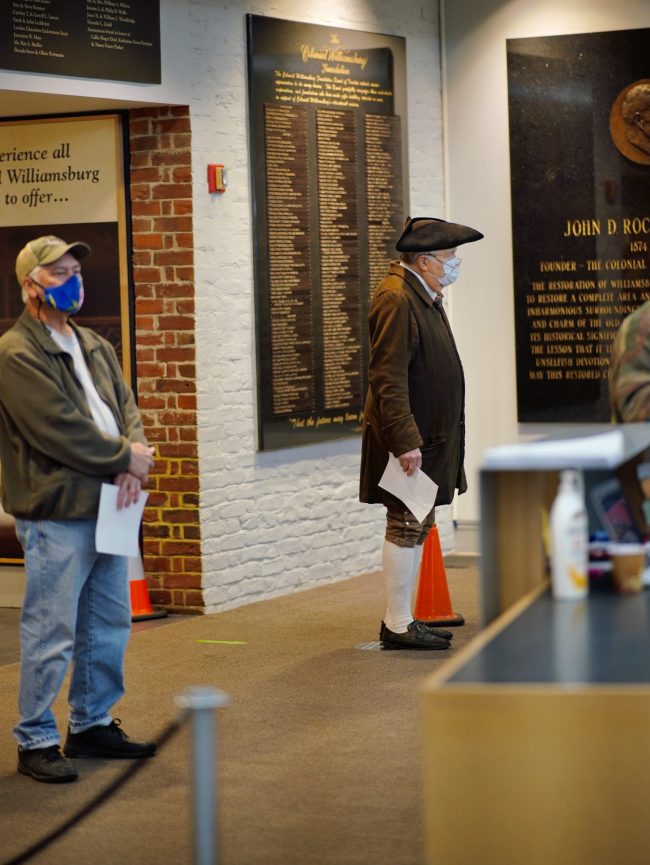 For those at the College desperate to avoid contracting the coronavirus, particularly those living in on-campus residence halls, the open Walgreens appointments seemed inviting. Students who signed up were under the impression that they were legitimately qualified. According to the Virginia Department of Health website, congregate settings do, in fact, include schools and workplaces. 
"A congregate setting is an environment where a number of people reside, meet or gather in close proximity for either a limited or extended period of time," the website says. "Examples of congregate settings include homeless shelters, group homes, prisons, detention centers, schools and workplaces." 
On the Walgreens questionnaire, students are presented with the option, "I am a resident or staff member in a congregate living facility." Many students felt this option accurately explained their situation and coincided with VDH's definition. 
However, under the description of eligibility specifically for phase 1b, VDH defines congregate settings differently — limiting them to homeless shelters, correctional facilities and migrant labor camps. 
College spokesperson Suzanne Clavet also pointed to this VDH definition. 
"Residence halls are not included under this definition," Clavet said in an email. "According to the information we currently have from VDH, we anticipate vaccine distribution to begin to the general public — the category under which most of our student population falls — by May."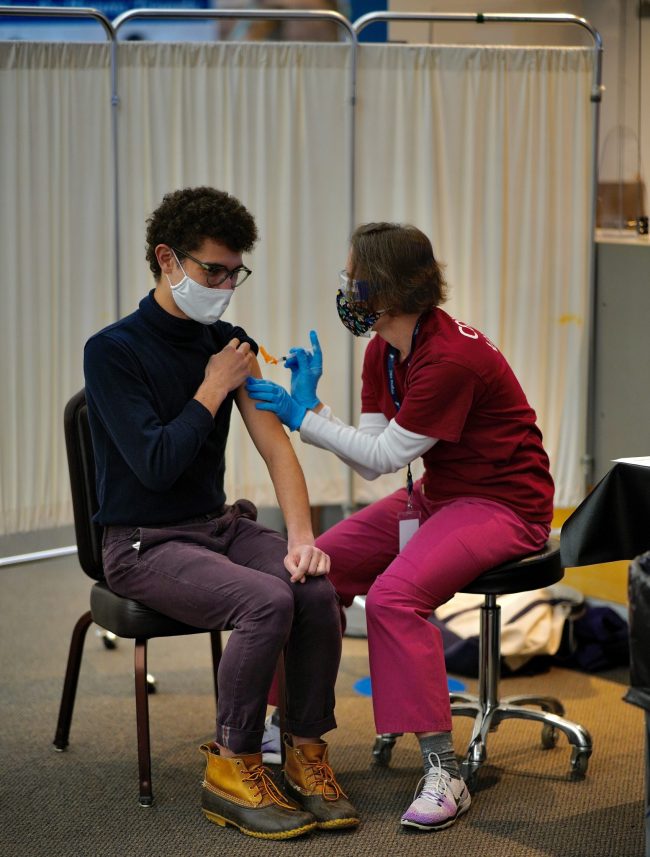 Clavet emphasized that the College does not make its own guidelines, but rather follows those of VDH and cannot speak for the practices of Walgreens. 
"I can't speak for entities other than William & Mary," Clavet said. "Certainly the university continues to work with the Virginia Department of Health to facilitate the vaccine distribution process with members of our community. To date, that has included only individuals eligible for vaccination under VDH's Phase 1a and Phase 1b distribution."
A number of conflating factors complicate the situation — those with underlying conditions or who are essential workers qualify for a vaccine under 1b, which began Jan. 11. Students falling into these categories can receive the vaccine under VDH guidelines. Others find themselves doing mental gymnastics, attempting to answer the question that no one can agree upon: are college dormitories considered congregate housing? It depends on who you ask. 
The Flat Hat reached out to VDH and Walgreens, but received no immediate response on the matter. 
Some students have pushed back on the notion that dorms qualify residents for the COVID-19 vaccine, arguing that congregate settings refer exclusively to prisons, group homes, homeless shelters and migrant labor camps. Students who make appointments because they live in a dorm, these objectors argue, are taking appointments away from those most in need. 
While it is possible that these appointments might be taken by higher-priority groups, it is difficult to identify on an individual level whose spot students may be stealing. As of Mar. 16, all incarcerated Virginians have been offered the vaccine. Individuals living in long-term care facilities and some group homes were eligible in phase 1a, and all those in these facilities wishing to be vaccinated received one as of Mar. 1. For other groups, such as those facing homelessness and those who are undocumented, vaccination rates are murkier. 
Virginia has faced a number of challenges in vaccine rollout beyond confusion over definitions. Some areas have seen an influx in "vaccine hunters" traveling across the state and beyond to find doses, while other areas see doses go unused. Doses are generally allocated to health districts based on population, which can easily be thrown off depending on how many visitors receive the vaccine compared to residents. 
Furthermore, though VDH has instructed counties to move to phase 1c only if they have made an effort to reach communities that have been disproportionately affected by the virus — particularly communities of color — as vaccine access is tinged with privilege across the country.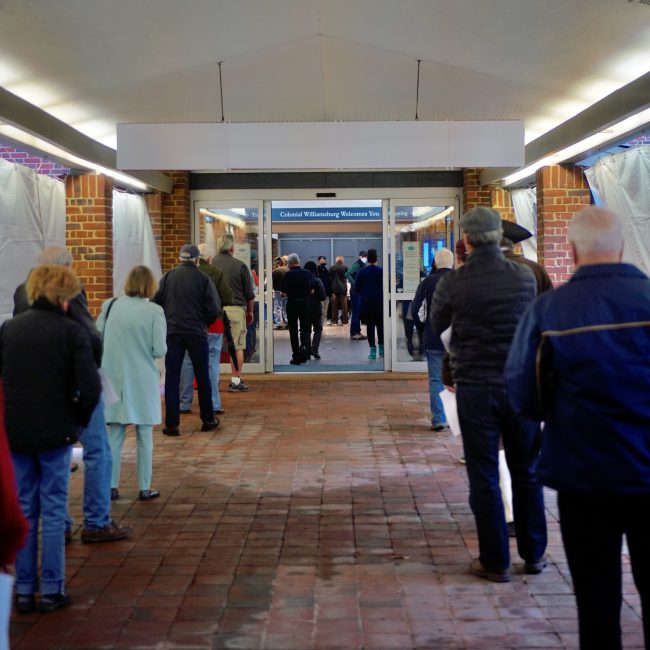 Nationwide, cases of COVID-19 are on the tentative decline, and the Biden administration is confident it will meet the goal of vaccine availability to anyone who wants it by May 1. Some states, including Alaska and Mississippi, have already lifted all eligibility requirements. Other counties in North Carolina and Arizona are urging residents to make appointments to avoid vaccine waste. 
As vaccine scarcity transitions to vaccine skepticism, some health officials believe simplifying eligibility could be the answer. Even for those who have been eligible since the start, skepticism over the vaccine's safety and effectiveness remain. Among healthcare workers nationwide, 30% say they do not plan to receive the vaccine or are undecided, according to a new Washington Post-Kaiser Family Foundation poll. 
Vaccine hesitancy also falls along partisan lines according to the Pew Research Center: Democrats are more likely than Republicans to trust and receive the vaccine.
Another issue health officials are facing is hesitancy among Black communities, who are skeptical of the vaccine due to a history of exploitative and inhumane medical experiments conducted on Black sharecroppers, particularly during the Tuskegee Syphilis Study, which ended as recently as 1972. 
But for many students at the College, skepticism is not the issue, which is why they are jumping on appointments wherever they can find them. As vaccines become more available, the nation's next challenge will be meeting the threshold for herd immunity — around 85%. Until then, masks and distancing will remain the norm.
This article was updated 4/5/2021 to include links to sources on vaccines for incarcerated Virginians and health care workers, as well as links to data from the Washington Post-Kaiser Family Foundation poll and the Pew Research Center. Previously, these sources were not linked. Furthermore, a clarification was added stating that The Flat Hat sought comment from Walgreens. Previously, it was stated that The Flat Hat had sought comment from VDH alone.