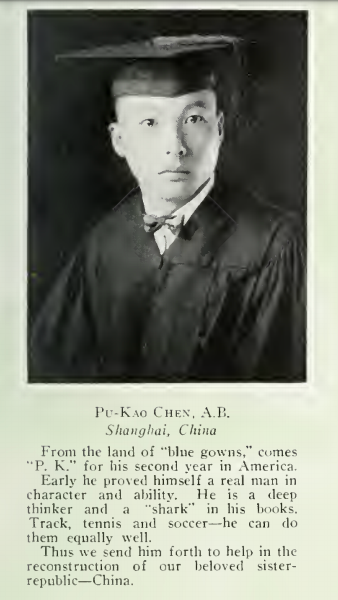 Nearly 100 years ago, the first Asian student, Pu-Kao Chen '23, a native of Shanghai, China, enrolled at the College of William and Mary, setting a precedent for many to follow. In this upcoming fall semester, the College will be celebrating the Asian and Asian-American Centennial with different events and projects.
"The Asian Centennial will celebrate all those at W&M, past and present, who identify as Asian or of Asian ancestry, including those from Southwest Asia—often referred to as the Middle East," the College said in a press release.
The Committee on the Asian Centennial at William & Mary was charged in Feb. 2021 with developing and executing the commemoration. With a budget of $50,000, the committee will cultivate awareness, launch the centennial year and develop programming throughout the Spring 2021, Fall 2022 and Spring 2022 semesters. 
"They have been charged by W&M President Katherine A. Rowe to develop and execute the commemoration with three goals in mind: to honor trailblazing leaders at W&M; understand and elevate the impact of Asian and Asian-American students, faculty and staff; and advance W&M's aspirations as a global, cosmopolitan and multicultural institution," the press release said.
Though most of the events will occur in the Fall semester, a few are already underway. Friday, Mar. 26, there will be a streaming of the documentary "Searching for Anna May Wong," which chronicles the life of one of the most famous Chinese-American film stars of the 1930s and contextualizes her life in the modern day. This will be part of the Asian Centennial film series, which will continue through next semester. Tuesday, Mar. 30, the Asian and Middle Eastern Studies program will host a conversation with author Paul Ocampo about his short stories. More events will take place throughout April, all of which can be found on the Asian Centennial calendar.
As co-chair of the Asian Centennial and director of the College's Asian & Pacific Islander American Studies Program, Professor Francis Tanglao Aguas had been conceptualizing the idea of an Asian Centennial since he first found out about Art Matsu '27. Matsu was half-Japanese and was initially believed to be the first Asian student at the College. However, plans for the Centennial were pushed forward after an important discovery.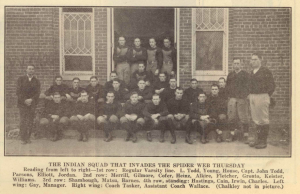 "When Mosaic Fellow Shayna Gutcho and her team rediscovered materials on Chen Pu-Kao, [class of] 1923 in October 2019, our plans accelerated by 4 years, since Chen was admitted in 1921," Aguas said. "And I could not imagine a collaborator as astute as Professor Deenesh Sohoni to work together in our efforts to make it happen."
Director of APIA and co-chair of the Asian Centennial Professor Deenesh Sohoni has been working closely with Aguas to research and plan events to broaden the community's understanding of Asian-American history, both in Williamsburg and the United States as a whole.
"We wanted to organize a whole bunch of events commemorating [the admission of Pu-Kao Chen] but also establish a platform to talk about race at William and Mary, and more broadly, the role of Asian Americans in that discussion," Sohoni said. "The idea is to look at the pioneering students at William and Mary […] and contextualize their lives within the historical period."
Sohoni wants students to acknowledge that Pu-Kao Chen enrolled at the College during a time where there was rampant anti-immigrant legislation in the United States, with a specific anti-Chinese element to it. He and his team are working with the law school as part of the Asian Pacific Middle Eastern Research Project to examine the laws that were in place around the time that Asian students began enrolling at the College. He is also working with researchers at Earl Gregg Swem Library to learn more about these students and what their campus life was like. These findings will later be presented as exhibits in Swem.
Additionally, Sohoni and his team are working with the William and Mary School of Education to integrate more Asian-American history into the Virginia K-12 curriculum. He is working on creating a specific unit for students that will cover this side of history, which Sohoni feels is often overlooked.
Assistant Professor of English and APIA Studies Dr. Benedito Ferrão, one of the research fellows for the Asian Centennial, believes that the College's place as both one of the oldest universities in the country and a predominantly white institution makes it all the more significant that they acknowledge not only Asian history, but that of other races in regards to the school.
"The centennial recognition of the admission of Pu-Kao Chen, William and Mary's first known student of color at a time when the university did not admit Black students, is significant in highlighting a historical moment," Ferrão said. "It also reconfirms the work our program strives to do in employing a pedagogy of anti-racist education that connects the discipline of ethnic studies with lived experience, past and present."
Ferrão also hopes to increase the community's understanding of Asian-American history through literature. He wants to find authors and writers who are from Williamsburg and part of the APIA community. He plans to use his time as a research fellow to increase awareness of this on-campus and in the surrounding area.
"I have always thought of literature as a chronicle of history, even if its method of recording the past and present is fictional," Ferrão said. "To say something is fictional does not mean that it is inherently untrue. Rather, it may be an alternate way to tell a story, especially if it is about a community whose presence is marginalized. Learning about the APIA community, and its part in the multiculturality of the United States, is not only a course of study in heritage for those that may identify as APIA; it is equally an education that must be undertaken by those who wish to learn about undoing the very racism they may unwittingly participate in."
All three professors stressed is that this is not just about Asian-American history, but about all racial history in the United States.
"Even when Asians were being allowed [to enroll], it was occurring in a period where African Americans were not allowed to come to William and Mary for another three decades," Sohoni said. "We do want to engage with that, and so part of the Asian Centennial is working with the Lemon Project and thinking about Asian Americans' place in the racial hierarchy, in William and Mary, in Virginia, and the United States."
Another subject that the APIA wants to bring to light with this celebration is how it connects to the recent uprising in anti-Asian sentiment and violence in the United States during the COVID-19 pandemic. While all three professors acknowledge that the sentiment did not start with the pandemic, they note that it exacerbated the issue, and that it is especially important now to educate the community on Asian history.
"I believe this objective to be salient to the current situation of anti-Asian hate and violence," Aguas said. "Our hope is that the events and programming that we offer through the Asian Centennial will go a long way in humanizing our Asian Pacific Islander Middle Eastern communities to the rest of the country."
Details about future events related to the Centennial will be posted online throughout the year.