In an uncontested race, the College of William and Mary's student body elected current Senate Chair Meghana Boojala '22 and Student Assembly outsider Zenobia Goodman '22 as the next SA president and vice president. In addition to the presidential and vice presidential race, SA held its 329th down-ballot elections, as well as a pass/fail referendum Thursday, April 1.
Of the 2,409 students who cast ballots in the SA presidential election, 87.96% voted for Boojala and Goodman with 290 students abstaining from the vote. Of the eligible 9,318 eligible voters only 25.85% cast a vote in the 2021-2022 presidential election.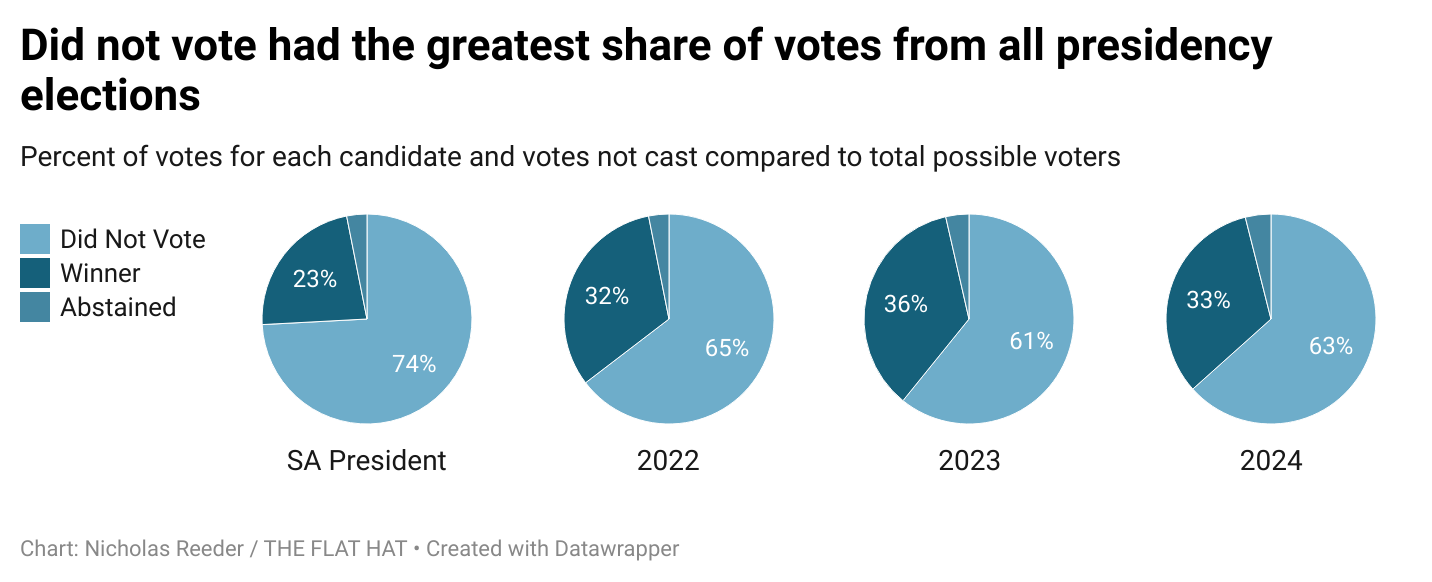 According to data provided each election cycle by SA's Independent Elections Commission, the Boojala-Goodman ticket received more votes than the previous election cycle of former SA President Anthony Joseph '21 and former SA Vice President Kyle Vasquez '21, which received 1,465 votes. However, Boojala and Goodman received less than the 2019-2020 election of former SA president Kelsey Vita '20 and former SA Vice President Ellie Thomas '20, which saw a total 3,672 students voting in the election. 
However, the Joseph-Vasquez election took place weeks into the initial phase of the worldwide lockdown due to the COVID-19 pandemic, and the Vita-Thomas election was a contested ballot. Additionally, the pass/fail referendum attached to the ballot could have increased turnout compared to the Joseph-Vasquez election. 
Centering their campaign around finance reform, renaming of buildings commemorating individuals tied to the institution of slavery, COVID-19 policies including pass/fail and improving diversity and inclusion within Greek Life, Boojala and Goodman hope to bring both Boojala's internal SA experience and Goodman's skilled presence on campus to their administration. 
"I'm excited, I'm so, so excited," Goodman said. "This was not a normal part of my college journey, but I'm really glad that these three plus years have brought me here. I'm so grateful for the team I have behind me, I'm so grateful to learn so much more about Senate, so much more about the community from a completely new perspective. I am just so, so excited. It's hard work, but I go to William & Mary, I'm not afraid of hard work. I think I'm ready." 
With her victory, Boojala becomes the third candidate in SA history to win the presidency after an unopposed race (following Joseph in 2020 and Brendan Boylan in 2018). She expressed that she was excited about her win, but recognized that there was an immense amount of work to be done before she felt she could relax. 
"For me, it's kind of strange for me because it's very uncontested," Boojala said. "I just feel like my responsibilities are going to be going from whatever amount of work I do for a Tuesday meeting, to exponentially increasing. But I'm honestly very, very excited for that. We are ready to get started; [Chief of Staff] John [Cho '22] has that cabinet application ready to go out. Our major, major concern is we're on Zoom, we're in a remote world, how do we ensure continuity in a remote world, how do we ensure engagement? This is a very unemotional response right now, but it's basically how do you continue that? I don't think I'll be able to take a breath and calm down until we have that cabinet filled out."
Boojala and Goodman said that their top priorities upon assuming their positions are strategizing the campus's COVID-19 response in the fall, focusing on diversity and inclusion initiatives and improving SA's outreach. 
In addition to the uncontested SA president election, all current class presidents went unopposed in their races as well. The races for senator positions, however, were more competitive across all classes. The most contested race was for the class of 2024 senator positions, where seven candidates ran to fill four seats. 
Pass/Fail Referendum
The ballot sent out to students on Thursday also included a six-question referendum meant to garner student opinion on pass/fail course options, following Provost Peggy Agouris's Monday announcement that pass/fail options would not be offered this semester. The referendum asked students whether they felt more or less stressed in Spring 2021 compared to previous semesters, what sort of pass/fail options they would like to see and what other stress-relieving measures they would like the administration to enact, given that requests for pass/fail have been repeatedly denied. 
Results have not yet been made available for the pass/fail referendum at the time of publication.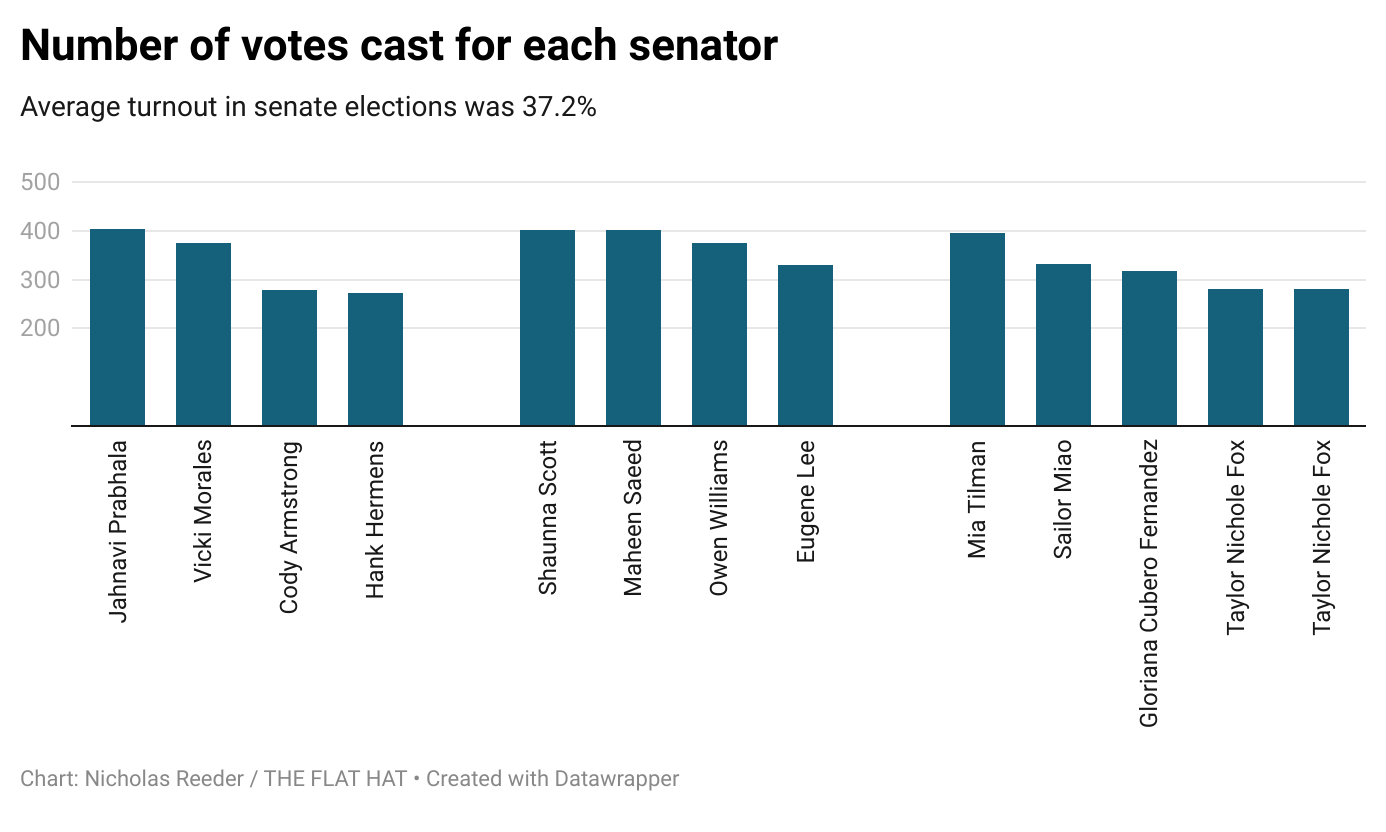 Class of 2022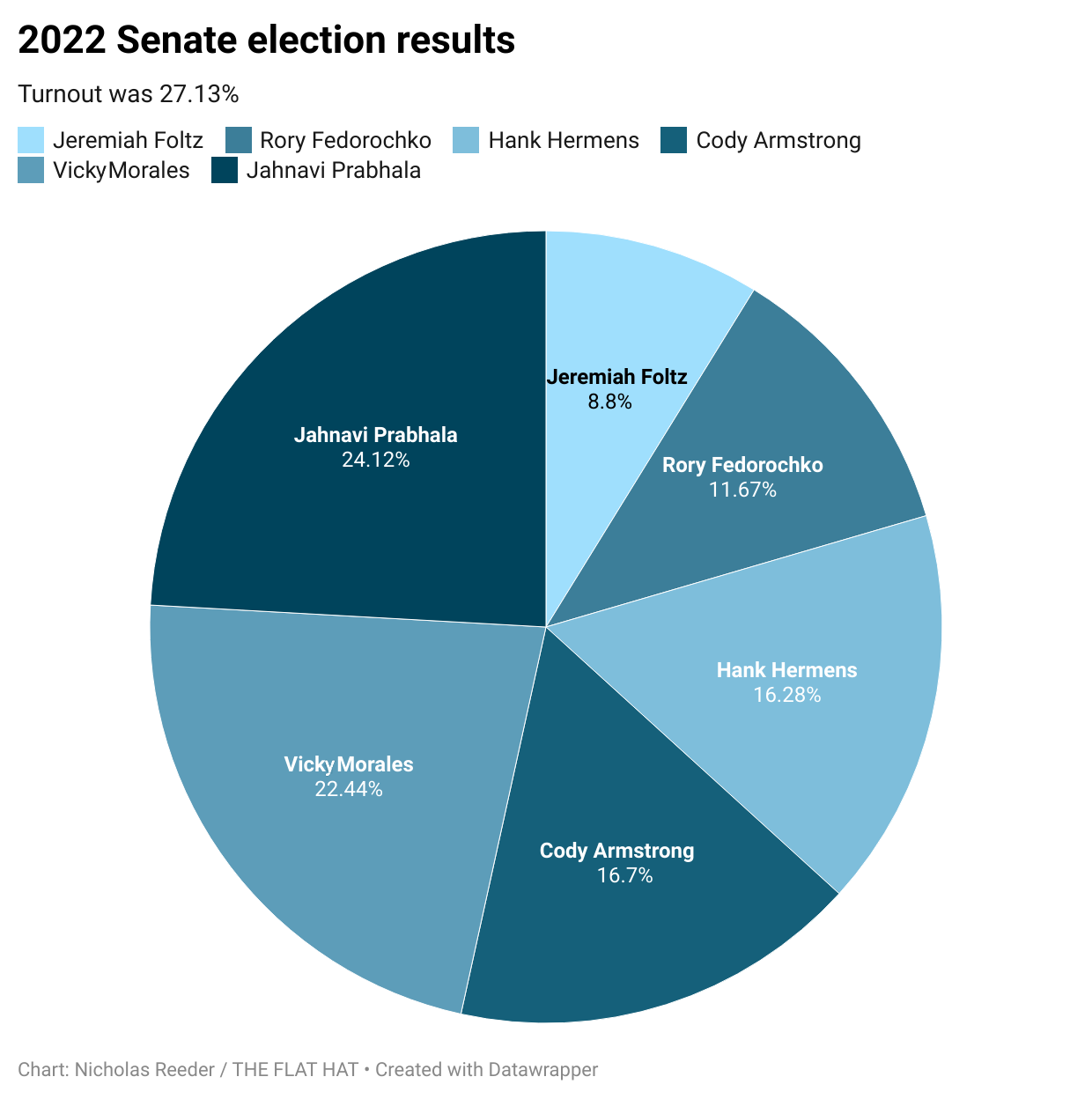 Class of 2022 President Suhas Suddala '22 was re-elected for a fourth term, receiving 497 votes of the 545 votes cast, as 48 voters abstained. 
Incumbents Sen. Vicky Morales '22 and Sen. Jahnavi Prabhala '22 were re-elected with 403 votes (24.11%) and 375 votes (22.44%) respectively. Newcomers Cody Armstrong '22 and Hank Hermens '22 were elected with 279 votes (16.69%) and 272 votes (16.27%) respectively.
Incumbent Sen. Rory Fedorochko '22 lost his bid for re-election by a margin of 77 votes. SA outsider Jeremiah Foltz '22 also lost the race, receiving 147 votes. 
Class of 2023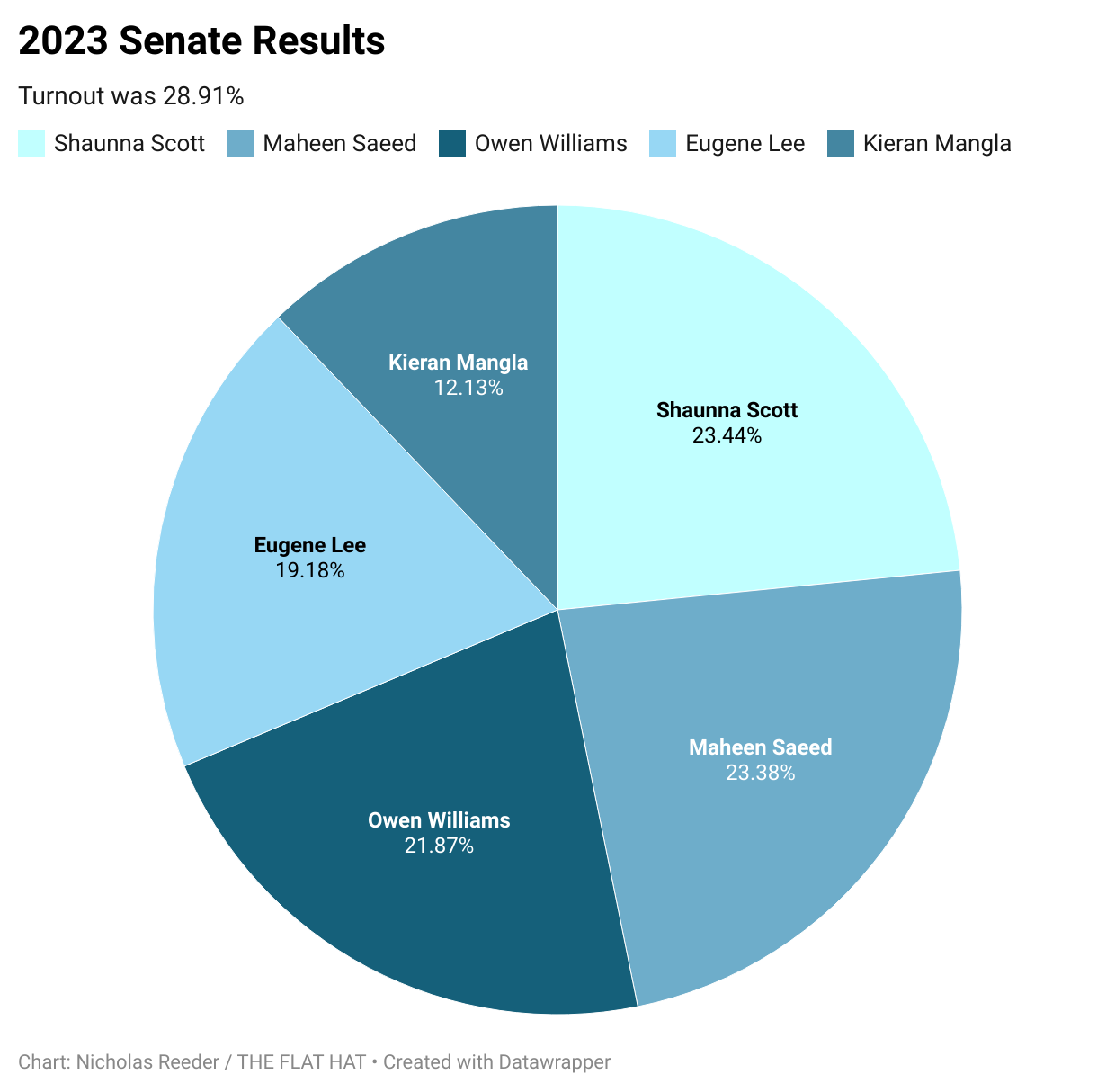 Class of 2023 President Conor Sokolowsky '23 was re-elected for the 329th session after running for his position unopposed. Sokolowsky received 528 out of the 581 votes cast, or 90.87% of the vote, with the remaining 53 voters abstaining. 
Incumbent Sens. Shaunna Scott '23, Maheen Saeed '23, Owen Williams '23, and Eugene Lee '23 were all re-elected to their positions, receiving 402 votes (22.49%), 401 votes (22.43%), 375 votes (20.98%), and 329 votes (18.41%) respectively.
Kieran Mangla '23 lost his bid for a senate seat by a margin of 121 votes, receiving 208 votes (or 15.66%). 
Class of 2024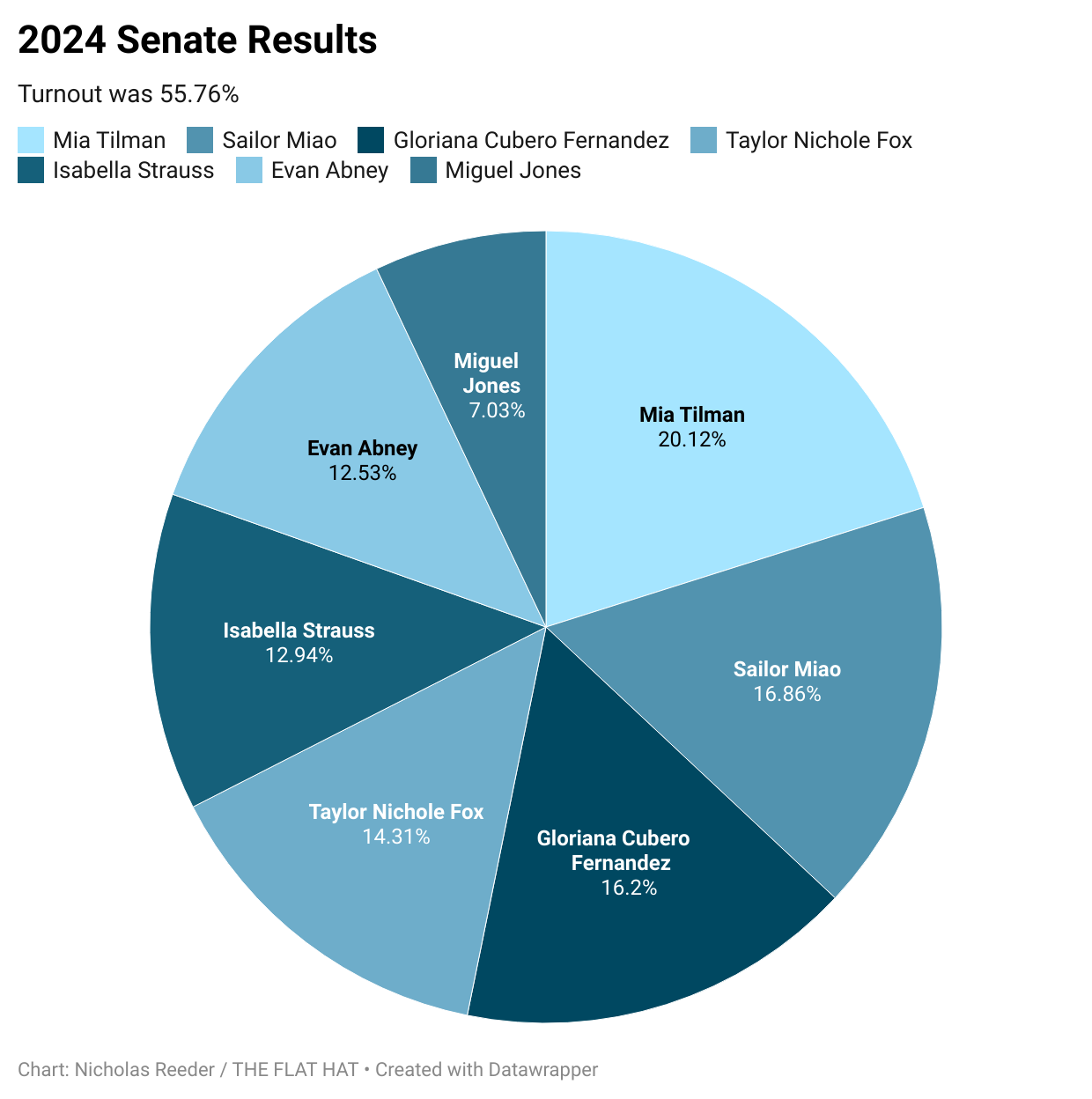 Class of 2024 President Vicka Heidt '24 was re-elected after running unopposed. Heidt received 523 votes, with 63 students abstaining from voting in the race. 
The Class of 2024 elected four senators Sens Gloriana Cubero Fernandez '24, Mia Tilman '24, Sailor Miao '24 and newcomer Taylor Nichole Fox '24. Tilman received the highest percentage of votes at 20.12%, or 395 votes. 
Miao received the second highest percentage of the vote at 16.86%, coming second to Tilman by a margin of 64 votes. Cubero Fernandez received 318 votes or 16.19% of the vote, and Fox received 14.31% or 281 votes. 
Sen. Isabella Strauss '24 lost her bid for re-election by receiving only 254 votes, or 12.93%, losing to Fox by a small margin of 27 votes. Evan Abney '24 failed to secure a senate seat by a margin of 35 votes, earning 12.53% of the vote. Miguel Jones '24 also failed to secure seats, winning 7.03% of the vote. 
Due to technical difficulties with the TribeLink form, the IEC closed polls at 10 p.m., an hour later than originally intended, to make up an hour of lost time in which the ballot could not be accessed by students. No other technical difficulties have been reported by the IEC.