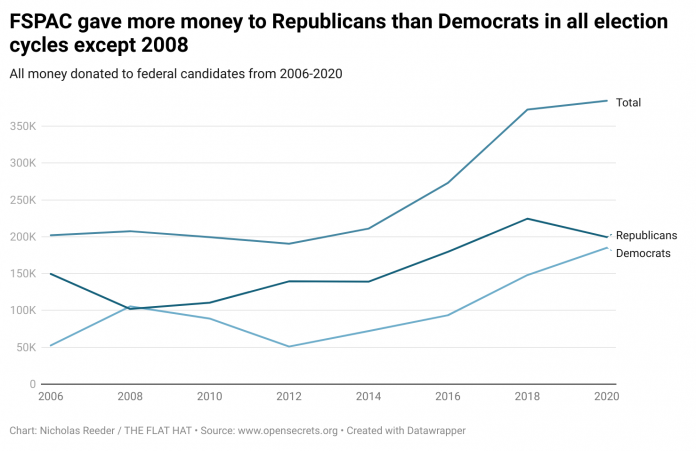 At the start of each semester, Fraternity and Sorority Life members look forward to new social events, reuniting with their brothers or sisters and moving back into their fraternity and sorority houses. However, the dawn of a new semester also brings the dreaded responsibility of dropping hundreds and sometimes thousands of dollars on fraternity and sorority dues, with most students unaware of where exactly the money goes. 
The dues that Fraternity and Sorority Life members pay usually go toward the chapters themselves, national headquarters, the College's Interfraternity Council or Panhellenic Council and individual housing corporations that fund and maintain on-campus Greek facilities. 
The main controversy surrounding the dues is through the housing cooperation fund, which is indirectly correlated with the Fraternity and Sorority Political Action Committee, or FSPAC. FSPAC is a super PAC that lobbies for the interests of Fraternity and Sorority Life members and alumni in Washington by working to elect fraternity and sorority alumni and advocates of their community. 
Assistant Director of Student Leadership Development Joseph Wheeless discussed his knowledge of FSPAC. 
"I know that it was created even when I was an undergraduate," Wheeless said." It mainly started to lobby congress on the Collegiate Housing Infrastructure Act, which is an act that amends the tax code to allow for donations to fraternity and sorority housing corporations to be tax deductible. That is still part of their legislative agenda and that act hasn't passed, but that was the main reason it was created."
The PAC has consistently claimed that they have no political affiliation, but have consistently donated more of its funds to Republican candidates than Democratic candidates. 
According to OpenSecrets.com, a website that compiles campaign contributions from the FEC in a digestible manner for the public, in 2020, 85% of FSPAC's senatorial contributions were donated to Republican campaigns ($68,000 went to Republicans as opposed to $12,000 to Democrats). The senatorial candidates who received the most money from FSPAC in 2020 were Georgia battleground candidates Kelly Leoffler and David Perdue, who were both in two of the closest senate races of 2020, and both the Republican candidates of their respective run-offs. 
Overall, since 2006, FSPAC has donated more money to Republican campaigns than Democratic campaigns in every election cycle except 2008. 
So what does this have to do with an individual fraternity or sorority member's dues? The housing corporations mentioned earlier, that members pay a portion of their dues to, often donate to FSPAC, which has a pattern of funding Republican candidates as opposed to Democratic candidates. On the FSPAC website, they note "no portion of any dues or fees paid to a fraternity or sorority are used for a donation." Although it may be true that no member's dues go directly to FSPAC, their dues do go directly to the respective housing corporations of their fraternity or sorority. 
When it comes to corporate donations to FSPAC, these housing corporations play a prominent role. The FSPAC website states, "Corporate donations to the IEA are primarily from the housing corporations who own and manage the individual fraternity and sorority houses on college campuses, although other corporate entities have donated on occasion."
Sophia Kingsley '21 is a former member of the Omicron Beta chapter of Chi Omega who helped establish Disaffiliate for Change, whose goal is to abolish White Fraternity and Sorority Life at the College. In February 2021, the group's instagram @disaffiliate4change_wm posted a graphic about FSPAC and the controversy behind due payments being associated with the super PAC. Kinglsey worked on the graphic and shared her opinion on the discourse about FSPAC and due payments.
"While making the graphic, we focused on how national organizations advertise that due payments do not go to FSPAC," Kingsley said. "But, then housing corporations donate, which is a part of your dues, because a portion of dues go to these housing corps. Also, national leaders, whose salaries are paid by national dues, often donate to the PAC. So although it might not be direct, William and Mary dues fall into this national pool.".
According to Open Secrets, the top donor to the FSPAC in 2020 was the housing corporation of the Delta Eta chapter of Pi Kappa Alpha fraternity at the University of Delaware. With regard to national fraternities that have chapters at the College, the national housing corporations of Lambda Chi Alpha, Sigma Chi, Kappa Alpha Order, Gamma Phi Beta, Pi Beta Phi, Kappa Delta, Delta Gamma and Chi Omega were among the top donors to FSPAC in the 2020 election cycle. 
Although it is not clear to what campaigns the donations from each of these housing corporations were allocated, it is worth noting that in the 2020 election cycle FSPAC spent between $14,000-$15,000 more on Republican candidates than Democratic candidates.
"What we see is a lot of hypocrisy behind closed doors," Kingsley said. "High up individuals in these Greek organizations try to promote equity and seem progressive, but ultimately they are still supporting candidates that actively work against these goals." 
The College's Fraternity and Sorority Life is relatively removed from direct affiliation with FSPAC. However, fraternity and sorority members should still be aware that the dues they pay to national and housing corporations could be funneled through channels that lead to the super PAC and ultimately fund candidates they may not support.