Tennis is a lesson in perseverance. Grit, drive, and time management are all skills players must quickly pick up if they are to succeed at a collegiate level. On top of the hours spent on the court, student athletes battle injuries and taxing academic schedules.
Graduate students Brenden Volk and Jill van den Dungen have given their all to the game, starting competitions as early as twelve years old. Despite facing injuries throughout their careers, from low-level tendinitis to thoracic outlet syndromes, and despite tackling more class work than ever before at the Randolph A. Mason School of Business, they return to the courts for their fifth years, since the shortened 2019-2020 season gave them an extra year of eligibility. It was not even a hard decision to make for them.
Their devotion to the sport and the teams is evident in the way they reflect back on their careers. Tennis is truly interwoven in every aspect of their daily lives at college—from friendships, to free time, to academics.
"You have to plan your schedule around tennis. For me, I have class from 8-11. It's early, but at least I'm done early. Take a few hours break to do work, then head over to practice at 1:30," said van den Dungen.
"After practice, you're so caught up in work that some days, you even forget to eat," Volk added. "They're busy days, but we're used to it. We've been doing it—balancing—since high school."
On game days, they can lose up to a day of work. But they do not even bat an eye at how rigorous their schedules seem to the lay-person.
In the hour between course work and tennis practice, Volk and van den Dungen showed up to Aroma's to talk about their tennis careers. They wear matching Tribe Athletics apparel, but order opposite beverages. Volk sets down a caramel-drizzled, iced whip-creamed concoction, while van den Dungen quietly sips a warmer beverage, topped with frothed milk.
The two's trajectories mirror this first impression. At first glance, their careers are eerily similar: both transferred after freshmen year, returned to get masters' degrees in Business Analytics, and won awards for doubles play and academics throughout. However, small differences riddle their careers, starting with even how they chose their first colleges.
Now in his fourth year at William and Mary, Volk is no stranger to stepping up and leading the Tribe. The team looks to two-time captain Volk as the most experienced player and loudest voice on the court. But before Volk played for William and Mary, he first attended Northwestern.
Volk committed to Northwestern in the winter of his junior year of high school.
"I always wanted to play college tennis," Volk said. "That was always my goal."
But tennis was not his only priority. Volk emphasized that he worked hard in high school in order to find a program with great academics as well as a strong tennis program.
"My heart was just set on Northwestern: top ten academic school, top ten tennis program at the time. It seemed like a great fit," he explained. "I was at Northwestern for a year and a half, and then, when it didn't work out at Northwestern, I wanted to make sure that I would go to another great academic school and found myself here at William and Mary. I've loved it here ever since."
While Volk's decision to attend Northwestern matched the stories of many U.S. Division I athletes, Netherlands-born van den Dungen had a very different high school experience.
"For us, it's a unique way, as Europeans, to combine school and athletics, because for us, it's either/or, once you're done with high school. So, for me, I made it like a pretty fast decision," van den Dungen explained. "I didn't want to give up academics at a young age and come back to it later, at like 25. And I didn't want to give up the sport I was playing for so long, with so many hours, so this was the perfect opportunity for me."
Van den Dungen heard many stories about the U.S. sports scene from her classmates who had committed and had great experiences. But, her first year was not as idyllic as she expected.
"For me, I really chose Louisiana Tech for the coach. Unfortunately, before everything started, a month before that, in August, he told the team that he was going to leave," she said. "I already knew after 2 months that I wanted to transfer because I really didn't like the new tennis environment. For me, the transitioning only meant something good. I would be more relieved, looking for something that fits me better."
She settled on Southern Baptist, a well-established Division II program, where she finished out the rest of her undergraduate career. At Southern Baptist, van den Dungen quickly found community and her stride. Van den Dungen ranked, nationally, no. 25 in singles and no. 3 in doubles. She picked up her first ITA All-American award in doubles—an award that she would win all three seasons playing for the Bearcats.
"My first two years, I played with this Australian girl," van den Dugen said, naming her long-time Bearcat partner Klara Vickov. "When you're able to form a strong relationship with your team year after year, you become so much more comfortable playing with them."
Together, the duo performed on a national level, taking the Bearcats to their division championships both years and the NCAA central regional championships in the 2018-2019 season.
Volk, on the other hand, could not play immediately for the Tribe after his decision to transfer.
"I lost a year of eligibility, which was really hard because for that first season, I couldn't really contribute anything to the team. I wanted to prove myself to my teammates on the court. But, I'm really happy with my decision. I'm so glad to be here."
However, in his junior year, he found success in doubles as well. Though he started his doubles career with now-senior Chen Ruo, his longest held partner is sophomore George Davis. All three years with the Tribe, Volk has been nominated to the VaSID All-State team in doubles. Volk and Davis are five-time winners of the Colonial Athletic Association doubles pairing of the week.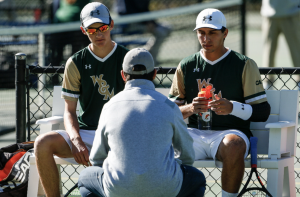 "We've played together so long now that I can anticipate him exactly," Volk said fondly of Davis. "I know exactly where he'll be on the court, where he'll place the ball. Having him by my side, giving me energy throughout the matches, is a great feeling. He complements me so well."
The complementation in question is Volk's unique playstyle that he developed through the years. He's grown from being a flashy, bold player to one that's more strategic, self-described as "annoying."
"I want to do anything I can to get under my opponent's skin. I won't make flashy plays, but I see my opponent's style and I adapt in the most annoying way possible to win," he said. "I don't think I have the most powerful shot on the team, or the flashiest moves, but I can create different spins to keep my opponent on their toes. I want them to adapt to me, not the other way around."
He has always had winning in mind, but the way to go about winning has changed.
When asked about which type of tennis he preferred, he laughed and answered, "I would like to consider myself both a doubles and singles player. I love winning, but I love winning with one of my brothers beside me."
The relationships formed in tennis last beyond the court for both van den Dungen and Volk. From academics to professional networks, the team provides lifelong connections.
For Volk, his relationships with his teammates push him to be a better student.
"Sometimes, some of us take classes together. The team always pushes you," Volk said, laughing. "We're so competitive that we even compete to see who will do the best in the class, score the best on this exam. And they're always reminding you to turn in your assignments and do your work, too. I couldn't stay as motivated as I am without them helping me along."
In addition, his bond was one of the deciding factors in his return to academia after undergrad. Before the pandemic, Volk had a job in finance lined up, but he left it behind to play tennis for one more year. In doing so, he realized he could pursue his dream job with another year of schooling under his belt.
"One of the things I wanted to do since coming to William and Mary was bring the school a championship. We were really close last year, before everything shut down, and we have a great team," he explained. "I actually had a job at Citi Bank lined up before I called it off after getting the call from Kader. I know I was super lucky to have a job offer in the pandemic, but I just couldn't give up another year and another chance with my brothers."
During the first quarantine, tennis even affected the types of hobbies both players tried out.
"For me, in the Netherlands, it was hard because everything was shut down for a while," van den Dungen said. "We went on a lot of hikes, exploring, that sort of thing. All over like the nature and the trails. When the courts opened again, I played a lot of one-on-one outside with my family."
"I was lucky enough to live near two of the guys, Danny and Finbar," Volk explained. "So, when I got the call, I was able to keep working out and practicing before coming back."
The decision to return to school and play one more year of tennis was not difficult for van den Dungen, either. But, graduate school is much more involved than the undergraduate public policy and international business degrees Volk and van den Dungen received, respectively.
Putting in time and effort is not new to van den Dungen, thanks to tennis. However, for her one-year, accelerated program, balance is critical.
"It's challenging because it's completely different than what I studied undergrad. But, I like the challenge. I like the challenge to get out of my comfort zone; getting out of your comfort zone always pushes you," said van den Dungen. "It's lots of programming and data. It takes a lot of time, effort, and practice."
After her degree, she will go back to school one last time.
"I think I will try to go back and get another degree next year with supply-chain," van den Dungen said. "I have always dreamed of owning one day my own company or getting very high up in a company, something like that."
Volk hopes to lend his propensity and eagerness to win to professional sports teams: "I would love to break in to sports analytics. I love winning, and I'd love to apply my degree to help pro teams find the people and gameplay they need to win."
Though they only have one more year playing, tennis will always have some sort of influence in their lives. Whether it be the relationships, the mindset, or the sport itself, Volk and van den Dungen will always remember the time they spent as a student athlete.
"I hope tennis will continue to be in my future," van den Dungen said. "Back in the Netherlands, I would like to continue playing with the league, if not competition, then still exercise. I have put so much time and love into playing tennis."
For Volk, tennis is more than the sport itself. He may not be able to play at the same level for much longer, due to various bouts of elbow and shoulder tendinitis, as well as lower back injuries, but the relationships he built will last.
Volk said, "I've made some lifelong friends—brothers—through playing tennis. We're all really close to each other and the women's team, too. I've really found a family here at William and Mary."