Saturday, Sept. 5, the College of William & Mary's acting troupe Shakespeare in the Dark made its fall 2021 semester debut in the Crim Dell Meadow with an interactive scene festival titled "Sunken Barden."
At the beginning of the event, club co-president Sam Suslavich '22 declared to the crowd gathered to form a line and draw a character out of a hat. The characters were from various Shakespearean plays such as: Much Ado About Nothing, The Taming of the Shrew, Twelfth Night, Antony and Cleopatra, As You Like It, Hamlet, Romeo and Juliet, The Merry Wives of Windsor and Love's Labour's Lost. Once each participant was assigned a character and a play, they divided up into their respective casts. They then had only 30 minutes to learn the scene and rehearse it with their choices of blocking, props and costumes.
Co-president Maggie Sheridan '22 shared that this was the club's first time ever running this event.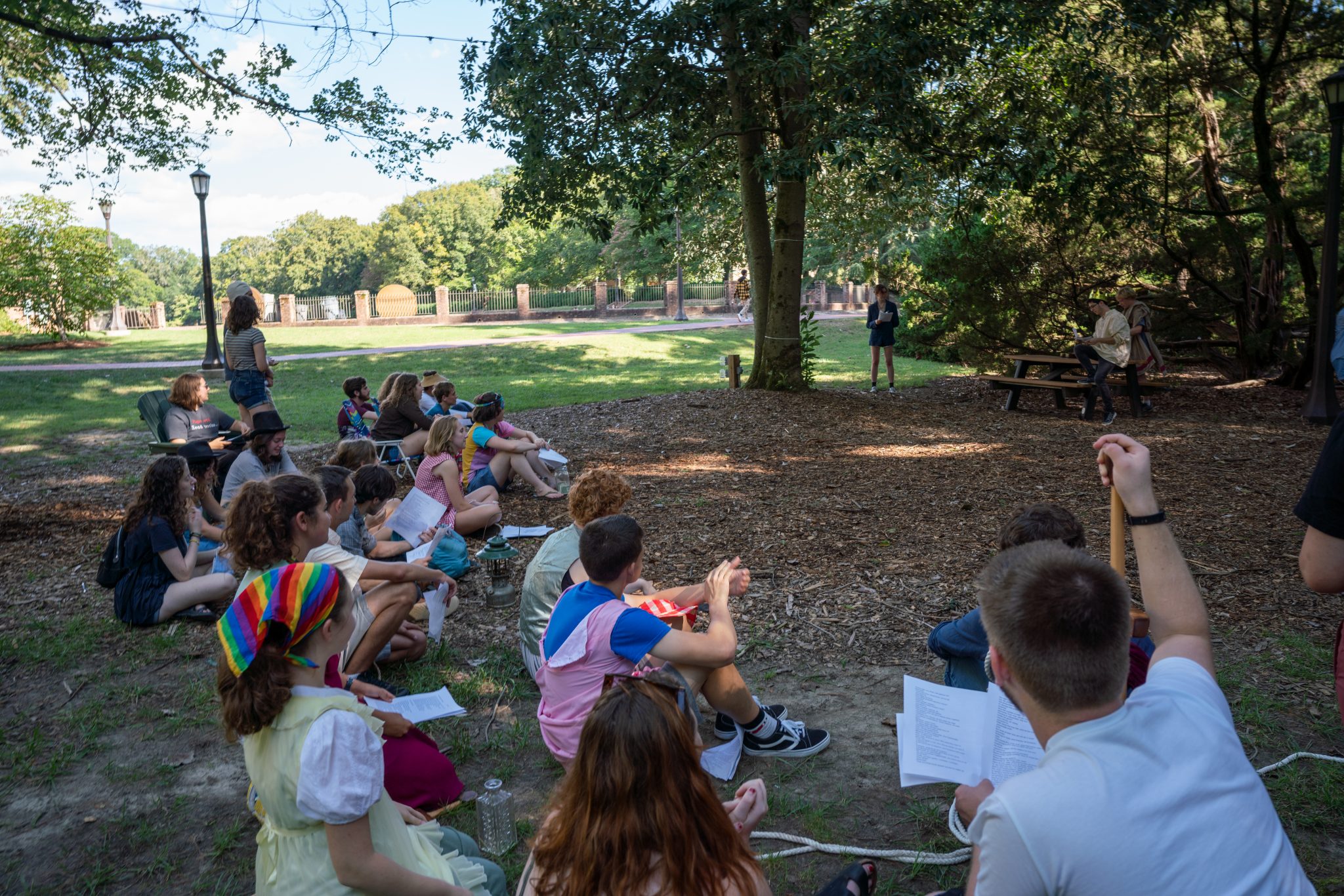 "We basically grabbed a bunch of props and costumes and hoped for the best," Sheridan said. "I've been doing a numbers game in my head for how many scenes I was going to have to prepare this whole week, and apparently it was the exact correct number. So we lucked out."
The participants took full advantage of what the Crim Dell Meadow had to offer set and prop-wise. Many different impromptu props and set pieces from a picnic table, to a lamp post, to trees and even dirt were utilized during performances. In Hamlet, when the gravedigger was happily digging graves, he tossed dirt behind him as it was shoveled. Some audience members were in the splash zone, though they didn't seem to mind because of how entertaining it was. Another creative use of the area occurred in Love's Labour's Lost. Immediately when the scene began, the audience member portraying Longaville embodied the spirit of Marvel's Spider-Man as he climbed up a tree to the lowest branch that must have been at least six feet off the ground and pretended to take a nap.
A favorite moment of the crowd occurred when the participant playing Feste in Twelfth Night was tasked with singing a verse of Shakespeare. They chose to sing "What is Love" by Haddaway, and the entire audience started clapping to the beat of the song. It really showcased the community and camaraderie Shakespeare in the Dark offers at their events.
Club secretary Joshua Mutterperl '24, shared that Shakespeare in the Dark rehearsals are a space where you can freely experiment, determine what is good and what is bad, as they have the freedom to make mistakes.
"It is important because I think a lot of times when you do theater in certain groups, it'll be like, 'I have to play it safe because I have to seem good all of the time,'" Mutterperl said. "It's okay to try something and be like, 'Oh, no, that didn't work. I'll do it right next time.'"
Additionally, Sheridan explained that there are very few characters in Shakespeare where the actors's gender is vital to the plot of the performance, so it makes their shows welcoming to gender nonconforming actors.
"Shakespeare doesn't have time to rhyme 'he' or 'she' anyways, so you don't have to worry so much about that," Sheridan said. 
Club secretary Cecelia Eure '22 added that another benefit of performing Shakespeare's work as a student-run organization is that his work is in the public domain, so the performers and director can change parts of it without having to worry about legal issues.
"It's free, so that gives us the liberty to do whatever we want to with it, which I think is like the most fun part," Eure said.
Suslavich explained that because there was such an unexpectedly large turnout, the festival ended up going 30 minutes over the projected end time. He shared that he was not only surprised by the number of people, but also by how much fun he ended up having in the simultaneously relaxed but energetic setting.
"Today was a fun time," Suslavich said. "I hope that people who participated just enjoyed it and are excited to continue doing theater in college."
Shakespeare in the Dark is very flexible in how they select their performances. The typical process is that club members propose their ideas for a show and after deliberation among the club they decide which route to take and get started working on the chosen show. They've had shows set in ancient Greece, the 1920s, a radio play in space and a 1600s period piece. Sheridan shared that the different contexts can help the audience understand the Shakespearean language more easily.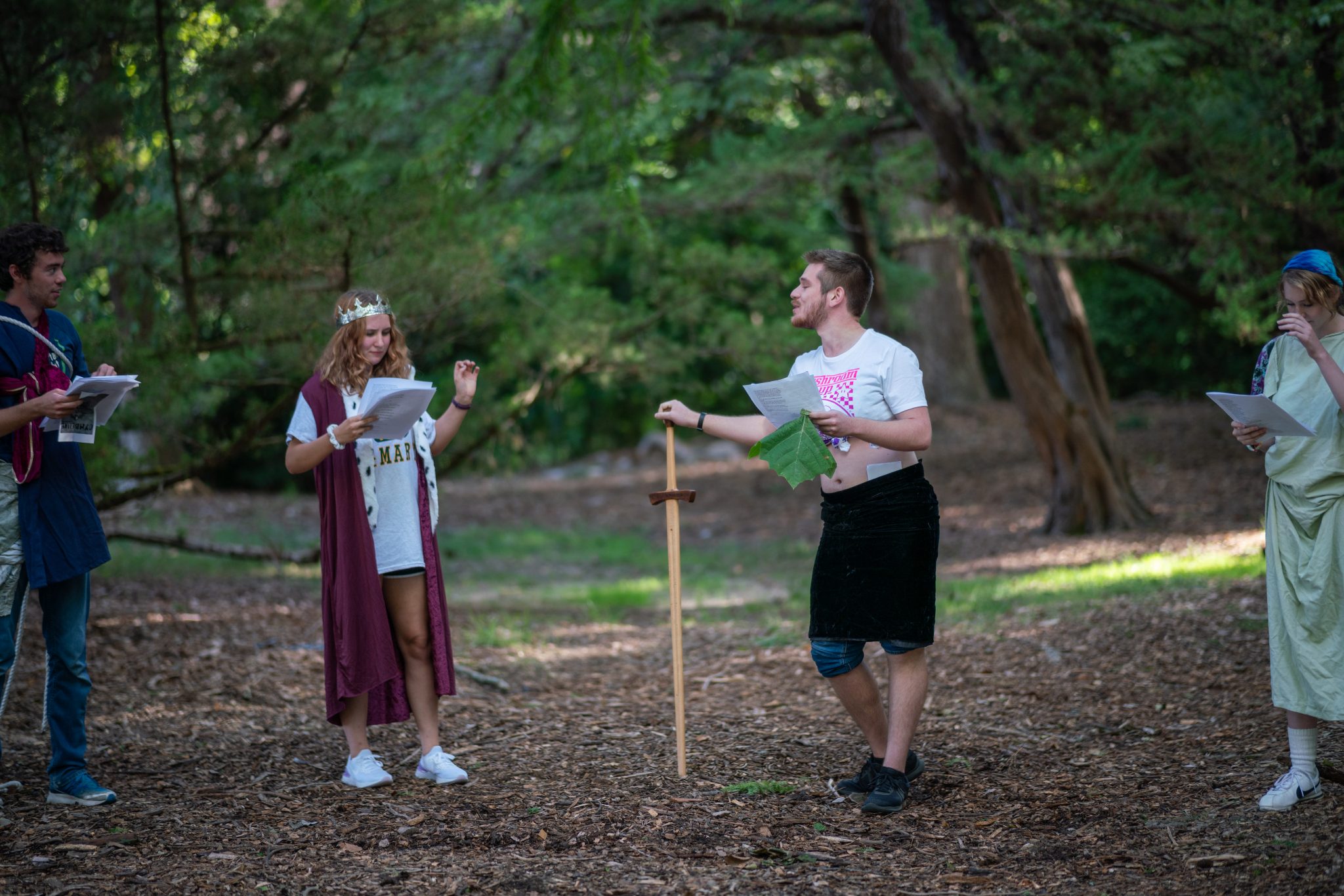 To hear more about Shakespeare in the Darks upcoming events and meetings, check out their Instagram page @shakespeareinthedarkwm or their Facebook page Shakespeare in the Dark.