When Dominic Genett '25 arrived at the College of William and Mary for freshman orientation, he did not expect to be woken up in the middle of the night by the relentless Williamsburg heat. But his dorm, Eagle J in Green and Gold Village, lacks A/C, and the soaring heat index meant that his second-floor room was nearly unbearable.
"It just gets so hot, youwake up in the middle of the night," Genett said. "I've had that happen to me five times now. That first night, I woke up at five, it was so bad I couldn't even go back to sleep, I was just up at five."
Genett is one of many freshmen at the College whose dorms remain un-airconditioned in the August heat. Though many students at the College recognize the lack of A/C as a common freshman experience, the particularly high heat index this August, as well as negative feedback from community members, caused the College's administration to take action, installing A/C window units on the top floors of dorms such as GGV and Monroe Hall.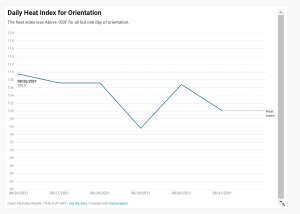 But for students like Genett, whose dorm room still lacks A/C, the side effects of excessive heat are painful.
"I started developing heat rashes," Genett said. "Because I had a lot of sweat building up, it was very hot, and I noticed that parts of my arms where I had a lot of skin contact, like on my elbows, I noticed that those parts were starting to get itchy. And I was like, 'oh is that a rash?' and I looked it up and, oh, it's caused by excessive heat. That explains a lot."
Along with heat rashes, dehydration and nausea, Genett said that the high temperatures in Williamsburg caused him to skip many optional events during orientation, opting to retreat to his room in an attempt to escape the heat.
"The heat wasn't just a problem in the rooms, it was sort of a problem throughout campus," Genett said. "So when I would go to the optional events, the heat just had me so exhausted, I would just go back to my dorm and I would just sit in my chair in front of my tower fan to cool off."
For Jessi Cairns '25 who lives in the same dorm, the heat negatively affected her mental health.
"I was so stressed out," Cairns said. "I was just overwhelmed. I was like, 'I do not want to live here, how can I live here? How can I sleep?' and then with orientation, I was dying. I don't understand how anybody else wasn't like, 'whoa, let's breathe for a minute.'"
Cairns' third-floor dorm room has since received window A/C units for every room, but at the beginning of orientation, it was the hottest area of the building.
"Originally, you could easily feel the temperature difference walking down the stairs to the second floor, it was already a lot better," Cairns said. "The first floor, it's like, 'ooo, this is kind of nice.' The basement is amazing. So it's a big difference."
Cairns and her roommate used four fans, cooling towels and water misters to keep cool on the third floor, with limited success.
"If this was a house someone rented, this would not be suitable living conditions," Cairns said. "It would be inhospitable."
Beyond the lack of climate-control infrastructure, many dorms like GGV lack water fountains, leaving the only source of water as the sinks in the bathrooms and kitchens.
"In GGV, there's not any water filling stations that are close by," Genett said. "There's Commons, but that's limited by card swipes, and even then, out of the three water dispensers there, only one of which I've had consistent luck with. We have the kitchen sink. That's it. So if I want cold water, I have to go to Commons and remember which machine dispenses good water, or I have to hike to Wawa and get free water from there."
Though the lack of water fountains remains a present issue, air conditioning units have been installed on the third floor of GGV, as well as other similarly un-air conditioned dorms. According to Associate Director of University News Erin Zagursky, the decision was not based on any particular heat metric, but rather because of complaints from the College community.
"The decision was based on feedback from residents, parents and staff members — not a specific temperature or heat index number," Zagursky wrote in an email. "Because such factors as the number of people in a building, the design of each structure and air flow can affect how people experience temperature, Residence Life and Facilities Management will continue to determine if such interventions are needed in the future on a case-by-case basis."
Students like Genett point to student feedback as the catalyst for this change in policy.
"There were several events where people in Green and Gold Village were chanting, 'who are we? GGV! What do we need? A/C!,'" Genett said.
However, additional A/C units are few and far between, largely because of the limited power systems in older campus buildings.
"As Residence Life told residents in an email, the power and ventilation systems in these buildings were not designed to be able to sustain window units in each room," Zagursky wrote. "Doing so could cause power outages and other issues, including increased mold and mildew growth."
Residents in halls with increased A/C window units were instructed to avoid using high-energy appliances, like microwaves or hair dryers, while the A/C is running, signaling the temporary nature of the solution. However, students like Genett point to the looming threat of climate change, making this temporary solution untenable for the future.
"As global warming becomes more of a threat, these situations are only going to get worse from here," Genett said. "Class of 2026? I'm pretty sure some of them are actually going to die next year."
However, Zagursky says the College is working on a long-term plan to address the problem of lackluster infrastructure.
"While the steps taken to address the extreme heat are temporary, the university is finalizing a master plan for residence halls that will provide permanent solutions to these issues," Zagursky wrote. "We expect that plan to be completed in fall 2021 and published on the W&M website. In the meantime, if students have concerns, they may contact living@wm.edu."
But for students like Cairns, who lived in an un-airconditioned GGV, drastic measures are needed.
"I think it's time for that building to go," Cairns said. "I love the community, everybody in my hall is really nice, but the hall itself, it maybe could be used for a different purpose, but not for living.