Friday, Sept. 3, Athletic Director Brian Mann sent out an email to subscribers of the Tribe Baseball program breaking the news that Head Coach Brian Murphy would be leaving. Accepting the head coach position at Merrimack College, Murphy will return to his hometown and alma mater for this upcoming spring season. 
"While I know his decision to leave was a difficult one, in the end, the opportunity to return to lead his alma mater and move closer to family was too great to pass up," Mann wrote in the email. "We wish him the best of luck and thank him for all his contributions to Tribe baseball."
Murphy and the Tribe part on amicable terms. Everyone from the administration, athletics program, baseball players and the general public alike will miss him, but by and large, the response to his decision has been overwhelmingly positive and understanding. 
"There's been nothing but support inside the office and from the community," Associate Sports Information Director John Moyer said. 
Murphy has worked with Tribe baseball for eight years, seven of those as the head coach. After his transition to head coach in 2014, Murphy led the Tribe to its first ever regular season conference title. His performance won him the Colonial Athletic Association Coach of the Year award. Two years later, the Tribe saw action in the CAA championship tournament, before moving on to a National Collegiate Athletic Association regional final appearance. Murphy, again, won a coaching award for that year: VaSID Coach of the Year. 
In the 353 games Murphy has coached for the Tribe, he maintained a record just slightly under half: .496. In the Tribe's conference, that percentage increases to .504. He was incredibly consistent at maintaining excellence at the collegiate level.
However, the team itself believes Murphy's legacy with the Tribe comes not from the awards and outstanding performances, but from the work he has put into the baseball program. Though the team has used Plumeri Park since its dedication in 1999, Murphy worked incredibly hard to improve the facilities and grounds. The park's manicured maintenance speaks to how hard Murphy worked to garner recognition and rewards for Tribe baseball's performances throughout his tenure. 
"Speaking on behalf of the entire team, we're just really grateful for what Murph has done for this program," graduate student LHP Justin Pearson said. "It's really amazing what he has done to grow this place so much from when he first got here … watching our program grow, and being able to get a really nice scoreboard, get a really nice wall, really nice hitting facility, really nice locker room. All these things that we've been able to get because of the hard work that he and his coaches and the success of the previous teams is just really impressive to me."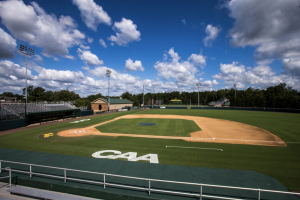 Murphy emphasized discipline, both academic and athletic, as well as fostering a close-knit team. That team culture was more than just accidental — the close bond of the team directly contributed to success on the diamond. Because of his coaching style, that culture will not easily be overridden by his replacement. 
"There was sort of a steadiness with Murph, but that's not necessarily lost." Moyer said. "I don't think too much of that tradition and culture that Coach Murphy built is going to be lost, but memorialized."
For all his emphasis on responsibility, Murphy was best described as a soft-spoken man. He was a coach who watched over and cared for his team. 
"He was a super humorous guy, something that maybe doesn't come across as much because he's quieter," Moyer said. "A real, strong family man, great coach to work with, always positive, and really one of those coaches who had the student-athletes' best interests in mind."
Murphy's quieter nature allowed him to watch his team closely. He made sure he was getting the best effort out of everyone. Murphy was constantly making small adjustments to the team based on what he saw in practice.
"Coach Murph had a very specific style of coaching where he was almost always evaluating," senior outfielder Matt Thomas said.  "He was one of those coaches where only if you talk to him, he would talk to you and give it to you straight. So, Coach was a little bit more reserved in that sense."
Because he played his cards close to his chest, Murphy left a lot of responsibility to his players throughout the season. Players learned to measure their ability independently, which meant Murphy's decisions to put players in positions of more responsibility (higher in the batting order, putting in a pitcher in a bases-loaded situation, starting a new player, etc.) did not come as a surprise.
"For the most part, Coach Murphy was really expressive in what your role would be, like at the beginning of the season," junior outfielder Joe Delossantos said. "In terms of being very transparent, we would know — it was more a type of self-evaluation thing. You know what you bring to the team. You know what you can do, and he let those types of things play out."
The reservation or quietness of Murphy was not a detriment. In fact, his laid-back approach allowed the team to foster a culture of closeness and leadership among themselves. He gave the team a long rope, allowing them to independently connect, but at the end of the day, he had provided the vehicle of support for those bonds to be built. Without his coaching style, there is no doubt that the team culture and strength would be drastically different.
That type of self-sustaining bond will persist — even after Murphy leaves. 
"Where he also respects the older guys, since he wasn't ever the most vocal leader, he would lean on the groups of older guys, expect them to set the example for the team, be able to get everybody to rally around something," Pearson said.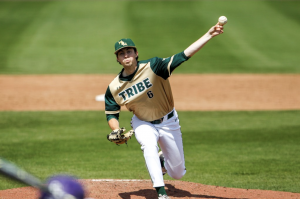 Older guys on the team helped Murphy in encouraging a team culture.
"In terms of how you're seen in Coach Murph's eyes, a lot of it depends on how you play. Coach Murph loves a guy that always plays hard." Thomas said. "And then, there's also something to be said for how he treats his seniors and his upperclassmen who have been around the program for a while. He has a lot of respect for guys that have put the time and effort in for four years. He respects guys that have gone through it for the long haul."
Murphy's coaching style also allowed the guys to stay close beyond the field, and even beyond William and Mary. When the news broke about Murphy leaving the Tribe, Tribe baseball alumni  made the effort to contact current players and gauge their reactions. 
"I think Coach Murph left behind a program and it's much more than the guys that are in the locker room from year to year." Thomas said. "When all this stuff was happening, and Coach Murph was leaving, I had multiple guys that aren't even a part of our team anymore, that have graduated and gotten real jobs, reach out and say like, 'Coach Murph's really leaving?' He left an impact on every single team that he coached. It's not just the guys that are in the locker room right now that are experiencing losing Coach Murph, it's also the guys that have played here before and moved on and graduated."
The baseball program's success was driven by those close bonds between the team — on, off and beyond the diamond. That dynamic of empowering the older guys on the team to be leaders was not just an accident. Murphy actively fostered team bonding through pre-season activities called Team Day.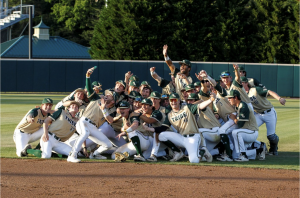 "We had this thing called Team Day, and basically, we would pick like four or five teams, and the captains, or leaders of those teams, would usually be older guys, and we would have a team draft." Delossantos explained. "I think that, at least in my time here — and I hope we do it this year — that was really the biggest way, or the first step for me, getting to know pitchers or hitters that I even may or may not have hung out with that often."
This explanation came after a question about how Murphy integrated pitchers and hitters under a "one team" mentality. Several guys emphasized Team Day, graduate student RHP Will Moore gestured to the shirt he was currently wearing from a Team Day past, and Delossantos gave an overview of the concept.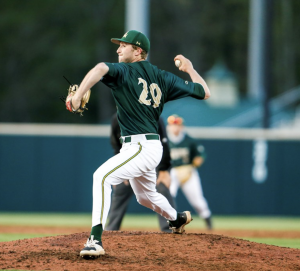 "The point of Team Day is, obviously, the big headline is to compete. We go play a bunch of different sports, and we want to compete against each other." Thomas tagged on. "The other point of team day is to put people in uncomfortable spots and make everyone find a way to contribute to their team. So, not everybody on the team is going to be good at soccer, but the point of team day is that we all have to find a way to contribute to our team during that soccer game, or during that dodgeball game, or during that basketball game."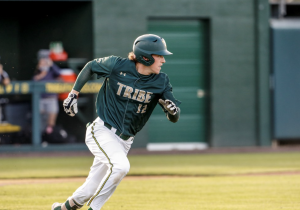 The excitement about Team Day and its lasting impacts on the team camaraderie was clear. Murphy had truly come up with a way to foster team spirit between disparate defenders with the concept of Team Day. 
Murphy's creation of the team culture was intentional and a testament to his coaching style and ability. But it went beyond forming friendships. Bonds formed in practice (and on Team Day) directly contributed to performances on the field. He let the team make those connections almost independently, which made that camaraderie stronger in games. 
"It was on us to build our team's chemistry, and you can literally see, in the years where our team has been successful, you can just look at the senior class and just look at who those groups of dudes were, and if they were able to get us all to come together, like hang out outside of baseball, be around each other all the time, that translated to success," Pearson said. "Those were some of the years that our teams were really, really good."
More directly, Murphy's emphasis on getting the most out of his team is evident in how he approached game days and responsibility. Success was a function of how close the team was and how much responsibility Murphy allowed players to have. The team was thankful for Murphy for fostering those values.
"While there were specific guys that might play every day, or pitchers that might start on Friday night, Saturday night, Sunday, like our weekend rotation, he never, in my opinion, counted people out to where they didn't have a role," Thomas said. "He wanted to keep everybody engaged because through the course of a 50-60 game schedule, anything can happen. It's just the next guy mentality, the next guy steps up, and people need to be ready to go for that."
Team culture goes deeper than friendships and bonds of the players, strong as those may be. Murphy prioritized discipline as well as leadership and camaraderie as part of the culture of the Tribe, in order to see lasting success on the diamond. That discipline came in two forms: academic and athletic.
"Academics definitely came first in Murph's eyes." Thomas said. "Coach Murph really did put an emphasis on our academics, and wanted to make sure we were always doing the right thing in the classroom. Some guys would go play pro ball, but a lot of us are going to go get jobs after this and we can't just be a baseball player. We got to be a lot more than that."
Murphy made sure to emphasize academics even before players joined the Tribe. 
"He was always having us send our transcripts to him, asking how our grades were," senior RHP Rojo Prarie said. "A lot of the recruiting process was picking guys he knew would succeed."
Despite being described as soft-spoken, Murphy had no hesitations about speaking about the importance of academics at William and Mary. 
"He would acknowledge too, a degree from here is a big deal," Pearson said. "It's something we should be proud of. He always said you should prioritize school. If you have a class that extends a little bit into practice, as long as you communicate that with him, he literally has no problem with it. Just, making sure that you prioritize school, while also being able to focus on baseball, too."
Murphy won three straight awards from the ABCA for academic achievement — the Team Academic Award — in 2017, 2018 and 2019. Murphy not only spoke extensively about academics, but turned those words into actions. 
"Academic achievements were recognized usually right before a practice," Delossantos said. "Basically, he would acknowledge those guys, take a quick picture, and then your picture goes up — we have an academic achievement board in the locker room — and basically whenever you make it, you go up. It's something that was definitely taken seriously. I think that to some degree, your dedication that you showed in the classroom also kind of represented who you were, what you did out on the baseball field." 
In terms of discipline, Murphy also showed his expectations for the team with his actions. 
"I remember my freshman year, I asked Coach Murph, like, we're going to all these schools, some of them play at almost, like, rec fields and have grounds crews," Moore said. "I asked, why don't we have a grounds crew. And he was like, as long as I'm here, we're never going to have a grounds crew. I want all of us to work together to maintain this thing."
"He always lets us know like, this place is ours," Pearson said. "We have field duties at the end of practice, where all of us do a certain part of the field. We pick up the bullpen, guys will pick up the facility. We don't have a grounds crew. It's our field, and he always taught us like, if we want things done right, we just do it ourselves. We're really grateful for what he's done for this program and what he's done for all of us."
The team has come to terms with Murphy's decision to leave, partly because of those values he instilled in his players. As Delossantos says, he really wanted his players to leave the Tribe as men. So, the players understood that leaving was more than baseball.
"His decision was more than just for the job, the money, it had to do with family," Delossantos said. "And so yes it left us with the empty feeling, but we kind of had to understand that it was more than just baseball for him and for us."
"I think we're definitely wishing him good luck up at Merrimack," Moore said. "We certainly understood the decision. At some point, family takes precedence, and no one held that against him."
So, what's next for the Tribe? What happens now that Coach Murphy has left?
"The team he left behind isn't just burnt to the ground," senior infielder Cole Ragone said. "He left behind a good program, and it's moving in the right direction."
The team is hopeful for the upcoming spring season. They will miss Murphy, but the coach's lessons and values remain, allowing the team to pick up where they left off.
The Tribe is currently searching for a new head coach, but in the meantime, assistant coach Pat McKenna has stepped up into that interim head coach position. 
"Coach Murph left, and Coach McKenna took over as the interim head coach, and, to be honest, he's done an absolutely amazing job." Thomas said. "I think a lot of us would love for Coach McKenna to take that head job, if he is able to get it. The reason for that is because he knows us, and he knows how we play, and how we gel as a team. The worst thing that could happen right now, is that someone comes in and reinvents the wheel again."
The team has been in talks with the administration about the search for a new coach. All they want right now is consistency, especially with the high turnover rate of baseball coaches recently at William and Mary.
"We've had, at least in my career, I've had four or five different strength coaches; Coach Casey left during my time, and we're on our third volunteer assistant — actually, make that four volunteer assistants, since our new coach just left, too," Thomas said. "What we're looking for is just some stability. Right now, we're looking for someone to come in there and just add to our energy and keep allowing us to develop and become closer as a group right now."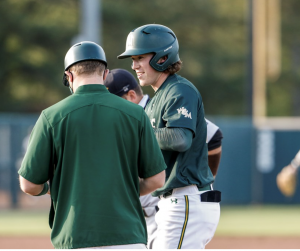 Even without a head coach, the players feel confident about the upcoming season. After all, the team remains close — Murphy's formula for success. Murphy prepared the Tribe well for when he leaves.
Murphy will be remembered by the public for the success he brought to the Tribe baseball program. He will be remembered by the administration for the improvements he brought to the Tribe baseball facilities. But, for the players, he will be remembered for the team culture he brought to the diamond. 
Murphy allowed the players to become as close as they are, and he shaped nervous recruits into eloquent, disciplined players. His contributions to Tribe baseball cannot be underestimated just because he wasn't a vocal coach. His success speaks to the validity of his approach. 
Thomas wrapped up with a quote that sums up how the team feels about Coach Murphy's decision to leave. 
"We definitely thank Coach Murph for believing in us and giving us a chance to play baseball at a high level, at a great school, and honestly, for bringing us all together," Thomas said. "Coach Murph is moving on to a different school, but we're going to be friends forever, and that's thanks to Coach Murph."