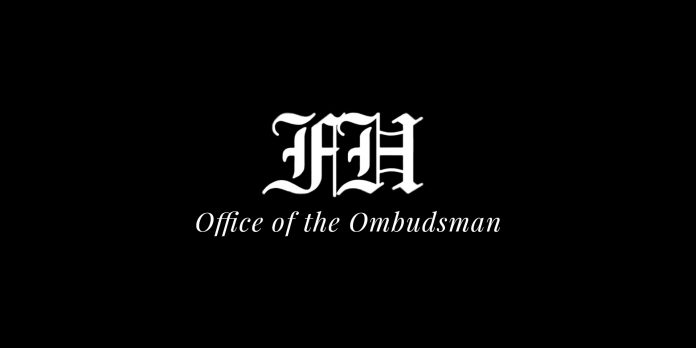 Editor's note: The ombudsman is an independent position within the paper that oversees standards and ethics of news coverage. Read more about the position here. Email Matt at flathat.ombuds@gmail.com or submit a formal comment or complaint here.
The author's views are their own.
Wednesday, Dec. 8, The Flat Hat broke the story of an ongoing incident at Sadler Center. While members of the campus community had already received several notifications from the university, there was no external coverage aside from tweets by William and Mary News, which was vague and cautious in wording. Later, it would be confirmed that the large police presence and evacuation of buildings on campus was the result of a reported bomb threat. The Flat Hat broke that story too, along with the name of the accused.
The two news briefs, written by our managing editor with support by The Flat Hat staff, were the first stories to confirm what had happened. Until then, without official confirmation from police or the university, rumors and misinformation began circulating. While it seems many of those rumors were (mostly) correct, the need for verified, independent news sourcing became apparent.
In addition to verifying the circumstances and events of Dec. 8, the articles provided context and new information to the community. As of this writing, the second news brief has been viewed almost 8,000 times in just over 24 hours and has become one of the most-read pieces ever published under The Flat Hat banner.
This was good breaking news coverage for several reasons. It was clear that the university was not releasing information at the time, which allowed for unverified information to make its way through the community. Some of these claims also made their way into The Flat Hat's Slack messaging channels where our reporters were able to collate and verify them. Questions began circulating about the nature, timeline and effects of the incident, which needed to be answered quickly and accurately. With such a large and public display, the desire for information can outpace the responsibility to get it right. The Flat Hat managed that balance well, waiting until confirmation by officials to publish an article but also did so before anyone else.
News organizations are historically bad at breaking news. Former New York Times Public Editor Margaret Sullivan once wrote "it is better to be slow and right" and I have to agree with her. In writing about the Times' coverage of breaking news events, Sullivan says "Practices like [fact checking] can fall apart quickly in the scramble to chase a major breaking news story. It is easy to see why … Journalists have to react quickly. But as they do, high standards and journalistic rigor shouldn't be on the run too."
When you need to get information out it can be hard to sort fact from rumor. Verification comes at the price of speed. Don't get me wrong, I don't think we're the Times. But I do think that news organizations across the board, big and small, local and national, fundamentally wrestle with the same issues and the same trade offs. Heck, even I've written about this type of thing before.
In the second article about yesterday's event, The Flat Hat decided to run the name of the accused. Despite receiving almost no feedback about this decision, I would still like to explain why. Several years ago the Associated Press made the surprise decision to no longer name or publish mugshots of persons involved in many crime stories. Vice President for Standards at AP John Daniszewski wrote that "The names of suspects are generally not newsworthy beyond their local communities."
You will notice that I do not name them in this article because it is unimportant to this story. I also will not link to articles, including those in The Flat Hat, that do. Given the way search engines work, that can increase the prevalence of those articles in results.
In most things The Flat Hat will follow AP style and standards. In this case, the charges are a matter of public record and comment and the person's name was determined to be in the interest of our local community. Following what I imagine was a similar thought process, other, larger local news organizations have published the same information. It is difficult ethical decisions like this that most clearly demonstrate the need for a comprehensive collegiate journalism standards and ethics guide (something which I have failed to produce thus far).
The whole idea behind the AP's decision is that the internet lasts forever. News organizations don't usually follow up on minor crimes and often will only update a story on the same webpage if at all. The problem is that this person may not be convicted, charges dropped, or otherwise move on with their life while being followed by a news article connecting them to a crime.
There is far too much stigma associated with people convicted or charged with crimes, especially those of petty crime. To contribute to that stigma by naming persons involved in minor crimes or failing to update on those who we name fails our goal of remaining a fair and honest public organization. As such, I am hoping The Flat Hat will stay abreast of and publish developments in this story to ensure that we don't fail our standards.
Finally, I would like to commend our reporters, writers, photographers and editors for their work on these news pieces. We have met our goal of being an essential news source to the community.