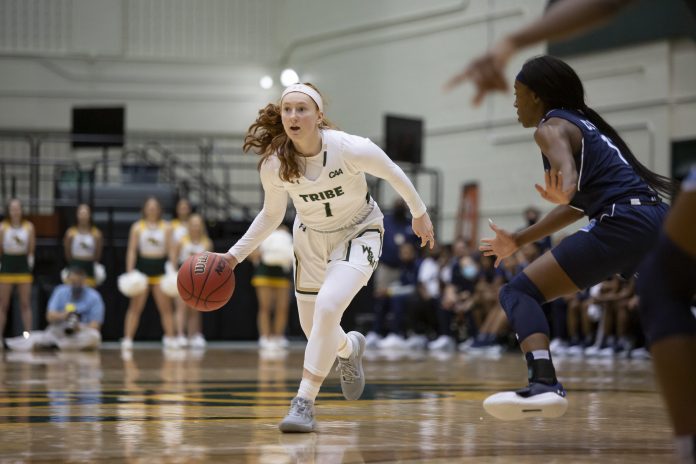 William and Mary (6-10, 1-4 CAA) fell to Northeastern (10-6, 4-2 CAA) 67-57 on Sunday, Jan. 23 at the Cabot Center.
"The second leg of a trip, especially when you have to fly, is tough," head coach Ed Sawnson said. "But I thought we played with great energy, great effort, throughout the entire game."
Coming off a victory at Hofstra, the Tribe continued their road trip up to Boston with depth concerns. It started off strong on offense to take an 18-16 lead after the first quarter.
Northeastern turned things around in the second quarter and limited William and Mary to just eight points. The Huskies took advantage in the paint, outscoring the Tribe 38-24 in the game. In 18 possessions during the second quarter, the Tribe turned the ball over eight times. Three turnovers led to Northeastern fast breaks, and the home team held a 33-26 lead at the half.
"Live-ball turnovers are a killer," Swanson said. "And we took some quick bad shots, I thought. Turnovers and quick shots are the first pass to a fast break. That's what the game came down to."
William and Mary kept the contest close in the third quarter with an efficient offense. They shot 7-13 from the field and 2-5 from beyond the arc. Early in the fourth quarter, graduate student Kate Sramac stole the ball and passed to redshirt senior Sydney Wagner who converted on a lay-up to cut the Huskie lead to four points.
Unable to capitalize on two more turnovers, the Tribe were unable to get any closer. Northeastern junior Kendall Currence drained a short jump shot halfway through the quarter to extend the lead. On the same play, junior Bre Bellamy was called for a foul in the paint. Northeastern retained possession and graduate student Riley Casey fouled Northeastern freshman Claudia Soriano who drained both free throws. The four point play increased the Huskies' lead to 56-46.
"We're not a team that scores in bunches right now, and a 10-point lead sometimes is like a 15 or 20-point lead because of how hard we work to score," Swanson said. "We get very few transitional baskets. A 10-point lead in the fourth quarter is tough for us to overcome at this time."
Casey and Wagner played all 40 minutes of the game. Casey finished with 15 points and shot 6-13 from deep. Bellamy and Wagner finished with 11 and 10 points, respectively. Riddled with injuries, a long break will prove useful for the Tribe.
The Tribe will host Delaware on Friday, Jan. 28 at 7 p.m. in Kaplan Arena.