Initially created in 2017 and formally becoming a chapter of the College in spring 2018, the National Organization for the Professional Advancement of Black Chemists and Chemical Engineers (NOBCChE) is a club on campus that seeks to ensure that people of all backgrounds have the opportunities to pursue a major and career in chemistry.
The chapter of NOBCChE at the College was founded by Chemistry Professor and Senior Lecturer Dana Lashley, who remains the faculty advisor of the organization. From her time in NOBCChE as a graduate student, she retained the positive experiences and founded the club to improve diversity in the College's chemistry department.
"There came a time in 2017 when we as a department were reevaluating diversity in chemistry and our climate," Lashley said. "We noticed that we do have a lot of students of color as our freshmen who come in and take general chemistry and maybe organic chemistry, but somehow we were not retaining students of color, and we were losing them somewhere along the way."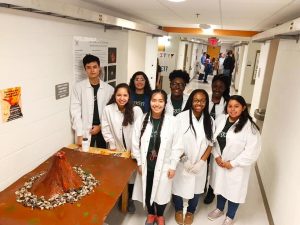 Despite the organization being a relatively recent addition on campus, it retains high membership with students from all different backgrounds being interested in what NOBCChE has to offer. The club impacts each member of the club in a unique way, leading to a wide range of reasons students have joined.
Kyle Lewis-Johnson '25, the outreach chair of the organization, remarked on how the club helped him find a voice on campus and in academia. 
"It felt like an outlet for me to have my voice heard on campus," Johnson said. "Whether it be a small setting or a larger setting, it made me feel as though I could make a difference in the field of STEM by being a minority. Being in the club, I realized that I have just as much of a voice as anybody else."
One of the main purposes of the club is networking. Much of the day-to-day operations of the organization involve having the members of the club connecting with not only one another but the greater STEM community. Members of the club, like NOBCChE President Sophia Haile '23, appreciate the opportunities to talk with not only fellow science enthusiasts, but also people with similar backgrounds to her own.
"A lot of the meetings we spend a lot of the time getting to know each other, and I feel like it's very important we establish that connection with one another," Haile said. "I feel like everyone has gotten so close, and I feel like it's good to have that support system. We really emphasize getting to know each other and becoming a support group for one another, and I feel like that's the main goal of our meetings."
Even despite the limiting factors of the pandemic and the associated implementation of online learning, the members of NOBCChE made an effort to stay in contact with one another.
"We still tried to make sure we were still a community," Haile said. "Even if we weren't able to do all of the outreach events we wanted to do, we were still communicating with one another, talking with one another, helping one another and spreading awareness in any way we could."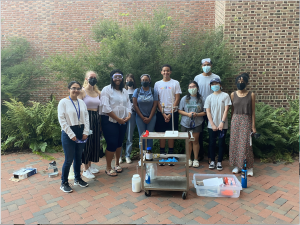 However, now that activities have largely returned to being in person, NOBCChE is growing to a size even bigger than before the pandemic, with the club seeing a massive uptick in membership. The new members, most of them freshmen, are taking advantage of the opportunities and connections in NOBCChE, and the growth shows no sign of slowing down.
The bigger size means that the club has been able to expand its reach and solidify its position on campus, with the organization recently placing third in Impact Week, a seven-day-long competition at the College where organizations compete for funding for their desired community service project, despite the group going against much larger clubs.
NOBCChE's newfound membership, in addition to its Impact Week accomplishment, has allowed them to take on new and ambitious goals in order to accomplish their mission of advancing equality in the field of chemistry. One of the main goals of the club for the near future is to branch out from the College and serve the greater community as a whole. 
"Our plan is to hopefully bring students from underserved communities in the Williamsburg area into the Integrated Science Center so that we can conduct some fun science experiments for them," Haile said.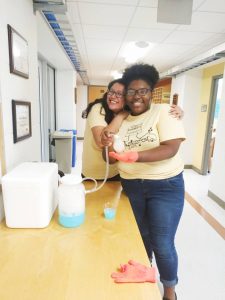 In addition to connecting with the Williamsburg community, NOBCChE is also making efforts to connect with other chapters of the organization from around the country.
"One of the goals was to get students from NOBCChE to go and present their research at the national NOBCChE conference, and this is something that we did in 2018, although it was just one or two students," Lashley said. "But in 2019, we were able to take five students to present their research at the national conference in Orlando, which was an amazing experience. And so, in 2020, all of the conferences went virtual and the organization died down a little, but my hope is to take a bunch of NOBCChE students from our cohort now to the national, in-person conference that takes place this year."
Even though the club is academically minded at the core, the members of the club still always try to have a fun time with whatever they are learning. And even though NOBCChE does focus on improving the equality in chemistry for minority students, the club is open to anybody who wants to have an enjoyable time learning about science.
"Our organization is an amazing way to see how smart you can be and how much fun you can have with learning different things about chemistry and applying them," Lewis-Johnson said. "It's a club for everyone, and even though NOBCChE is branded in the way it is, it's not just for African-American chemists or chemical engineers, it's for anyone who's interested in a field in science."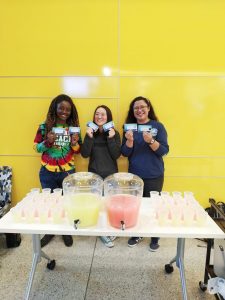 Furthermore, the organization does not just allow minority students to see themselves in a career of science, but also allows lovers of chemistry to express themselves.
"It gave me a space to talk about chemistry and explore my love for chemistry," Haile said. "In high school, I liked chemistry but I wasn't doing it outside of the classroom, I was just doing what I needed to get done, but by joining NOBCChE, I was able to see people older than me who were chemistry majors and loved it, and I thought that that could be me one day. I just felt like that gave me hope that I could share my love with other people."
The positive impacts of NOBCChE on its members cannot be understated as the club is adored by everyone who is a part of it. The fundamental pillars of NOBCChE align with the values of the College  as a whole, and the club seems to only have a bright future ahead of it. 
"One of the William and Mary values is belonging, and I just want every student to know that NOBCChE is about belonging," Lashley said. "We want our students of color and our minority students to feel like they belong in this space of chemistry and science, and we want them to be successful and we want to support them as best we can."