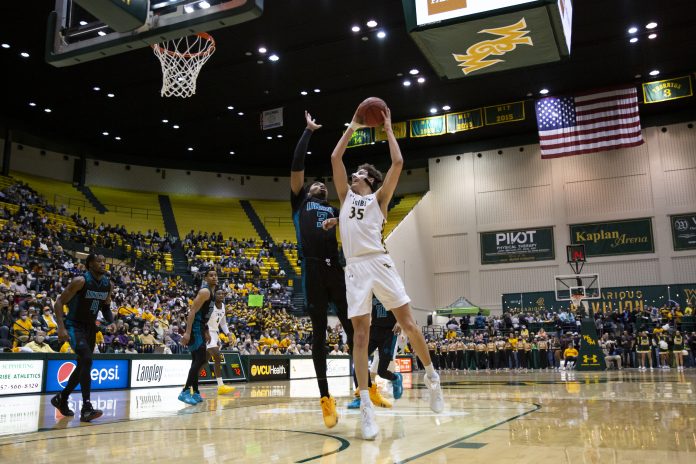 The College (5-19, CAA 4-7) fell to UNCW (16-6, CAA 10-1) 92-72 on Saturday, Feb. 5, at Kaplan Arena in the annual Gold Rush game.
"Today, Wilmington did everything that we said we needed to make them do to beat us," said Head Coach Dane Fischer.
Despite UNCW winning the tip-off, the College started out strong and went shot for shot with the Seahawks for the first five minutes of the game. The Tribe held the lead for 2:33 minutes in the early part of the game. Several minutes later, UNCW began to pull ahead by making three unanswered three-pointers in a row to increase their lead by nine.
The Tribe kept themselves in the game for the remainder of the first half, in part due to their impressive foul shooting. The home team shot 80% from the line, compared to only 63.6% for UNCW.
Both teams heavily relied on three-pointers, as they each shot over 55.5% from beyond the arc. Sophomore Connor Kochera was a perfect 4-4 from deep, followed by graduate student Brandon Carroll who went 3-4.
UNCW graduate student Mike Okauru was a one-man wrecking ball. He went 8-10 from beyond the arc and led the game scoring with 30 points.
"We just talked about being more aware of getting out to them with more urgency," Fischer said about containing the UNCW offense. "We felt like if we could just string together a couple of stops, we were scoring the ball, we could try to get within striking distance and those stops just never came."
Okauru began the second half with a three-pointer for UNCW to create a comfortable 16-point lead. The Tribe gained some momentum in the middle of the half with a layup from Carroll, followed by Kochera converting an offensive rebound made by freshman Tyler Rice.
In the final 10 minutes of the contest, UNCW maintained a lead in the double digits. They extended their lead to a game-high of 23 points in the last minute, moments before Rice made a final free throw for the Tribe to end a 92-70 contest. 
"The big thing we'll do is be able to practice Monday, Tuesday, Wednesday, which is nice," Fischer said. "It is the second time we can do that. We've tried to kind of go in incremental steps of improvement and you know we certainly got to talk about our defensive effort and making sure we're getting out to shooters." 
William and Mary will travel to Towson on Thursday, Feb. 10 for their next match-up.