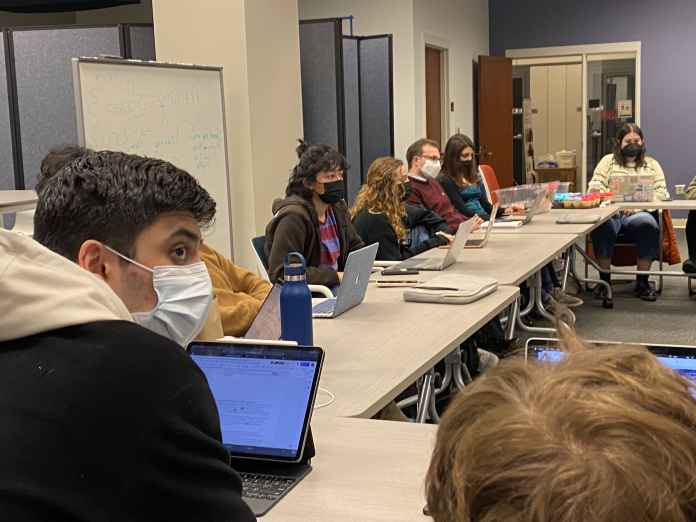 Tuesday, Feb. 8, the College of William & Mary's 329th Student Assembly passed two bills, including a major finance reform bill and introduced an important contract and six new pieces of legislation. 
Media Council Contract 
Before discussing new legislation, SA President Meghana Boojala '22 and Sen. Allie Wallach J.D. '23 introduced the recently finalized Media Council Contract. The contract, which is re-negotiated in three year cycles, specifies the relationship between SA and publications on campus, including the Flat Hat, and explains their funding. This cycle, the contract provides the Media Council with $135,000 for the 2022 to 2023 fiscal year from SA. 
The funding is a significant decrease from previous cycles, which has reached over $180,000 in previous years.
"The way we came up with this $135,000 number was, they were spending, actually spending, $120,000 a year in annual funding, plus they were spending between $15-20,000 in reserves every year on their event programming, so we thought that $135,000 was perfect in that its covering all their expenses plus replenishing their reserves, and their reserves are staying at…$55,000," said Wallach. 
New Business 
Sen. Sean Nguyen '25 introduced The Impeachment Trial Reform Act, which creates specific trial procedures in the event that an impeachment vote of a senator succeeds. The bill also specifies that the vote of impeachment "should be predicated on whether a Senator believes the charge outlined in the article has standing and if wrongdoing occurred. Judgments of guilt, intention, and punishment should be withheld until the trial itself."
This bill comes after Sen. Shaunna Scott '23's impeachment last semester, which was automatically introduced on attendance grounds and failed after multiple senators said her absences were justified. 
If this bill were to pass, future impeachments brought automatically on attendance grounds would be successful and move on to a trial, regardless of personal opinions of the merit of those absences.   
Nguyen also introduced The Rent A Hammock Act with Sen. Hashir Aqueel '25, which promotes and provides funding to advertise a new opportunity for students looking to take in the weather. 
"A lot of the freshmen in our class were really vouching for hammocks to be more publicly available on campus and we were working a lot, closely, with Campus Recreation," said Nguyen. "They decided to purchase fifteen double hammocks for around $400…essentially you can rent these hammocks on the site, and it's a really great initiative." 
Sen. Gloriana Cubero Fernandez '24 introduced The "Love Is" Campaign Funding Act. The Act provides $161.37 to fund the Wellness Center's "Love Is" campaign, sponsored by SA, which will run from Feb. 14 to 18 and centers on supporting healthy relationships, both romantic and platonic.
Sen. Taylor Fox '24 and Sen. Vicky Morales '22 introduced The Haven Act, which allocates $4,000 from the SA reserves to support the Haven Emergency Fund. 
"Liz [Cascone], the person in charge of overseeing the Haven, has started a fund for students that are having some financial insecurities when it comes to receiving services after having a stalking/harassment issue, sexual assault, things like that, so this bill will give some funds to that already existing fund. You can apply, it's up to $250 per application, and it just provides a little bit of help in a hard time for students," said Fox. 
Fox also introduced the LDOC Treat Act, which sets aside $1,007 from the SA reserves to serve food and drinks on the last day of classes of the Spring 2022 semester.
Finally, Sen. Maheen Saeed '23 and Scott introduced the Bouncing Into Wellness Act, which allocates $1,600 from the student activities fee to pay for bouncy houses, a sumo suit, a boxing ring, and other activities, as well as $500 from the Class of 2023 budget to pay for refreshments and a DJ. 
"This bill is about an event that the Class of 2023 is doing in collaboration with the cabinet side of Senate in which we're promoting wellness through a very fun event in the middle of the semester during a really stressful time for students," said Saeed. "The main point of this bill is that the student activities fee is for the students, and we want to do activities that serve the students."
Old Business 
SA passed The Student Assembly Financial Procedures and Oversight Act, a finance reform bill which changes funding cycles of registered student organizations from yearly to quarterly, among other significant changes. 
"I was on the working group that wrote this new code section, and I just want to echo things that we said last week, this was a very…arduous process to get to this point, we had a lot of input from a lot of different people," said Wallach. 
Chair of the Senate Owen Williams '23 reiterated the time and energy put into this bill.
"Every sentence in this document had, probably, thirty minutes to an hour of discussion about it," he said.
Additionally, SA passed The Plan Committees Funding Act Part 2, which provides $6,000 to support committees under "The Plan," including The Reparations Committee, The Academic Diversity Project, The Student's Rights Initiative, The Committee for the Contextualization of Campus Landmarks & Iconography, and The Student Community Policing Advisory Board. 
Also at this week's meeting: 
Wallach relayed that Sen. Zach Outzen JD '22 told her that the Feeding Students in Isolation Act, which provides food for students isolated due to getting COVID-19, was receiving "a lot of calls," and that she is "glad that it's being utilized, but also…a lot of people are in isolation with COVID…"