Saturday, Feb. 12, a sea of sparkles and satin shimmered and shone under the bright lights of Alan. B Miller Hall as attendees of the fifth annual Sankofa Gala gathered in floor-length gowns and tailored tuxedos. The Sankofa Gala is a yearly celebratory event that honors Black students, faculty and staff of the College of William and Mary hosted by the College's Black Student Organization, African Cultural Society and Student Assembly. Traditionally marked by elegance and glamor, the Sankofa Gala, along with its hosts and attendees, model Black excellence and achievement at the College. 
BSO Vice President Victor Adejayan '23 described Sankofa Gala as a symbol of Black excellence in his introductory keynote speech.
"Tonight we're here to celebrate Black excellence," Adejayan said. "Although our history as a community has been riddled with struggles and pain, and we have a lot of healing to do, one thing that the Black community has been, and will always be, is excellent." 
Leaders of ACS described the meaning of Sankofa. ACS Secretary Nhyira Simpson '23 shared that Sankofa is a proverbial phrase originating in the Akan languages of Ghana.
"In literal translation, Sankofa means 'to go back and get it,'" Simpson said.  "With 'San' meaning 'to return,' 'ko' meaning 'go,' and 'fa' meaning 'to take.' The Sankofa symbol, a bird with its neck turned around, represents the idea that we can take things from the past in order to build a better future."
ACS Co-Vice President Nelson Soga '23 elaborated on Sankofa's significance to the College community, explaining that like the bird, we need to move forward while bringing the good of the past with us.
"That's the beauty of Sankofa," Soga said. "Every time we bring a piece of culture, bring an injustice to light, or lift people across the diaspora who have made major contributions to society, we are sowing seeds of excellence that will bear fruit to progress and a more just society for those who will come after us. Although the work isn't done, tonight we enjoy each other's company, celebrate the strides we have made as a community and reflect on the good of the past that has come to the present."
Co-chair of the Reparations Committee, Chance Jimenez '23, took the stage next to speak about the necessity of restorative justice for the Black community. 
"I think it's institutions like ours that profited on the suffering of others that need to take the first step," Jimenez said. "It's a step past acknowledgement, it's a step past naming these individuals, and it's a step past describing Black trauma for one history class or another. We need to acknowledge the consequences of the atrocities committed."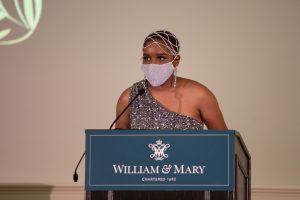 Jimenez further detailed the specific goals of the Reparations Committee at the College. 
"The Reparations Committee here at William and Mary seeks to acknowledge that past and go past acknowledgement," Jimenez said. "We want to name these individuals and also name their descendants because they deserve that. They deserve that acknowledgement. They deserve to be seen. They deserve to be heard. Their experiences deserve to be heard. And institutions like ours no longer get to benefit from their pain, the pain that they're still experiencing."
Next, the BSO Honors, a series of awards dedicated to honoring Black achievement on campus, were presented to students and faculty. The first round of awards were given to students by social class who are "involved in various organizations and excels both inside and outside the classroom"
For the underclassmen, Shawna Alston '25 was awarded with Outstanding Freshman, and Amaiya Mauney '24 was awarded with Outstanding Sophomore. For the upperclassmen, the Outstanding Junior award was given to Adejayan, and the Senior Legacy award, for a senior who "has made a great impact on campus" and "given all of themselves to affect change" was given to Salli Sanfo '22.
The next round of awards were given to students who showed exemplary performance in extracurricular activities, such as the arts and athletics. Excellence in Leadership was awarded to Adejayan, Excellence in Community awarded to Jimenez, Outstanding Female Student Athlete award to Amaya Johnson '23, Outstanding Male Student Athlete award to Nate Lynn '23, Tribe Involvement award to Shaunna Scott '23, Outstanding Faculty award to the Associate Director for the Center for Student Diversity Ms. Shené Owens and the Artistic Expression Award to Dawn Bangi '24. 
"It really means a lot to have my talent as well as my message and subjects be recognized, especially because a lot of the subjects that I take photos of are People of Color," Bangi said. "So I think having them seen as well is a really great perk of people interacting with my work."
The last round of awards were based on personable qualities, such as the Sunshine award for "an individual that always brightens everyone's day" or the Social Butterfly award for "a people person … fluttering from one conversation to the next, keeping the community connected." The Sunshine award was given to Breyonna Rock '24, the Social Activist award given to Sanfo and the Social Butterfly award given to Adejayan. 
Following the BSO Honors, a representative of the National Pan-Hellenic Council, the governing body for historically Black fraternities and sororities, presented awards for two outstanding members of NPHC for the extra time and effort they put into their organizations. 
Kevin Bloodworth '23 was awarded the Mr. NPHC Service award for his dedication to leadership and community values in the NPHC. Tristan Andrews '22, current NPHC president, was awarded the Ms. NPHC Service award for her work to facilitate discussion about NPHC through the Residence Hall Association, helping to raise over $13,000 for NPHC and representing NPHC in the greater Fraternity & Sorority Life community.
In his acceptance speech, Bloodworth thanked his community members within NPHC and acknowledged the greater implications of being nominated for the award at a predominantly white college. 
"I know that Black Greek organizations at a predominantly white institution can be a bit difficult to run and get members and sponsorship, so it's just great to be nominated to show we all work together and attempt to achieve some form of unity, at least within the Black Greek life community," Bloodworth said. 
The gala concluded with executive remarks from those who played crucial roles in planning and executing the event. First to take the stage was Student Assembly's Sen. Taylor Fox '24, who spotlighted the often overshadowed work of Black and African organizations on campus after thanking attendees and her fellow organizers for making the gala possible. 
"I just want to thank a lot of our Black and African organizations for the amount of work and effort you put into creating safe, inclusive spaces for Black students on this campus," Fox said. "One, it's very hard, but to continuously do it without always being recognized — just know that I see the work that you're doing. And I'm very appreciative and know that the people that take part in these spaces are very appreciative as well." 
Adejayan returned to the stage to express his gratitude for the team of organizers who dedicated themselves to the gala in order to bring it to life. Following a profuse round of thanks to all attendees who came out to support the gala, Adejayan shifted the spotlight to the other two primary organizers of the gala, Jimenez and Scott, who worked tirelessly with Adejayan over the last three months to spearhead the planning behind the gala.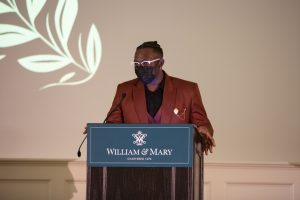 Adejayan also thanked Director of Engagement and Distinguished Artist in Residence at the Muscarelle Museum of Art Steve Prince, Sen. Fox, Sen. Daniel Bess '24, Yvonne Boadi '23, Owens and Director of Student Leadership Development Anne Arseneau for their individual and collective contributions to the execution of the gala. 
To close out the night, Alton Coston III '23 came onstage to promote the Sankofa scholarship. The Sankofa Scholarship will be awarded to  Black students enrolled in Williamsburg-James City County Public Schools who have shown significant activism within the Williamsburg community. Coston encouraged audience members to purchase posters and T-shirts with screen-printed designs created by Prince to help fundraise for the scholarship. 
Coston also detailed his personal connections to the scholarship and highlighted its greater impact within the local Black community. 
"This is really personal for me because this semester I work with a nonprofit organization called the Village Initiative," Coston said. "We are conducting a lot of educational research into the local disparities within WJCC schools and when I went to teach there, these children did not believe the miracle was for them. But I taught them a lesson of African American history and showcased that we are more than just poverty and chains. They are powerful." 
Coston made clear the responsibility that the College's students had to invest in the local community and combat racial injustices within the local education system. 
"I don't believe that we should be able to go here at William and Mary when we have students in the community being sent from schools to prisons," Coston said. "I don't think we should even go here when we have children dying in our own backyard. So that's why we're doing what we're doing with the scholarship." 
Adejayan echoed Coston's remarks, underscoring the gravity of being an active College community member who is sharply aware of the space they occupy and is not complicit in upholding the systemic inequalities plaguing the local community. 
"Something that many of us tend to forget is that whether we like it or not, as people who attend William and Mary or people who work at William and Mary, we are also members of this community," Adejayan said. "Some of those wrongs of the institution eventually fall upon us as well. It's our responsibility to make sure that we are taking care of our outside community as well."
Adejayan also spoke about the stressful, yet rewarding, nature of organizing the gala and reminisced on the full-circle moment he experienced going from an attendee of the gala as a freshman to the main organizer of the event as a junior. 
"It just really means a lot to me to be able to be a part of bringing Sankofa to life because I know that I'm helping to give the Black community on this campus an experience that they're going to cherish," Adejayan said. "We don't have too many events like this, so when we do have events like this, and we have a safe space where people can just dress up, have fun, be themselves, enjoy one another and meet people, I think that just enriches the overall experience on campus as a Black student."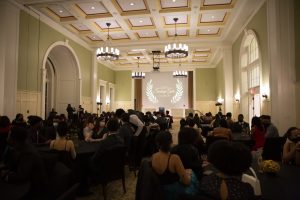 Justin Kelly '22, an attendee of the gala, spoke on how the event emphasizes Black excellence and Black love, and he hopes that even more people come out next year. 
"I really love this event, I really do," Kelly said. "I hope people get to come experience what Sankofa is for themselves."
Olivia Blackshire '25, another attendee, detailed how seeing the event full of other members of the College's Black community eased a sense of loneliness that comes with being a Black student at a predominantly white institution. 
"It shows me how much of the Black community is here on campus," Blackshire said. "A lot of times, especially when I'm in my classes, it can feel lonely. But coming to see all these beautiful people and knowing we do great things right now and in the future and past is awesome. It encourages me to keep going."
Bangi mirrored Blackshire's sentiments in discussing the impact of the event. 
"I think that our existence within certain spaces is often invalidated — our meaning Black individuals and People of Color in general, especially Black individuals at a university like this," Bangi said. "What Sankofa means to me is acknowledgement and being seen as an individual rather than a statistic of the College. It's really nice to be acknowledged and celebrated within this space with other Black individuals."