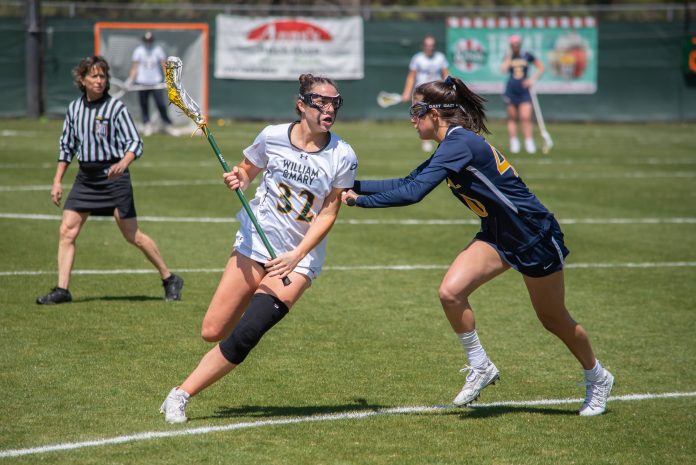 William and Mary (4-8, CAA 0-2) lost to Drexel (7-5, CAA 2-0) 21-10 last Saturday, April 2 afternoon at Martin Family Stadium on the team's Senior Day. Saturday's game marked the team's third straight loss.
Despite the score, the Tribe managed to hang in during the first half. After being down 5-3 through the first quarter, the home team managed to even up the score at six apiece with 10 minutes remaining in the half.
Freshman Sam Van Gieson scored two goals for the Tribe, converting on both of her shots. Building off of Van Gieson's momentum, freshman Serena Jacobs netted her first goal of the game two minutes later. Jacobs led the Tribe with four goals.
The College and Drexel went back and forth for the next few minutes, each managing to score several goals. However, Drexel pulled ahead when they scored back-to-back goals to make the tally 6-3. The Tribe then regained momentum by scoring three goals straight. Jacobs scored twice in less than 90 seconds, before freshman Margaret Mooney scored on a free position shot.
As the game continued on, the Tribe lost their groove and gave up more shots on goal. The Tribe had a hard time containing Drexel graduate students Lucy Schneidereith and Karson Harris, who racked up five and four goals, respectively. 
Drexel relied on their experience in the second half to secure the victory. Three of their top scorers and their goalie are graduate students. On the contrary, the Tribe's top two scorers and goalie are freshmen.
The Tribe defense looked strong in the first half of the game. In the first quarter, the last goal was scored with six minutes left, as both defenses held their ground in the second part of the quarter. In the second quarter, there was a six-minute stretch where neither team netted a goal.
Drexel outshot the Tribe 43-30 and had eight more shots on goal. The Dragons also controlled draws 19-16 and won on ground balls. Sophomore Caroline Hertzberg led the Tribe with five draw controls and three ground balls. Junior Caroline Donovan also forced two turnovers and scored one goal.
The Tribe will travel to Delaware for its next game on Saturday, April 9, at 3 p.m.