In a college environment, one of the most important things for students to learn how to do is to find positive and beneficial ways to deal with stress and stressful environments. In recent decades, studies have shown that one of the most effective ways to do this is to interact with therapy dogs. While such an option had long been unavailable for students at the College of William and Mary, thanks to Marisol Lambert, who herself graduated from the College in 1980, and her four corgis, Nellie, Louie, Tucker and Humphrey, students can meet professionally trained therapy dogs in Earl Gregg Swem Library every Friday at 2 p.m.
Pets have always been something incredibly important to Lambert.
"I've had an animal ever since I was born, and animals have always been a huge part of my life," Lambert said.
Lambert admitted that the transition to campus living was challenging, primarily due to the fact that she could not have her pet with her. 
"When I went to William and Mary, it was the first time in my life that I did not have an animal, and it was very hard for me," Lambert said. "Not having my dog or cat or some form of animal was hard, and I survived, but back in those days, you didn't see dogs everywhere like you do now. And I missed it terribly."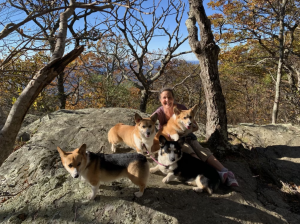 Soon after she graduated college, Lambert pursued a career in teaching, specifically working with elementary school students. Even though she was still an avid pet owner, during the very beginning of her career, she didn't bring her dogs with her to work. However, once she saw the incredible impact seeing and petting dogs could have on people, she decided to use animals to help some students in her class. Lambert found the endeavor to be very successful, with one of her dogs, a corgi named Winston, proving especially helpful. 
"One little girl I had, she wouldn't speak to anybody, she just whispered in my ear sometimes and that was all that she'd do. But my corgi, for some reason, knew that she needed him, and to make a long story short, he made her quit not talking," Lambert said. "She just blossomed and started talking, and other children that wouldn't read, I would say to them, 'I'll bring in Winston, but he wants you to learn how to read Goodnight Moon,' and they would learn and it was just amazing."
Throughout her career in teaching, Lambert's dogs proved themselves invaluable in helping students who were dealing with emotional or personal issues open up about their problems. Lambert's dogs facilitated growth in her students, from motivating kids to learn how to read to allowing them to come out of their shell. Lambert soon realized that her pets could not just brighten the day of elementary school students, but the days of everyone who came into contact with them. 
"They all seem to know what people need," Lambert said.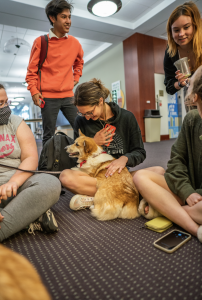 Whenever she would visit the College, she always brought her dogs with, and she observed the overwhelmingly positive reactions of the students who engaged with them. This gave her the idea to allow students to have an official opportunity to interact with the dogs.
"Every time we walked through William and Mary, the students got so happy," Lambert said. "They would just get down and snuggle with the dogs, and they always know who needs what. So, I called Swem Library and got the ball rolling."
Initially, Lambert had difficulties getting the dogs to be regularly allowed into the campus buildings, but the great impact she was having on the student body allowed her to come in with her corgis on a weekly basis. 
"In those days, the library would only let me go around exams and midterms, but the students wanted me to come weekly," Lambert said. "I had some trouble convincing the administration of that, but now I come every Friday." 
Since coming to the College for therapy dog sessions in 2017, Lambert and her corgis have brightened the days of every student that comes and meets them. Just last semester she returned to visiting the College on a regular basis with her corgis. Lambert added that the times that stick out to her the most are when the corgis help a student who especially needs it.
"There was this law student just standing there leaning on the wall, and I walked in and asked if he wanted to pet a corgi or two, and he was just looking down and said no," Lambert said. "By the end of this thing, he was on the floor, Louie and Humphrey were kissing him all over and he was laughing, and he goes, 'How did this dog know I have had the absolute worst day of my life?'"
Thanks to the incredible kindness and love of Lambert and her corgis, moments like these aren't unique events.
"A lot of the people that do come really, really need this," Lambert said. 
Since coming to the College regularly, Lambert enjoys not just helping students, but getting to know them as well. 
"I also love that I get to know the students, and we all talk, and it's amazing for me," she said. "I really love hearing them, and if they ever need me, I'm there for them." 
Lambert shared that the feeling of making just a single person's day better and getting to know people better is something she looks forward to every Friday. 
"Where I can help is what I like to do," Lambert said. "The world, especially right now, it's just so hard, and there are so many things for us to be scared about, that petting a dog and having that interaction with an animal, I can't say how wonderful it is with the communication and connectedness you feel."
Lambert and her four corgis have made an indescribable, positive impact on the College community, and they have no desire to stop helping the College in their weekly trips to the library. Lambert said that in the future, now that COVID-19 restrictions are loosening, she hopes to come to more events at the College so that she can help more students in any way possible. 
"You just brighten up people's day and make the world a better place, one pet at a time," Lambert said.