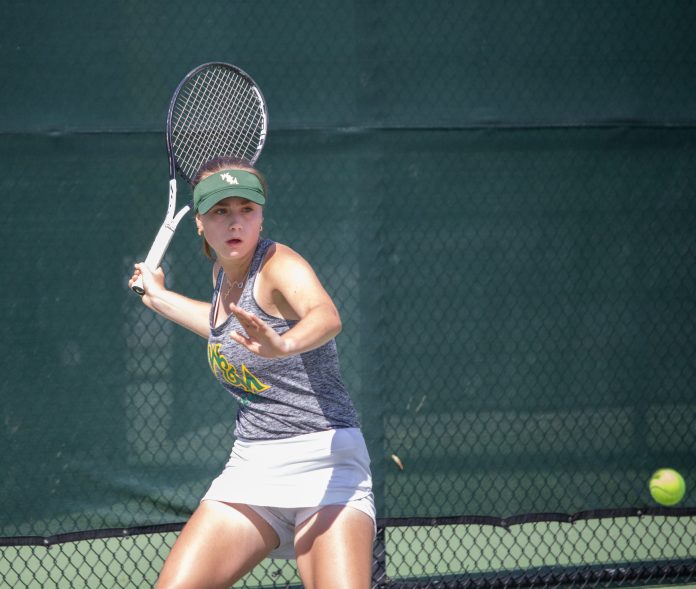 William and Mary (9-8, 4-1 CAA) soundly defeated Richmond (7-10, 4-3 A10) 6-1 Saturday, April 16 to continue their three game winning streak. The Tribe has not lost a home match since March 6.
The team brought a fresh strategy to the match by switching up their doubles lineups from last week's double header, which resulted in both the No. 2 and No. 3 doubles posting 6-1 wins in their matches.
The No. 2 game saw senior Mila Saric pair up with freshman Emma Fernald for the fourth time this season, defeating sophomore Carly Cohen and junior Marta Buendia as they improved to 3-1 together.
In the No. 3 match, the standout freshman partnership of Ine Stange and Hedda Gurholt successfully fended off the upperclassmen team of junior Emily Garvin and senior Helene Heiberg. Stange and Gurholt clinched a critical point on line three to put the Tribe in the driver's seat.
The Tribewasted no time in mounting a 3-0 lead, with Stange and junior Elisa Van Meeteren both winning their singles. Stange put on a dominant display in her 12th win of the year, only losing two games in her 6-1, 6-1 triumph over junior Emily Garvin in the No. 6 game. Van Meeteren followed suit with a 6-3, 6-3 straight set win of her own over sophomore Sara Salemyr. The victory marks Van Meeteren's 10th win of the season.
Saric clinched the Tribe victory in the No. 1 match as she rallied from behind to complete her fourth comeback in her last five wins. After losing her first set, the No. 109 nationally ranked senior won the last two sets 6-4, 6-2 to extend her win streak to five straight matches. She is now 25-3 overall on the season, with an impressive 13-3 record at the No. 1 spot.
Gurholt and Fernald continued the dominant Tribe performance by securing wins in both the No. 2 and No. 5 positions, respectively. Since moving up to line five, Fernald is 3-1 with her latest win coming in a pair of tiebreaker sets, 7-6 (1), 7-6 (5), against Buendia.
Gurholt secured the final win of the day with her third set super tiebreak victory over Cohen at the No. 2. The rookie won a convincing 10-2 super-breaker set after splitting tiebreakers in her first two sets to put her season record at 21-9.
The Tribe will host Elon in their last regular season game Saturday, April 23. This will also mark Senior Day for the team, and the senior duo of Saric and senior Lisa Fukutoka will be honored for their careers at the Tribe before the start of their play. The Tribe will then head to Elon, North Carolina for the CAA Championships from Thursday, April 28 through Sunday, May 1.