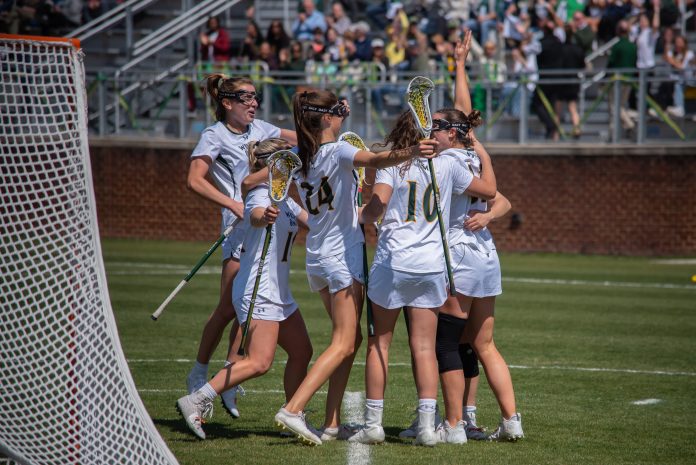 William & Mary (4-10, CAA 0-4) lost 21-9 against No. 11 JMU (11-4, CAA 4-0) on Saturday, April 16, at Martin Family Stadium.
The Tribe came out strong with an unassisted goal from freshman Serena Jacobs in the first minute of the game. Following the score, the Tribe continued their strong start by keeping pace with JMU and tying up the game at five apiece. This run, however, ended toward the end of the first period when the Tribe gave up two goals and ended the period with a score of 7-5.
After a quick goal from senior Lauren Russell in the beginning of the second period, the Tribe faced hardship as they gave up six straight goals to put themselves in a 13-6 hole. The Tribe made some key offensive adjustments in the third quarter, allowing just two goals amid mounting pressure from the JMU offense.
In the third quarter, Russell scored her third goal of the game. This marked her fifth hat trick of the season. Another key player in the game was junior Sarah Cipolla who scored twice and had two draw controls and two ground balls. Jacobs also gained an assist on top of her first period goal.
Though the Tribe had eight fewer draw controls than JMU, sophomore Caroline Hertzberg added three more to her season stat line, which is good enough to rank fourth on the Tribe's all-time high of draw controls for one season.
The Tribe's matchup against JMU continued a consistent theme throughout the season. In many matches, the Tribe came out strong but fell behind in the second half. Heading into the final stretch of the season, the Tribe must regroup at halftime and take advantage of their effective, flexible defense to stop opposing teams' offensive flow.
After an extended break, the Tribe will host Hofstra next Saturday, April 23, at Martin Family Stadium.