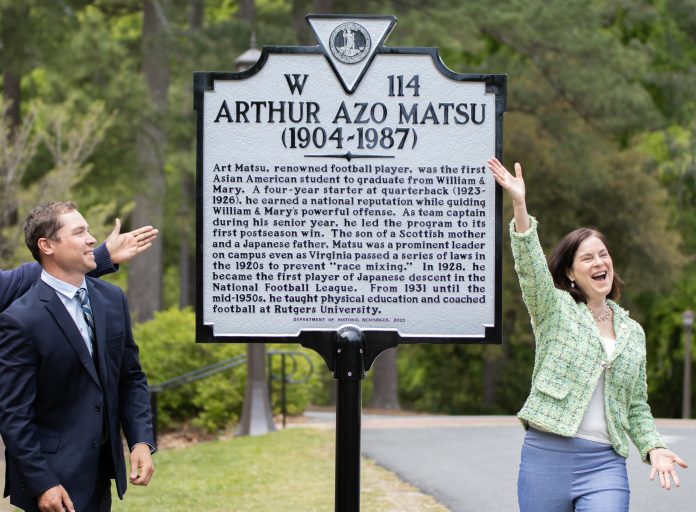 Saturday, April 30, the Asian Centennial at the College of William and Mary unveiled a new Virginia Historical Highway Marker honoring Arthur "Art" Azo Matsu '27 in front of the Arthur A. Matsu Arcade in Zable Stadium. The event took place on Matsu's 118th birthday and Asian Centennial Day.
The Virginia Historical Marker program was established in 1927 and is the oldest program of its sort in the country. There are currently over 2,500 signs across Virginia, all of which have been approved by the Board of Historic Resources, whose members have been appointed by the governor since 1976.
"The goal is to educate the public and link historic stories about our past to the very landscape where they took place," Jeffrey A. Harris of the Board of Historic Resources said.
In 2021, the governor's cabinet and the Virginia Department of Historic Resources created the Asian American and Pacific Islander Heritage Month Historical Marker Contest. After a competitive process involving different teams advocating for their nominations, Matsu, nominated by Cumberland Middle School, was chosen for one of five winning markers.
"For all the trophies and accolades that Arthur received over the years, my grandmother tells me that he would be most proud of this dedication because it positively highlights his Japanese heritage," Zack Hoisington, Matsu's great-grandson, said.
Matsu enrolled in the College in 1923 and went on to become a star athlete in football, basketball, baseball and track. He was quarterback for Tribe football and later the team captain. After graduating, he became the first player of Japanese descent in the National Football League.
Co-chairs of the Asian Centennial Committee Deenesh Sohoni and Francis Tanglao Aguas originally believed Matsu to be the first student of Asian descent at the College. Although they later discovered Pu-Kao Chen, class of 1923, and Ming Pan, class of 1925, preceded him, Matsu remained important to the conversation about diversity and inclusion they wanted to start through the Asian Centennial.
"We sought to develop a platform for collaborative programming that open conversations on how to continue to build a more inclusive society at William and Mary and beyond," Sohoni said. "It was Art Matsu and its incredible significance for William and Mary that inspired and spurred our research efforts, and it's for this reason that we're honoring Art Matsu today."
Benming "Benny" Zhang '16 J.D. '20 recalled how he would look at a historical picture of Art Matsu when he felt discouraged in his senior year race for City Council. Zhang also wrote an honors thesis on Matsu.
"I would actually pull out his picture and look at it and, as crazy as it may sound, or maybe not be as crazy as it sounds, it gave me a lot of energy. It gave me a will to press on. And I have to thank Art Matsu for that forever," Zhang said.
Matsu came to the College during a difficult time for Asians in America. Just one year after he enrolled, Virginia began passing laws preventing "race-mixing" as the country grew more diverse.
"Art Matsu, notwithstanding all that has gone on, came at a time at William and Mary where football became a huge sport in defining masculinity and defying all the aspects that certain folks in our society wanted to see. And he embodied all of those excellently without being one of 'them,'" Zhang said.
During the ceremony, College President Katherine Rowe presented Zhang with a Presidential Citation for outstanding scholarship through his honors thesis on Matsu, which resulted in the application and approval for a Commonwealth of Virginia historical marker to honor Matsu's legacy.
Isabella DiFulvio '23 is a student athlete on the Cypress women's ultimate frisbee team and in her sophomore year was co-director of the Asian American Student Initiative. She shared how important it is to honor Matsu as not only one of the first Asian students at the College, but also for his involvement in sports. 
"He proved to everyone that Asian Americans are more than the stereotypes: weak, submissive, emasculated, nerdy and unathletic," DiFulvio said. "Art Matsu was a trailblazer and a leader who showed that Asian Americans are human and that we have a diverse range of abilities and interests."
The Asian Centennial seeks to start a conversation about inclusion and belonging at the College and the history of it that made stories like Matsu's possible.
"It only takes one student, one faculty, one administrator to make someone feel at home and not run away to the comfort of another, more diverse place," Aguas said. "We must research what it is about William and Mary that makes us good that people stay. Because it is only then that we can excel with leadership and research."
Honoring Matsu's legacy is only one step to tearing down institutional barriers that threaten this inclusion. There are currently very few Asian American athletes in the National Football League and DiFulvio herself points out that she is the only Asian American and person of color on her ultimate frisbee team.
"The bottom line is that we need to give Asian American athletes a chance, but these barriers won't be erased by simply having Art Matsu's name on the arcade," DiFulvio said. "Seeing his name is a reminder of the work that still needs to be done, a reminder that we need to continue to support and believe in Asian American athletes."

As the bells chimed noon on Matsu's 118th birthday, College and community representatives alike unveiled the new Historic Marker.
Diana Kim '25 attended this unveiling and is the service chair for the Asian American Student Initiative.
"It's a great way to have people thinking about the placement of racial minorities throughout history and the experiences they had," Kim said. "I think we're on the track for something great now, but it wasn't always great before. So, to have markers for people who did great things is just a reminder, you know, to do greater things, but also a reminder to be mindful of our history."
The marker stands for all to see on the northern side of Zable Stadium by the Arthur A. Matsu Arcade.