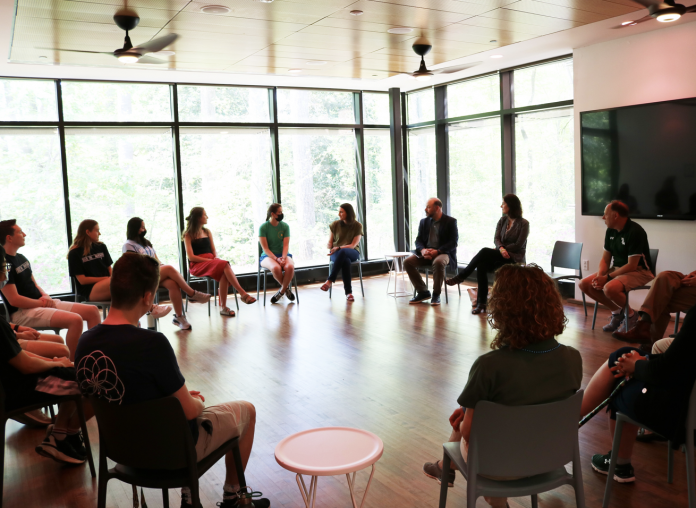 Content warning: this article mentions suicide
Sunday, April 24, the Mcleod Tyler Wellness Center hosted a student focus group discussing mental health and wellness at the College of William and Mary. The discussion was attended by College President Katherine Rowe, Virginia Secretary of Education Aimee Rogstad Guidera, Virginia Secretary of Health and Human Resources John Littel — who also acts as rector of the College's Board of Visitors — six student Wellness Ambassadors and various other College faculty members. 
The focus group took place after the Out of the Darkness Campus Walk, a student-led fundraising series sponsored by the American Foundation for Suicide Prevention, and was led by the College's chapter of Alpha Tau Omega. 
"The Out of the Darkness Campus Walk is a journey of remembrance, hope, support, and a walk that unites a campus and community — a time to acknowledge the ways in which suicide and mental illness have affected our lives and our loved ones," the AFSP website says. 
As of April 30, over $18,000 had been raised for the College's fundraiser and roughly 100 people attended the event. Each participant wore a string of colored beads around their neck, symbolizing their personal relationship to the cause, whether that be a personal suicide attempt or the loss of a loved one. 
Cole McAndrew '22, the walk chair of this year's event, wrote in an email that he was incredibly happy with how powerful the walk was, and recommended that more students and community members attend next year. 
"To me, the Walk is a really important and powerful opportunity to show solidarity with W&M community members who have been personally affected by suicide in any way. I was happy to chair the walk for the second year in a row, and really excited to start the walk in-person again," McAndrew wrote. "For something like mental health awareness and suicide awareness/prevention especially, physical, in-person togetherness is invaluable."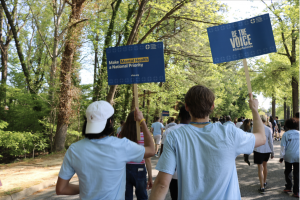 The focus group launched Secretary Guidera and Secretary Littel's statewide listening tour aimed at improving student wellness in the Virginia education system. President Rowe, who is leading a task force on mental health for the State Council of Higher Education for Virginia's Council of Presidents, kicked off the roundtable discussion by introducing the secretaries and emphasizing mental health priorities. 
"We are at a moment in the commonwealth where, I think, the awareness, the interest, the energy, the focus on changing treatment and prevention for anxiety and depression and suicide prevention is at a high point right now," Rowe said. "Those challenges are also affecting the country. And the governor has made, as you'll hear from the secretaries, addressing mental health prevention and care and treatment a key priority in the next four years." 
The group then launched into a discussion of mental health on campus, with Integrative Wellness Manager Lindsay Heck sharing a personal story about the loss of a loved one. Heck, who also leads the student Wellness Ambassadors, discussed the importance of their role as advocates for wellness as well as their connection to the student body. 
After a brief period of introductions, the Wellness Ambassadors were able to share their experiences with mental health, student perspectives and what it means for them to step into this role. Kevin Aviles '24 mentioned that his job as a Wellness Ambassador allows him to be aware of resources that he can offer to his friends and fellow students, as well as find the assistance that he needs through the Wellness Center resources. 
Sam Litt '21 spoke about some of the challenges that come with promoting wellness, including the fact that the Wellness Center wants students to "opt-in" rather than force students to participate. 
"Part of our role as Wellness Ambassadors, I've found, is to kind of meet people where they're at, and show them 'here's the resources we have available,'" Litt said. "Wellness on this campus is not one thing. There's people who are really well, and people who aren't doing really well, but we have the resources here so people can step into that and make that change for themselves." 
Heck emphasized the struggles with communication on campus, mentioning that it is difficult to put a lot of effort into marketing and still feel like a large portion of the student body is either not receptive or doesn't hear about the events. 
"My goal in communication is to make this information as accessible as possible, and so, one tool that we have implemented is the William and Mary Wellness app. And the idea, as we work through the development, is that in the palm of your hand, everything you have access to is in this app," Heck said. 
Aviles and Litt mentioned that they've noticed the prevalence of the negativity bias on campus, stating that it's difficult for students to snap out of a stress glorification culture. They also emphasized that positive thoughts are something that have to be intentional, rather than waiting for wellness to happen to you. 
"Celebrating each other's victories and not competing with each other is really at the core of breaking down that culture," Litt said. "Here at William and Mary, I think it's all collaborative. I think trying to make sure that that's the narrative we're leading with, that can really break down that narrative that 'I need to compete or I need to be more stressed or I need to compete with my peers.' That's not the case when we're celebrating each other." 
Megan Bissonette '24 also spoke on the topic of stress culture, but that she has found it brings peers together in order to be open with one another. Bissonette has had personal mental health struggles, and emphasized that stepping into this role has helped her advocate for herself, as well as advocate for others that may have a difficult time taking the steps to use wellness resources. 
"When you're struggling with depression, even if someone has the resources for you, it takes many steps to get the mental health help that you need," Bissonette said. "I believe that at William and Mary we have students who are very cognizant of mental health. I feel like, hopefully in every friend group there is someone who is especially cognizant and who is especially proactive in saying, 'hey, you should go to the Wellness Center.'"
Bissonette mentioned that individualistic support within the community is something that can benefit many people on campus. In her experience, supportive student organizations, as well as events such as freshman orientation, can connect students with a variety of individualistic support. 
Max Beers '24 highlighted the importance of introducing fun into the conversation surrounding wellness. He emphasized that, in regards to wellness, much of the conversation is centered on why members of the campus community need wellness in the first place rather than emphasizing what makes students and faculty truly happy. 
"I think that William and Mary especially is doing a really good job of trying to take that and say, 'here are all these opportunities you have to have more fun.' Even if it's something as benign or banal as writing something stupid on the chalkboard outside of the ISC," Beers said. "I wish there was some way you could codify or put that in legislation of 'everybody should do five things that make us happy a day.'"
Rowe sympathized with Beers' statement and discussed the importance of including the concept of play not only within K-12 classrooms, but on college campuses as well. To Beers, being a Wellness Ambassador allows him to figure out how students can define themselves by what makes them happy, rather than what makes them stressed. 
Dr. Kelly Crace, associate vice president for Health and Wellness and director of the Center for Mindfulness and Authentic Excellence, discussed that part of the intention of the Wellness Center is to begin asking students about what brings them meaning. 
"One of the narratives we challenge the Wellness Ambassadors to engage in with their peers is instead of having conversations of reporting in, like 'how are you' reporting in, we ask them to lead with, 'share something that was meaningful today that you engaged in,'" Crace said. "And it starts to help students realize that 'yes I am stressed, and I am also engaged in a meaningful life because I'm doing things that matter to me.'"
Near the end of the discussion, Guidera inquired as to how the participants would like to see policymakers use their leverage to make a change regarding wellness in education. Heck emphasized that she believes it should be a requirement for students to learn how to optimize their well-being throughout their course of education. 
"How can you expect them to be healthy and correct their mistakes that may have been established beforehand if they were never taught those skills? That's step one," Heck said. "I think, ideally, in elementary education we have, you know, health services and whatnot. How are we teaching children how to care for themselves?" 
Marissa Del Zingaro '24 mentioned that she believes the initial steps to finding wellness resources in college begins in lower education levels. She reflected on her high school experiences in which a mental health organization would create breaks and fun experiences for students. When she came to college, she noticed that she and her friends were able to realize what resources were available more easily than some other students. 
"I think slowly you can build upon that framework when you get to high school and then hopefully to college, then you know how to know when you don't feel right, and maybe it's time to go seek out help or maybe participate in programs where you can express yourself and find what's working for you and what's not," Del Zingaro said. 
Daria Moody '22 discussed the importance of finding time to prioritize wellness, and that incorporating wellness into schedules can look different for everyone. 
"Having the opportunity to figure out what works best for you is really important," Moody said. "And I think because you're already battling those priorities in an academic setting or just in general, I think lowering the barrier in other ways, whether that's like a geographic barrier or the financial barrier, like we have with the wellness classes and things like that, I think is really, really important."
Bissonette urged the importance of teachers and professors individually checking in on their students, not just when there is a crisis, but regularly. She believes that being proactive in giving students spaces for the open expression of emotions can allow them to find the help they need before their situations become crises. 
At the end of the discussion, both Guidera and Littel thanked the participants for their assistance and expressed gratitude for those who shared personal experiences as well as advice and suggestions. 
"It's been amazing to be here," Guidera said. "Walking in the Out of the Darkness march this morning was so important in terms of changing the conversation around mental health and wellness and especially suicide, and taking away the stigma of mental health. It's just been incredible this morning to be here. Always being on a campus is inspirational, especially a place like William and Mary."