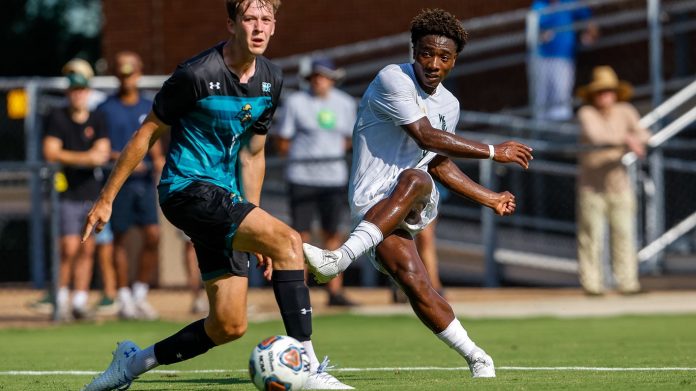 Thursday, Aug. 25, William and Mary kicked off their season at George Washington with a 2-2 draw. An impressive performance from senior Diba Nwegbo saw his two goals help the Tribe recover from two deficits in order to tie their opening match.
Both sides played solid defense in the first half, taking 41 minutes before GWU graduate student Omar Hayes Brown broke the stalemate. This late first-half goal proved to be the highlight of the first 45 as the Tribe headed to the locker rooms trailing 1-0. 
The men in green and gold came out swinging in the second half, applying waves of pressure to the GWU backline. Their break came in the 63rd minute when senior Alexander Levengood's ball in from a corner took a few deflections before Nwegbo applied the final touch, smashing the ball into the back of the net to level the score. 
The Tribe maintained this constant pressure until the 71st minute when, against the run of play, GWU senior Tom Cooklin would take his opportunity on the top of the 18 yard box, with a curling effort tucked just inside the far post to grab the go ahead goal for GWU. 
This blow was not enough to deter the Tribe. With just six minutes remaining in the match, freshman Lucas Caldas teamed up with Nwegbo to salvage a tie. Caldas's skillful footwork allowed him to beat his defender one on one. He then took the defender to the edge of the touch line where he cut the ball back across the face of goal with a sharp cross that was tapped in by the awaiting Nwegbo. 
Last minute glory looked to be within reach after a cross from senior Alfredo Bozalongo. Nwegbo headed back across goal to Levengood who neatly finished off the post. To the Tribe's dismay, the referees called an offsides penalty, nullifying the goal and ending the game.
After an exciting night of soccer that saw ten total shots from W&M and nine from GWU, with six corners from each side, a 2-2 tie was the result for both teams in their season openers.