Wednesday, Aug. 31, the College of William and Mary community gathered outside the Christopher Wren Building to take part in the annual convocation ceremony for the new incoming undergraduate, graduate and transfer students. This year, the College is celebrating its 330th academic year.  
As the William and Mary Choir performed the hymn of the College and the National Anthem, Student Assembly President John Cho '23 and Graduate Council President Evan Flynn '25 proceeded in with the College Mace and Marischal Mace respectively. They were followed by College President Katherine Rowe, Provost Peggy Agouris and this year's convocation speaker: four-time graduate of the College, Clifford B. Fleet III '91, M.A. '93, J.D. '95, M.B.A. '95.
In her opening remarks, Rowe welcomed all those in attendance, thanked those who assisted with orientation and remarked on how this academic year will deviate from the norm much like those of the recent past.
"Welcome to William and Mary's 330th year," Rowe said. "This year is going to be different, once again. We're used to that. Now we are adapting our traditions and inventing new ones, as is in William and Mary's DNA and has been for so many centuries."
Following Rowe's remarks, Student Assembly Senior Advisory for Community Engagement and Outreach Taylor Fox '24 read the land acknowledgment to recognize the past and present Indigenous persons who formerly inhabited the land that the College now occupies. 
Next, Agouris welcomed new students to the College community and urged them to prioritize creating a healthy work-life balance during their first year in order to sustain themselves physically, mentally and spiritually throughout their academic career here. 
"We want you to show us your talents and continue to reach for the stars. … At the same time, though, please remember to find a balance and take good care of yourself," Agouris said. "We want you all to flourish here. So on the way to flourishing and for all the times in between, remember to embrace any bumps in the road and reach out for help. … William and Mary and a commitment to your wellness go hand and hand."
Rowe, Class of 2023 President Maheen Saeed '23, Class of 2024 President Mia Tilman '24 and Class of 2025 President Yannie Chang '25 led the presentation of the class banner for the Class of 2026, an annual tradition performed by the sophomore, junior and senior classes. Saeed shared that they hope the banner will serve as a reminder to the incoming freshmen that they are now an integral part of this community during their time at the College and well after.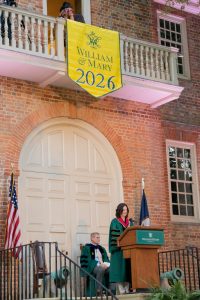 "We hope it will be a symbol of unity and belonging for your class throughout your years here together and in the years that follow as you, like all other classes before you, become alumni of William and Mary," Saeed said. 
After the banner was unveiled, Rowe introduced convocation speaker, Clifford B. Fleet III. Though Fleet's time at the College as a student ended in 1995, he is still a very present figure within the community through his roles as CEO of the Colonial Williamsburg Foundation and as an adjunct professor at the Mason School of Business. Additionally, Fleet serves as the CEO and President of Philip Morris USA. 
In his remarks, Fleet reminisced on his initial decision to come to the College for his undergraduate studies and how he now believes the College actually chose him.
"I would like to think that there was some deep logic in how I chose William and Mary, but I confess today that there was not. I wanted to get away from Charlottesville, where I had been born and raised and my parents forbid me to go to Virginia Tech. So, I had to come to Williamsburg because state schools were my only option," Fleet said. "What I found after I came here was that William and Mary had really chosen me. … I found small classes, professors who cared, an environment that was intimate enough on campus where you could get involved but big enough that you wouldn't see the same people every day and could grow and learn in a diverse environment."
Fleet also shared some information he wished he knew during his first year at the College so that new students can take full advantage of their time in Williamsburg. These pieces of advice included utilizing the expansive catalog of courses offered at the College in order to be well versed in a variety of disciplines, honing in on your strengths and not hyper fixating on your weaknesses, as well as acknowledging that there is always more learning to do on your subject of choice. Fleet III stated that learning these key lessons was the foundation for his success and that the College enabled him to put them into practice. 
"What I'm really talking about with those three traits is the value of a liberal arts and sciences degree, which this school delivers better than any place in the nation," Fleet said. "Liberal arts and sciences will teach you and give you exposure to multiple disciplines. It will give you exposure to different ways of thinking. It will expose you to different people and different processes … to think critically in multiple places." 
As tradition at convocation, President Rowe honored the two recipients of the President's Award for Service to the Community. Annually in collaboration with the Office of Community Engagement, the College President recognizes one faculty or staff member and one student who "have demonstrated a sustained commitment to service and made a significant and measurable impact on our community," and awards them with $500 to be given to a charity or community organization of their choice. 
This year, the faculty and staff award was given to assistant professor of school psychology at the School of Education, Janise Parker, Ph.D..
Professor Parker has designed a variety of programs, such as Success of Students and Camp Eager and Resistance of Sisterly Elevation, which are all focused on assisting and providing vital resources to under-served K-12 students. Professor Parker chose to donate her award money to Youth Outreach, Urban Resources and Services.
Additionally, the student award was given to Ashley Huang '24, who tutors ESL students through the organization Literacy for Life, serves as an emergency medical technician for Williamsburg and Loudoun Country, as well as a volunteer for therapeutic horseback riding. Huang chose to donate her award money to Spirit Open Equestrian. 
To close the night's festivities before the new students walk through the Sir Christopher Wren Building, Rowe showcased the newest addition to the campus landmark: a light installation sponsored by alumni Bruce Christian '73 and his wife, Spas Christian, to honor "For the Bold" campaign chair, Sue Gerdelman '76. As the Sir Christopher Wren Building lit up in the College's iconic green and gold, Rowe officially declared the 2022-23 academic year in session.