Have you already explored all of the food that Merchants Square has to offer, or maybe just looking to try something new? Curious about what lies beyond campus on Richmond Road? If so, this article is for you: a list of my top favorite restaurants to go just beyond campus around Richmond Road.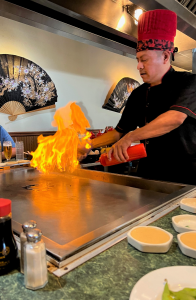 Kyoto Japanese Steak House & Sushi Bar
Kyoto is a Teppanyaki-style Japanese steakhouse and sushi bar. Not only is the food delicious, but Kyoto offers good vibes and a fun experience. 
If you choose the hibachi route, you'll be seated at a grill where you can actually see your food cooked in front of you and witness the chef engaging in Japanese steakhouse shenanigans: throwing eggs into a hat, putting out fires with a water bottle and throwing little bits of chicken for people to attempt to catch in their mouths. If you're lucky, you may even get the singing chef whose extensive repertoire includes John Denver's "Country Roads" and Elvis's "Can't Help Falling in Love", which he sings as he cooks fried rice and bangs his cooking utensils on the grill as a makeshift drum. 
Simply put, each dinner at Kyoto is more than just a dinner — it's an experience. It's also a fun place to celebrate a birthday; you even get a special birthday dessert and get to ring the birthday gong. I celebrated my birthday there last year and ran into one of my classmates who was celebrating her birthday there too. Kyoto is a popular restaurant with students of the College; if you want a quiet night on the town and don't want to run into anyone you know, Kyoto may not be the best place to go on Richmond Road. As for the food, it's consistently amazing. I always get the medium rare hibachi steak with noodles, and I recommend it to anyone. The vegetables that come with the meal are delicious — a miraculous feat for the non-vegetable eater. 
KEΦI Greek Kitchen
Kephi serves delicious Greek and Mediterranean cuisine in a relaxed atmosphere. When choosing appetizers, consider the spanakopita, classic Greek salad or loukaniko — a homemade Greek sausage. As for entrées, the chicken gyro, beef shish kabob, kotse arnison — a braised lamb shank and pastichio — a Greek lasagna –– are incredible. Kephi also boasts an entire dessert showcase, so going there and leaving without dessert requires a level of self-restraint that I am often incapable of. I particularly like the stuffed baklava, a creamy dream.
Food for Thought
Food for Thought remains a Richmond Road staple, and the fact that the parking lot is completely jam-packed 9 out of 10 times I drive past is a testament to their amazing food, fun atmosphere, thought-provoking decor and a quirky menu full of puns. 
Food for Thought gives off colonial vibes with its vast array of classic American dishes. My favorite is the fork tender pot roast, a slow-cooked pot roast smothered in homemade gravy, with a side of shoe string fries. Their gourmet bread pudding made from buttery croissants, chocolate chunks and brandy marinated cherries is simply scrumptious and, because I am decadent, I also order it à la mode. 
My only complaint is that they're always so busy, which means you often have to wait a while to get a table. While they do not take reservations, they do have priority waitlist seating, which basically means that if you call in advance, you don't have to wait as long for a table when you're there … something I always forget to do. Learn from my mistakes.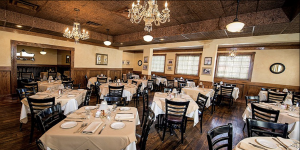 Fireside Chophouse Bar & Grill
Fireside Chophouse is definitely an oldie but goodie, having been around for almost 50 years. I would especially recommend Fireside Chophouse for special occasions; the tablecloths give it a slightly formal atmosphere, but it's still relaxed. 
The dinner rolls and butter are delicious and although it's not on the menu, you can order a side salad for a few extra dollars to get your veggies in. The steak sandwich with grilled onions, peppers and provolone does not give off Philly cheesesteak vibes, despite containing similar ingredients. Fireside Chophouse's steak, and subsequently, their steak sandwich, is the highest grade of meat. Think slices of a fancy steak on a sandwich. Yum! If you're craving a steak in non-sandwich form, the Delmonico is amazing. The prime rib also looks delicious. And if you're looking to try dessert, consider the chocolate pecan pie with ice cream. Personally, pecan pies don't get any better than this.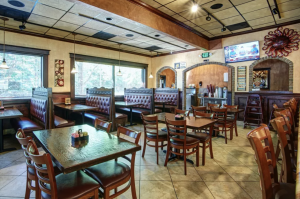 La Terraza Mexican Grill
La Terraza is my go-to place in Williamsburg for delicious Mexican food. When you order a side of guacamole, it's fresh. In fact, it's so fresh that they literally bring the avocados to your table and make it in front of you. I love Mexican food, so I've eaten a lot of guacamole, and I can honestly say that it's the best guacamole I've ever had. I've tried multiple dishes and everything is delicious — my personal favorites are the steak fajitas with mushrooms added, steak quesadilla fajitas, fish tacos and the Burrito California. If you're looking for dessert, try the churros with ice cream.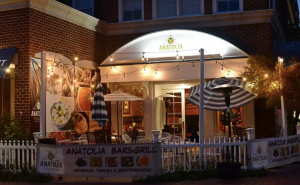 Anatolia Bar & Grill
Anatolia isn't on Richmond Road, but it's in New Town just down the road. It's so good that I'm including it. Serving authentic Armenian, Turkish and Mediterranean cuisine, everything I've ordered there has been delicious. For appetizers, I especially recommend the cheese boreg, an Armenian fried pastry filled with feta cheese and parsley, the Mediterranean-style meatballs served with tomato mint sauce and the garbanzo hummus. Dinner entrées are served with a beautiful mixture of rice, salad and vegetables. Entrée options range from kabobs, shawarmas, lamb chops, lamb shanks, shrimp dishes and baked or stuffed vegetables.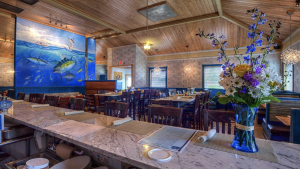 Fat Tuna Grill & Oyster House
Fat Tuna is my go-to seafood place in the Burg with fresh food and a relaxed atmosphere. Their tuna tacos with fresh, crisp fries are absolutely delicious and their Caesar salads are, in my opinion, some of the best in the city. Also their mac and cheese… I'm getting hungry just thinking about it.
I hope these townie tips will help you explore some more of what the Burg has to offer beyond our campus and Colonial Williamsburg!