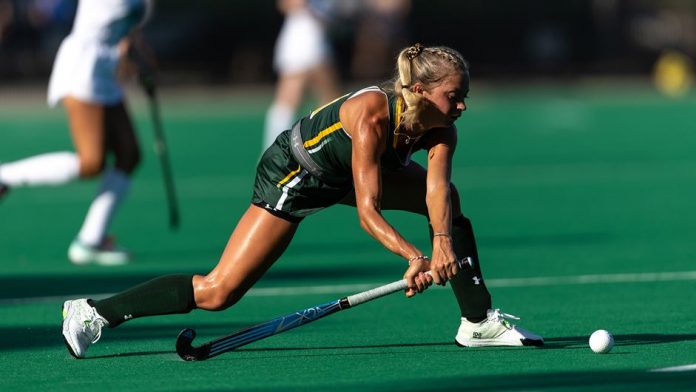 No. 21-ranked William and Mary (5-1) Field Hockey mounted a second half comeback to defeat No. 16-ranked Duke (3-3) 2-1 on Sunday, Sept. 11 in Durham, North Carolina. The victory marks the Tribe's third win over ranked teams this season, their most since 2004.
Duke sophomore midfielder Logan Clouser scored the first goal of the game at 9:36 on a one versus one play. Although the Tribe were unable to score in the first half, the team came out firing after halftime.
"In the past, our third quarter has always been the most difficult for us since we are coming off halftime," senior defender Ireland Miller said."This year, we have shown that we are a four quarter team."
Just over 35 minutes into the game, senior midfielder and forward Lauren Curran scored the first Tribe goal. Off a Duke penalty corner, the Tribe defense pushed the ball up to Curran and senior forward Lily Saunders. Off a pass from Saunders, Curran spun around the Duke goalkeeper to convert from the penalty stroke mark.
Less than 10 minutes later, senior Allison Goodwin scored the go-ahead goal for the Tribe off her second of back-to-back penalty corners. Senior Tabby Billingham and sophomore Pyper Friedman assisted Goodwin on her goal from the top of the circle. Goodwin also scored the game-winner in overtime against No. 19 Old Dominion.
"She is such a star-studded player," Miller said about Goodwin. "Allison is always so calm, cool and collected when she plays. She is one of our many players that we can rely on in these situations, and if we give her the opportunity to convert on game winning goals, she will do it."
William and Mary goalkeeper junior Maddie George notched five saves, including a pair of stops off a Duke penalty corner in the 53rd minute.
In the final minutes of the game, Duke nearly tied up the contest off a penalty corner. However, after review, the officials ruled no goal, sending the Tribe back to Williamsburg with a 5-1 record.
Duke managed to outshoot the Tribe 17-6, but struggled to put shots on net.
"I think the constant communication and checking in on one another throughout the week so that we can perform on the weekend is what has really set us apart," Miller said, reflecting on the team's initial season successes.