One of the College of William and Mary's newest clubs finds itself also being one of the fastest growing. The College's Slacklining Club was created in the spring of 2022 and has seen a massive surge in growth with enthusiastic, new members lining up by the dozen. 
Slacklining is similar to tightrope walking, but instead of a rope, participants attempt to walk across a flexible, or "slack," thin strip of webbing that is tied to a tree on both sides. The Slacklining Club was originally never meant to be a formal campus organization, but rather a fun hobby to share amongst a group of friends. 
"I had a slackline that I had brought from home … we had started doing it, and I think everyone thought it was really fun," Club President Soren Williams '24 said. "We did it a couple of times whenever we were outside hanging out, and eventually we decided we wanted to do it as a club."
Those initially in on the slacklining events — Williams, Vice President Jordan Kenney '23 and Historian Dolly Lebow '24 — came up with the idea to make it into a club after other students would walk by and not just observe but even try to join in.
"We would be doing it out near the Sunken Garden, and people that we didn't even know would walk by and would ask us what we were doing," Kenney said. "We would show them how to do it and help them. It happened like three or four times where we just made new friends because we were out doing this."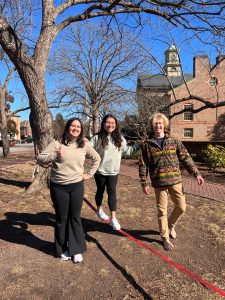 Despite their fun concept, since the club started in the midst of the spring semester, they were unable to amass a large membership because of trouble getting the word out. When the fall 2022 semester rolled around, knowing the potential their organization had, the Slacklining Club invested large efforts into the club fair to advertise to both new and old students alike. 
By putting a spotlight on the simple, easygoing nature of the club, the low commitment and lack of dues, the club fair was an investment that paid in spades. The Slacklining Club even had a slogan they espoused to prospective members during the fall 2022 activities fair: "No dues, no commitment, only love."
"A lot of the clubs have underlying dues or meeting requirements, which are valid in those contexts, but we're a club that is just very relaxed, just to hang out and listen to music," Lebow said. "Our selling point was that we don't have any commitments, and we really tried to emphasize that during the club fair."
Several initial members were very hesitant as many had little, if any, exposure to the activity in general. Additionally, at first glance, slacklining seems very difficult. They quickly came around to join in on the fun. Williams and Kenney claim that this was due to the amazing community of the organization. Many of the members who had experience in slacklining attested to the fact that any interested member of the club can succeed with practice and dedication. And the loose and supportive nature of the organization only makes the end goal easier to achieve.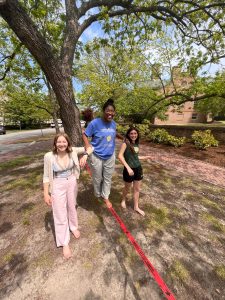 "I think that there is a pretty steep learning curve where it's hard when you initially start," Williams said. "After just putting a little bit of time into it, anybody can walk on in and try new tricks and new skills on it. I feel like it's kind of a new thing for everybody still."
"It's really not difficult to get the hang of it, which is why it's fun to just hang out and do it for fun," Kenney added.
Even though slacklining may have a learning curve, one of the most rewarding aspects of the club for all members is when a new participant, after much practice, finally gets the hang of it. Especially in a stressful college environment, it can be an incredible moment for somebody to finally see their hard work definitively paying off in a group of their friends and peers.
"College is really hard, and sometimes people work so hard and they don't see results," Lebow said. "So for people to come out for one hour a week and actually see progress, it's validating in a different way."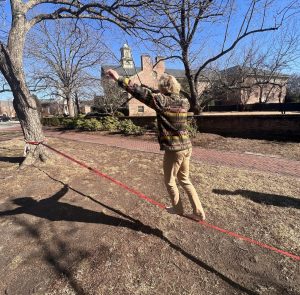 Seeing the success of your hard work is a pleasure anybody can enjoy, leading to the organization being open to anybody who finds themselves interested. The relaxed nature of the club and the happiness its successes can bring means that any college student can get something out of the organization. 
The Slacklining Club even had a slogan they espoused to prospective members during the fall 2022 activities fair: "No dues, no commitment, only love."
"It's palatable for any type of person: shy, extroverted, active, non-active, because you can pretty much just show up and do whatever you want," Lebow said. "That's what we try to convey to new people: you're valid for being scared, but it's probably about two feet off the ground, and it's grassy. People had good responses to that."
The positivity and joy brought on by the club is not lost on its members, who take great pride in all of the good that the Slacklining Club has brought to campus since its inception. Whether it be a curious passerby on the Sunken Garden wanting to join in, or an active member of the group making a lifelong friend: the Slacklining Club is making an impact on campus and rapidly growing in size and influence.
"I kind of feel like it's our little way of leaving our mark on William and Mary," Kenney said. "I just really feel like we've provided a space for people to make a lot of friends, try a new skill, and just be outside."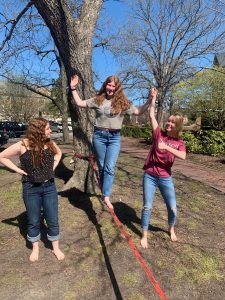 For any students interested, the Slacklining Club meets on Saturdays at 2 p.m. between Blow Hall and the Bryan Complex.