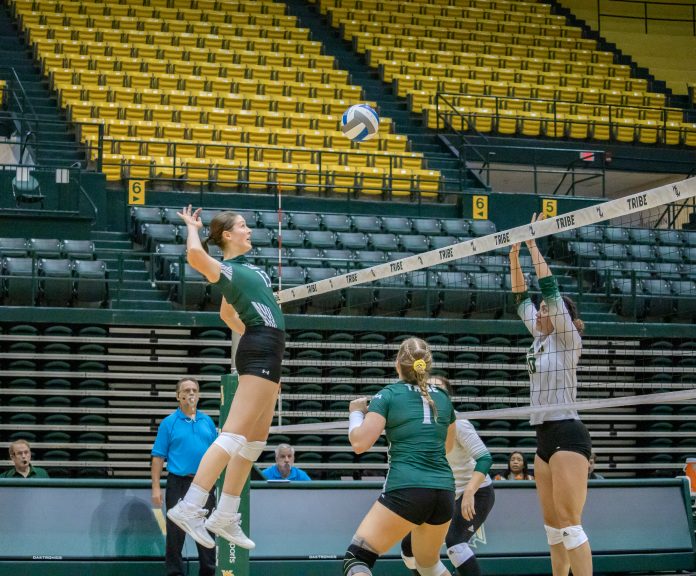 Aug. 10, William and Mary (5-3) traveled to Manassas, Virginia where they won in a five set comeback victory over George Mason (2-6). After dropping the first two sets 21-25, the team rallied to capture the next three straight sets to win the matchup.
Heading into the game, the Tribe were on an 11 set winning streak. However, GMU ended their run by capturing the first two sets, digging the Tribe in a hole it would have to work hard to get out of.
Standout performances in the opening set for the Tribe came from junior libero Anna Porter, who had eight digs, and sophomore outside hitter Eleanor Stothoff, who recorded four kills. In the second set, junior opposite Kaitlyn Ferguson had four kills, closely followed by sophomore middle blocker Sabrina Malcom, who had three kills. Malcom and freshman outside hitter Sarah Callender each recorded two blocks in the second set.
Facing the possibility of a straight three set sweep, the Tribe  came out strong in the third set. Freshman libero Lindsay Kahren got the scoring started with a pair of service aces. The Tribe cruised to a 25-18 win in the third set, with much of their success in the set attributed to dominance at the net from freshman middle blocker Ryann Love, who recorded four blocks, and Ferguson who had three of her own. Graduate student outside hitter Taylor Burrell and Callender had six kills, three a piece, for a solid attacking display.
A back and forth fourth set looked like it could end in Tribe defeat as GMU made a late run. However, the Tribe held them off to see out a 25-22 win to set up a fifth set tiebreaker. Love again was crucial at the net as she provided three blocks, while Porter also aided the defense and dug nine attacks. Offensively, Burrell was superb with her five digs on eight attacks.
The Tribe carried their momentum from the previous two sets into the final one, and with some impressive defensive work, won the set 15-9. In this deciding set, the Tribe hit .381 with 11 kills, while containing the hosts to only .000 and three kills. Porter had four blocks and Kahren followed with three, while an errorless Malcom added three kills. 
The defensive pairing of Porter and Love had notably impressive performances, recording an impressive stat line. Porter's 32 digs were the most by any Tribe player since 2006, and Love's nine blocks were the most by a freshman since 2017.
The Tribe hope to build on Saturday's momentum with two more victories this coming weekend. The team will open the Colonial Athletic Association (CAA) conference play by hosting North Carolina Wilmington on Saturday and Sunday.