For students who receive disciplinary sanctions or a suspension at the College of William and Mary, it can be an extremely isolating and stressful time. That's why the W&M Connects program's co-chairs, Abby Varricchio '23 and Julia Ashworth '23, have dedicated their time to building friendships and becoming the source of resources for students in these situations. 
"A lot of students' standing can change at the College due to an incident, and it can be very isolating, and it can be really scary," Varricchio said. "We work a lot with students who are suspended. So being able to kind of be not only a guide of how to maybe navigate your sanctions, but also just a friend who can kind of check in, make sure that you're doing okay. And, you know, know that one incident doesn't mean that you should be banished from the College, but you still have a home here."
The College's connections program works through the Community Values and Restorative Practices office and consists of a small group of undergraduate student mentors who work closely with their "mentees." While any students with sanctions are eligible to participate, suspended students are required to participate.  
Mentors reach out to their mentees to serve as a continued connection back to the College through scheduled meetings that focus on supporting their students in multiple ways. 
"It varies, but you're just trying to identify where people are and how maybe we can help them come back from something that was really life changing in a variety of ways," Varricchio said.
"It's really important to maintain those connections to campus and even just, you know, whether you're suspended or not, it's really important to have the support and to know that you matter," Ashworth added. "And so I really think that, you know, this program works a lot with that aspect."
Mentors also help their mentees create several plans containing specific goals that relate to their personal or academic success, and work with them to see how they can help students achieve their goals. 
"We really work with students in order to put these plans together so that they have specific goals and specific things that they can, you know, work towards, when they come back to campus," Ashworth said.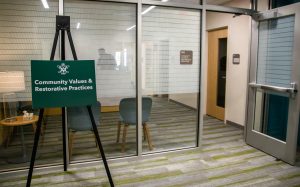 Both co-chairs stress the idea of empowerment to their mentees and fellow mentors and emphasize that one mistake does not have to define your time at the College.
"The message that we try to get across is that everyone does make mistakes, and that's okay as long as you learn from it," Ashworth said. "And so that's sort of where we come into play, and we try to, you know, provide all of these resources for the students and this, you know, support and connection for them so that they can have this ability to come back and thrive."
Varricchio also highlighted that students making a positive choice and advocating for themselves can take on a lot of different forms, even tasks such as simply getting out of bed. She wants students to understand that each choice they make provides them with agency.
"It's making sure that students learn that they can advocate for themselves and have the tools to advocate again for themselves and just really understanding that every choice they make is something that gives them agency," Varricchio said. "… Even if you feel like you don't have a lot of power in your life, there are ways that you can take back control or feel like you're taking back control that are really important."
Marc Sloan, advisor to W&M Connects, underscored that these relationships are a two-way street, with both sides learning and helping the other. 
"Mentees benefit from a relationship that's judgment free and a source of knowledge, perspective, and advice as they figure out what being a member of the W&M community means for them," Sloan wrote to The Flat Hat. "It's also important because we help students clarify their values and reflect on the values of the community, bringing a restorative lens to the program. For mentors, it's a great opportunity to engage with students in a meaningful way – ways in which they might not otherwise be able to throughout the course of an honor or conduct case."
Students interested in applying for a mentorship position must first be a member in either the Undergraduate Honor Council, Student Conduct Council, Student Assembly or Conduct and Honor Advisory Program. In a given semester, according to Sloan, the program consists of 4-5 mentees and has a bench of 8-10 mentors. Sloan added that they hope the program grows as they build capacity to take on more mentees and mentors.
"We hope the program grows in scope, as we build capacity to take on more mentees and mentors," Sloan wrote. "In addition, as we focus on restoring harm to the community following incidents, Connects can be an avenue through which students practice and prepare to engage in restorative measures."
Ashworth emphasized that it's perfectly normal to make mistakes, and she also stressed the abundance of resources for all students at the College.
"Everyone makes mistakes and it's perfectly human and it's perfectly normal and people can work through that and then thrive," Ashworth said. "I think that's incredibly important. But also, on a separate note, I've learned that there are so many more resources than a lot of people realize that are available to students on campus. And I think that if they were only to be more, you know, advertised and talked about, a lot more students would have the ability to really advocate for themselves."
On a similar note, Varricchio says that W&M Connects has allowed her to concretize the phrase "One Tribe, One Family."
"William and Mary Connects, to me at least, really allows me as a student to … embody that idea of 'One Tribe, One Family' in a very genuine way, where family doesn't shun you, or they shouldn't shun you," Varricchio said. "Your family shouldn't push you away when you mess up one time, they should make sure to lift you up."