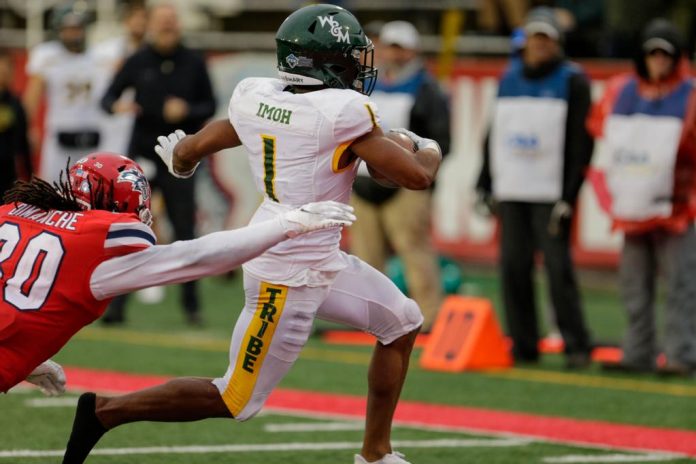 Saturday, Oct. 1, William and Mary Football (4-1, 1-1 CAA) bounced back from its first loss of the season with a 27-10 road victory over Stony Brook (0-4, 0-3 CAA) in Stony Brook, New York. 
"This is a gut check in terms of what we are and what we are made of," Head Coach Mike London said.
The Tribe received the opening kickoff and quickly drove into Seawolf territory. The Stony Brook defense stopped it in the red zone, but sophomore kicker Ethan Chang converted a 34-yard field goal to take an early lead.
Stony Brook quickly responded with a 60-yard drive on 12 plays. However, this marked their longest drive of the game. The Tribe defense stopped the Seawolves just short of the end zone, and redshirt junior kicker Angelo Guglielmello made the chip shot from 27 yards for Stony Brook.
Four plays into the ensuing William and Mary possession, sophomore quarterback Darius Wilson threw an interception to graduate student linebacker Reidgee Dimanche, setting up Stony Brook on the Tribe 10-yard line. It only took the Seawolves two plays to reach the end zone, as redshirt freshman quarterback Daron Bryden found redshirt sophomore running back Ross Tallarico in the end zone. After the first quarter, William and Mary found itselves down a score to the last ranked team in the division.
Both teams struggled offensively in the second quarter, combining for under 100 yards of total offense. The only score of the quarter came as time expired. The Tribe started the drive just shy of midfield with only 37 seconds left in the half. The offense managed to move the ball just 12 yards up, sending in Chang for a 57-yard kick. He converted on the field goal, setting a new school record.
Coming out of halftime, both teams continued to struggle on offense. The first five possessions of the quarter ended in punts. On their last possession of the quarter, William and Mary finally regained momentum. Starting at their own 40-yard line, the Green and Gold marched downfield on just five plays. Sophomore running back Malachi Imoh capped off the drive with a 10-yard rushing touchdown to give the Tribe a 13-10 lead heading into the final quarter.
"We were seeing some different things than we had before, and for me personally, it took a little longer than it should have to get adjusted," Imoh said. "But after halftime, talking with our coaches and offensive line, we had a better idea of what they were doing.
On their next possession, the Tribe relied on their rungame once again. Senior wide receiver Caylin Newton returned the Stony Brook punt 37 yards to start his team in field goal territory. The William and Mary offense capitalized on Newton's return with a four play, 30-yard drive ending in another Imoh touchdown.
"He possesses that break-away speed," London said. "Malachi did a great job today stepping up and being a force to be reckoned with."
Starting their next drive near midfield, William and Mary sealed the victory with another touchdown. Imoh scored his third of the game, finishing with 128 rushing yards. After averaging just 2.8 yards per carry in the first half, Imoh averaged 9.1 yards after halftime.
The Tribe offense needed Imoh's impressive performance with senior running back Bronson Yoder injured. "In the running back room, we've all been working together when we're healthy and if one of us needs to step up, we're all capable of doing that," Imoh said. "We had a good week of practice and I knew if the team needed me to do that, I would do it."
London expects Yoder to return to action this week when the Tribe hosts Delaware (5-0, 3-0 CAA) on Saturday, Oct. 7 at 3:30 p.m. for the annual Homecoming game. The Tribe are 3-0 on the road this season.