Friday, Sept. 30, an environment bursting with music, chatter and celestial decor filled the Sadler Center as attendees gathered for the first annual Over the Rainbow Gala. The gala was an event organized by the Center for Student Diversity, Rainbow Coalition and Lambda Alliance to celebrate the LGBTQ+ community at the College of William and Mary. Held right before October, the event also kicked off this year's LGBTQ+ History Month.
In the introductory speech, co-organizer and co-president of Rainbow Coalition Aubrey Lay '23 explained the significance of the event title. "Gala" was originally short for the Gay and Lesbian Alumni Association, now called the Crim Dell Association, which is an LGBTQ+ alumni organization that has advocated for change since the '70s. For Lay, calling the event a "gala" reflected its celebration of both history and progress.
"Now, obviously, it's so much more expansive than just gay and lesbian people," Lay said. "Likewise, this is an event that's here to celebrate all kinds of progress that we've made and have yet to make."
Guest speaker and Dean of Students Stacey Harris said she could relate to this message. According to Harris, who remembered being assigned a separate dorm room because of her sexuality when she was in college, being able to celebrate events like this one marks a step in the right direction.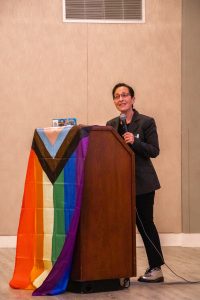 "When I look back at college, there were struggles and a lot of assumptions and stereotyping," Harris said. "And so I'm so thankful for what's changed, and I know we have much more to go. It was lovely walking into that space. I'm glad it has progressed so much."
Joey Upadhyay '23 said he attended the gala because he knew any event promoted by and for the queer community would be fun. Upadhyay said it demonstrated progress most clearly by how the reception table included more than just the gay and lesbian pride flags.
"I really liked that they had the flags on the table that you can get," Upadhyay said. "There are queer events where that is a thing, but I feel like at this event, it was more present and more readily available — which was really nice." 
Assistant Dean and Director of the CSD Dr. Kimberly Weatherly said recognition of the widened LGBTQ+ community was also manifested in the gala's take on event royalty. Instead of electing a "king" and "queen," gala goers voted for "celestial bodies" titled the Star, Sun and Moon.
"I think my second favorite part was when we came up with the Celestial Court. This would be, now, our tradition," Weatherly said. "It's also a court that welcomes everybody, it's very inclusive. It's not just the King and Queen. It is indicative of the community." 
Entertainment included poetry recited by the Inside Out Theatre troupe, performances by event co-hosts and drag queens Daya B. Tease '23 and Brooke N. Hymen '22 and a dance number by Syndicate. For Weatherly, what made the gala unique compared to other LGBTQ+ identity celebrations were these outlets for creativity, stretching across academic, cultural and social. 
"I'm very creative, and I love the opportunity for people to showcase," Weatherly said. "So what better way than for this population to incorporate poetry, drag queens, dancing, all of the arts, but to have a gala?"'
Jason Dean Robinson M.A. '24 of Inside Out Theatre performed his poem "Dear Elliot Page," an ode to transgender identity. He also recited a piece authored anonymously by another member of the community. For Robinson, the gala's goal of giving members of the queer community a voice coincides well with Inside Out's use of the arts such as poetry to offer a unique lens into diverse experiences.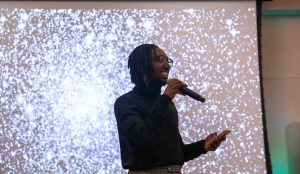 "It's just a space where poets can come together, especially poets from marginalized communities, to share their poetry and have a space where they can be their most authentic selves in a no-judgment zone," Robinson said. "And maybe share things that they maybe wouldn't share with other people, or explore identities that they wouldn't be able to, through poetry and writing."'
Robinson said the gala not only means a lot for the College's queer community at present, but also for years ahead. Specifically, he said he found promise in the teamwork used for preparing the event. 
"I think that's a reflection of this building, especially the CSD, coming together and the different organizations starting to collaborate more," Robinson said. "I'm hoping this is a representation of what it's going to be like in the future, where instead of being a heavily over-booked campus where many organizations compete for space, it's working together within a large space where everybody can be represented."'
Weatherly added that hosting this celebration was especially crucial in light of the recent COVID-19 pandemic. She emphasized the importance of providing a community-building opportunity following the long-term limitations posed by social distancing.
"No one has really thought about it, but this year — this class — had not seen events because of the pandemic, so, they did not have anything to go on from before because those people had graduated out," Weatherly said. "There was no passing of the baton. That's why I'm really hands on this year, to make sure we recapture some of the traditions we had and that we start new ones."'
Laura Rilee '25 harkened to this community aspect when she said she attended the event to meet new friends. Rilee, who found out about the gala from the CSD Instagram page, appreciated how it provided a space for understanding. Rilee said this sentiment of solidarity shined from something as simple as attendees' appreciation of pronouns.
"If you're not in a specific queer space, then it can feel awkward to bring up topics like pronouns," Rilee said. "The second nature of saying 'Hi, I'm Laura, my pronouns are she/they' is like 'wow' to me."'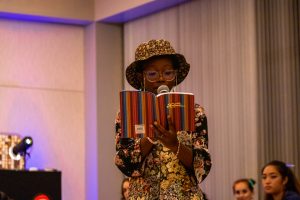 According to Tease, it is these bonds that lend the gala its power. She said its strength as a social event lies in leaving attendees with lasting support through new friendships, mentorships and resources. 
"It would feel successful if people feel as though after tonight, they know who to look out for and know who sees them. Who to go to to feel seen, to feel heard," Tease said. "And knowing that they are now familiar with one of the wonderful resources that speaks for the minority voices that are part of this demographic that does all they can."'
"If you're not in a specific queer space, then it can feel awkward to bring up topics like pronouns," Rilee said. "The second nature of saying 'Hi, I'm Laura, my pronouns are she/they' is like 'wow' to me."'
Harris said one of those resources is the Dean of Students Office. She said the involvement of her office as a service continues beyond the gala, to serve as a safe space no matter the occasion.
"One of my hopes is that students will just come here, like you came today," Harris said. "They won't just come here because there's a problem. That they'll get to know me and my team as just people they can come find. My hope is that students will come find me and say, 'Let's take a walk. Let's go out for coffee.'"
The gala was attended by around 145 people, including students, CSD employees, student workers, speakers and organizers, according to Lay. There was a 30 person waitlist, as well. 
Weatherly shared that these attendance levels are one indication of the event's success.
"We're just… we're overwhelmed by the turnout," Weatherly said. "So, we're just going to grow bigger and larger, and most of those people came even though Hurricane Ian was there."
Tease said the gala meant just as much to her as a co-host as it did for participants. She explained that at the end of the day, she strived to leave a positive impact on all of those who attended.
"I don drag, and spend the three to four hours that it takes to get into it, so that hopefully somebody goes away from this number feeling invigorated, feeling excited," Tease said. "Feeling as though 'I can do that,' so walking away from this hoping that I've touched somebody here in that way is the world to me."'