On Friday, Oct. 7, the Sunken Garden was transformed into Friday Night Fest — a fun-filled concert for Homecoming Weekend. This gathering brought alumni and current students together for free food, refreshments and the talents of an all-alumni band N'est Pas. Members of the band included Art "RT" Schmalz '88, Chris "Nike" Neikirk '88, Clem Cheng '86, Dennis Whelan '87, John "Rocker" Hendrickson '88 and notable actor Charles "Chip' Esten '87 who's most recent appearance has been in Netflix's hit series "Outer Banks." 
Due to the COVID-19 pandemic and past social distancing restrictions, this was the first large Homecoming event for many current students, but for others, this was a return to form. After almost two years where such large in-person events could not be held, many are excited to return to campus and share their school spirit.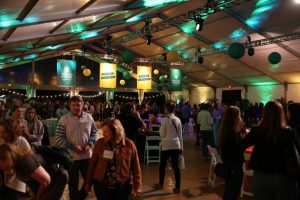 Aanchal Goenka '23 shared her experiences of encountering alumni both at the event and across campus. 
"No matter what your year is or what your major is, people are always willing to connect with you," Goenka said. "At this event and other events … a lot of alumni walked out and just said, 'Hi, how are you?' and tried to understand my student experience, and they would introduce themselves and their years and what they studied. So I feel like it's really fun to just connect with people." 
The College prides itself on its maintained relationship with alumni. With its high engagement and recent building of the alumni house, many are encouraged to return and witness all of the changes taking place across campus. It can be a bit of a shock for some alumni to see all of the differences from their time spent here, but many, such as Jeff Spoeri, '87, think it is for the best.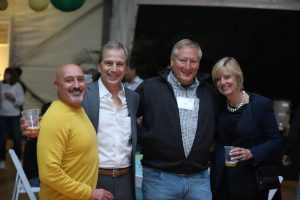 "I mean, the college is thriving," Spoeri said. "It shows that we're thinking about the future and trying to make sure folks are getting a similar educational experience that we had."  
Friday Night Fest also presented students and alumni with the opportunity to reflect upon their time and personal growth at the College, remembering all those years back when they were young adults fresh out of high school. 
"I was thinking about everything and walking through and I got up to the Wren Chapel, and I got emotional," Russ McClymont '92 said. "I almost wanted to tear up because this place really does help shape your life."
The setlist N'est Pas had curated for the show consisted of both original songs and covers that the band had performed back during their time at the College.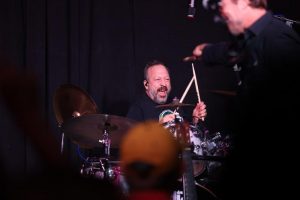 "We definitely wanted to play a nice slice of what it would have been like to be at a N'est Pas concert back in those late eighties," Esten said. "And then we had to play a couple of our originals, for sure, including 'Walk the Bridge.'"
Esten described how 'Walk the Bridge' and some of N'est Pas' other original songs, featured places on the campus in the lyrics, such as the opening lines, "Autumn on the campus as I hurry to my class walking through the Sunken Gardens." According to Esten, N'est Pas was formed in a fraternity basement. Because of their origin and the impact that the College had on Esten, he was inspired to continue following his passion in music.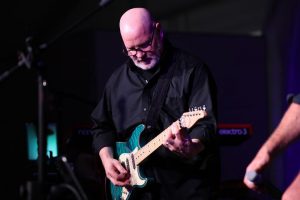 "Well, for my career, for my life, I don't think I could have prepared any better," Esten said. "There I was, standing on stage at a microphone all over campus and then all over Virginia, and then all across the southeastern seaboard. So, when I look at it now, I say, well … I don't imagine there'd be any way I would have been able to do it if I hadn't had those five years with N'est Pas."
Another original song that is important to Esten is "Down Memory Lane". The song is inspired by a concert N'est Pas did at the College back in 2008. Featuring the lyrics, "Play it loud/Let the bass notes hit the crowd/Let the music take us home again/All the shows we've ever played before/Now we get to play one more before we're out there on our own again."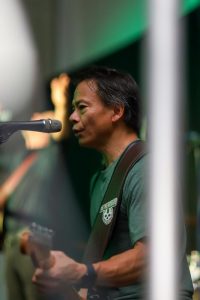 "On the airplane flight from Los Angeles, I was so moved by the fact that I was getting back together with these guys to play," Esten recalls. "As often happens with me, I needed to put it to words, to make sense of it, to process all this, so I wrote a song." 
Prior to the Friday Night Fest, the members of N'est Pas had not reunited since 2008. Esten described how nice it was to see the other members and spend time with them onstage again. 
"The core of it all is how much we love each other, and, more to the point, after all these years the proof is in the pudding," Esten said. "You become who you are even more fully after a number of years, and each one of these guys, I think, is a fantastic human being.
For many, being a part of the Tribe is this sense of community and connections, which becomes nearly tangible when so many alumni are gathered together during Homecoming Weekend. Although the 2022 Homecoming Weekend has passed, this sense of pride has not escaped students and alumni. It continues to follow them as they return to their normal lives. 
"You'll meet people who went to William and Mary all over the country, or all over the world, really, and you'll have this instant common bond," Spoeri said. "And I think that means a lot when you're out in the world."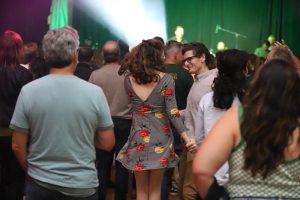 CORRECTION (11/1): A previous version of this article incorrectly listed Alfred Herczeg as the photographer of the second and last images. The article has now been updated with the correct photographer, Michael Bartolotta.