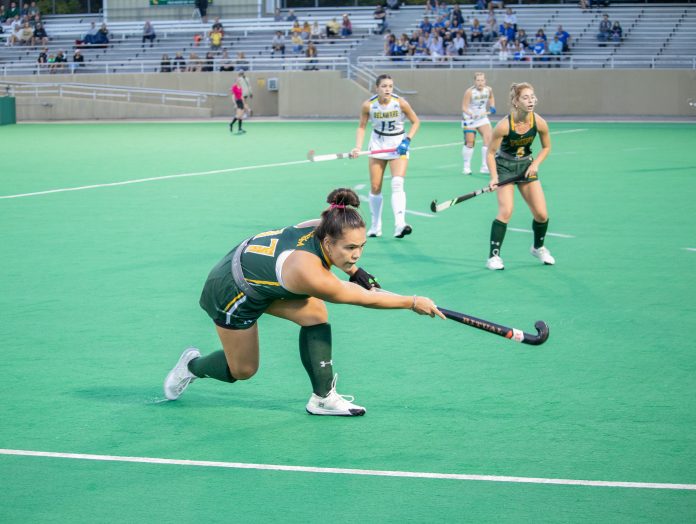 Friday, Oct. 21, William and Mary (9-7, 3-3 CAA) defeated Towson (4-11, 0-4 CAA) 4-0 at home on Busch Field. The team honored its eight seniors and two graduate students ahead of the match-up.
The Tribe started strong on the defensive end, preventing the Tiger offensive from advancing past midfield. Neither team managed a goal through the first four minutes of the game. The Tribe excelled at keeping the play downfield, but despite their seven penalty corners, they were only able to convert one of the opportunities into a goal. Senior midfielder and forward Sally Snead played a role in many of the penalty corner opportunities. Towson freshman goalkeeper Tessa Scheenstra recorded five shots on nine shots for the Tigers to keep them alive in the second half.
In the remaining minute of the first quarter, graduate student forward Aidan Rossman managed to convert a penalty corner with a reverse chip shot from the top of the circle.
Many members of the Club Field Hockey team were in attendance.
"We are doing very well.," Senior Will Hamlett, a member of the Club Field Hockey team and fan of the varsity team, said during the game. "There are a lot of opportunities with our corners, but their goalie is impressive. We are doing very well because the ball hasn't come to our half of the field at all."
Just over three minutes into the second quarter, the Tribe struck again. Senior midfielder and forward Lauren Curran scored on another penalty corner after a tip from senior defender and midfielder Tabby Billingham. The score marked Curran's 11th goal of the season. She recorded five shots throughout the game.
Building on their momentum, the Tribe scored its third goal of the game off another corner. Graduate student midfielder and forward Aubrey Scott King netted her first goal of the season. The rest of the first half went scoreless for both teams, despite three shots taken by William and Mary, two being off of corners. 
In the first half, the Tribe drew 11 penalty corners and recorded five shots on goal.The third quarter saw some more action toward the middle of the field, as the Tribe scored their fourth and final goal of the game. Billingham assisted senior defender and midfielder Amber Bode, marking her first career goal. The Tigersmanaged only two shots on goal throughout the game, but junior goalkeeper Maddie George saved both shots, recording a shutout for the Tribe.
The Tribe will travel to American (8-6, 4-2 CAA) in Washington, DC on Saturday, Oct. 29 for its last regular season game.