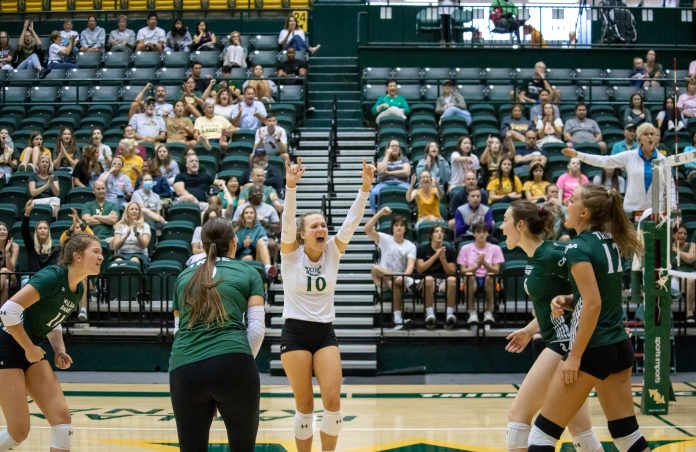 William and Mary (11-7, 6-4 CAA) finished the weekend undefeated against Hampton (3-11, 0-11 CAA) at Kaplan Arena. The Tribe defeated Hampton 3-1 Saturday, Oct. 22 and 3-0 Sunday, Oct. 23.
The Tribe started the first set 4-1, but just took the opening frame 28-26. Hampton won eight unanswered points to take a lead halfway through the set, but the Tribe answered with eight straight points of its own. Senior opposite Kaitlyn Ferguson recorded five of the Tribe's 15 kills in the first set.
In the second set, William and Mary again started strong and never looked back, winning the set 25-19. Sophomore outside hitter Eleanor Stothoff hit .800 and the Tribe hit .458 in the set.
After two strong sets, William and Mary showed signs of weakness in the third. Hampton managed to hit .481 and win the third set, keeping their chances of victory alive.
However, the Tribe responded with an 11-5 lead at the start of the fourth set. Freshman middle blocker Ryann Love recorded an ace to end the set and the match.
Graduate student outside hitter Taylor Burrell led the Tribe with 13 kills and three blocks. Ferguson finished with 12 kills and three blocks.
The Tribe's clearest advantage over the Pirates came on aces. William and Mary recorded six aces throughout the game, compared to just three for Hampton.
On Sunday, William and Mary appeared even more dominant, recording their seventh sweep of the season. The Tribe won the three sets 25-20, 25-18 and 27-25.
After a steady first set, momentum in the second set swung back and forth. Hampton jumped out to a 6-1 lead to begin the set, but an 8-0 run from the Tribe set up the Green and Gold for a 25-18 win in the second frame.
The third set was the closest of the day, with 13 ties and six lead changes. Stothoff recorded six kills in the final frame and the Tribe held Hampton to a 0.65 hitting percentage. On Sunday, the Tribe hit .309, compared to .134 for the Pirates.
Stothoff improved on her performance from Saturday, recording 18 kills on a .438 hitting percentage and two blocks. Ferguson recorded an additional 11 kills and two blocks. Love hit .556 and recorded an impressive six kills and six blocks.
Sophomore setter Amy Schwem and graduate student setter Emma Minnick carried William and Mary in the assists category, recording 17 and 15, respectively. Minnick recorded nine assists in the first set alone.
With the two victories at home this past weekend, the Tribe improved its home record to 6-2.
Next weekend, the Tribe heads north to Towson (20-1, 9-1 CAA), the CAA preseason favorite, for two more matches.