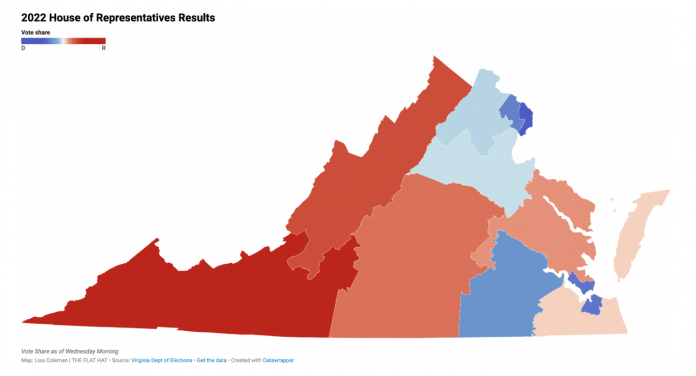 Tuesday, Nov. 8, as results continue to trickle in for the 2022 midterm elections, it appears that Republicans will take control of the House while the Senate outcome is still up in the air. Incumbent Rob Wittman (R) has been reelected in Virginia's First Congressional district, while Jen Kiggans (R) has ousted Elaine Luria (D) in Virginia's Second District. Mayor Doug Pons and Stacy Kern-Scheerer have won their seats on the Williamsburg City Council.
These midterm election results conclude a long campaigning season for the city council member candidates, which fostered a large amount of student engagement and participation.
This is the first statewide election occurring after the Virginia redistricting, which was finalized at the end of last year following the completion of the 2020 census. Williamsburg has since moved from the Second Congressional District to the First, which has shifted Williamsburg from a highly competitive district to a solidly Republican one. This is also the first election in which voters have been able to use same-day voter registration. These same-day registration ballots will initially be cast as provisional ballots before their eventual verification and addition to the overall counts.
Virginia's First District has re-elected Republican incumbent Rob Wittman, who came in at 56.33% of the vote share, defeating Democratic challenger Herb Jones. Wittman, a former environmental health specialist, has represented VA-01 since 2007. In Congress, he serves on the House Armed Service Committee and the Committee on Natural Resources. Williamsburg voters leaned significantly to the left in the newly drawn congressional district, with Jones (D) winning 64.17% of the city's vote compared to Wittman's 34.14%. 

Virginia's Second Congressional District, Williamsburg's former district, has been one of the closest races in this year's midterm election. An October poll from Christopher Newport University had incumbent Elaine Luria (D) and Jen Kiggans (R) deadlocked at 45%, with a margin of error of 3.9%. Past elections have shown that VA-02 is prone to flipping.
In 2020, Luria won the district with 51.6% of the vote share, but in last year's gubernatorial election, the district elected Youngkin with 53.7% of the vote. Eyes have been on this district nationwide as a potential bellwether for Republican's odds across the country. 
The two female candidates are both former naval officers. They have run a highly competitive race centered around national economic issues, reproductive justice and accusations of partisanship. The race has been called in favor of Jen Kiggans (R), with 51.97% of the vote. Elaine Luria, who has served on the House January 6th Committee, tweeted her congratulations to Kiggans.
"The peaceful transition of power is a cornerstone of our democracy, and I congratulate Jen Kiggans on her win and wish her success," Luria said on Twitter.
Kiggans, a former Naval Helicopter pilot and current Nurse practitioner, has been a member of the Virginia State Senate since 2019. 
Students on campus have been tuned in to the results of the Williamsburg City Council race, where two out of five seats were up for election. Williamsburg housing policies and the college-community relationship have been the primary focuses of student activists who have been involved in the race for city council seats this year. Considering the recent rates of waitlisting for on-campus housing and the College's 10 year plan to completely overhaul residence halls, students are showing high interest in how candidates are planning on addressing housing issues.
Based on preliminary results from Tuesday night, it appears that Kern-Scheerer will be joining the City Council and Pons will be keeping his seat for the next four years.
Kern-Scheerer is a licensed attorney and current professor at the College of William and Mary Law School, where she is the founding director of the Immigration Clinic. Pons is currently serving as the mayor of Williamsburg, and has been a member of the City Council since 2010.
A lifelong Williamsburg resident, Pons is the owner of the Flats apartment complex in Williamsburg. According to his personal website, he considers his top priorities to be neighborhood preservation, economic development and equality. 
Government and Public Policy major Andrew Hoffman '24, the president of the College's Young Democrats, expressed excitement for the City Council race results. 
"We are so excited for Stacy's win! She has a great relationship with our club and the campus at large, as she and her husband are both faculty, so we're hoping she will be able to represent campus well, especially on housing issues since that issue is really heating up. She and Doug both ran great campaigns," Hoffman said.
The College's Young Democrats supported Kern-Scheerer's campaign by handing out literature door-to-door.
Despite the loss of the house, Democrats' performance was substantial, given that the incumbent party almost always loses seats in the midterms.
"Definitely not the performance Republicans had in mind," Government major and President of the College's Young Independents Will McCleery '23 said. 
Looking forward, McCleery '23 shared his thoughts about the future impact of the midterm elections. 
"I feel these results will definitely raise questions about whether Trumpism is the way forward for the [Republican] party, especially given how many of his endorsees underperformed," McCleery said. "I think that will be another interesting thing to look out for as narratives continue to emerge from these elections."
Despite these uncertainties, the performance and involvement of the younger generation is notable. This year marks the first election of a Gen-Z member of congress, with 25 year old Maxwell Frost winning his seat in Florida's Tenth District. 
"From inside and outside the polls I was able to see a lot of students casting ballots— many for the first time!— and I think it'll have major political implications, especially if we're able to keep it up in the years to come," Hoffman said.
College Republicans were unavailable for comment.