Have you ever attended a fake wedding?
Nov. 11, 2022, College of William and Mary students dressed up to gather at Mock Mehndi, an annual marital-themed celebration held by the College's South Asian Student Association. For everyone who attended, Mock Mehndi brought an unforgettable, immersive experience that showcased all the vibrant and unique aspects of South Asian and Pakistani culture.
"It's kind of an excuse to have a wedding party without the wedding," one of SASA's two Public Relations Chairs, Ranjani Krishnan '25, said. "So, we are just having a lot of dancing. We get to see Bhangra and Afsana, and just get to dress up and hang out."
This event follows the ritual of the first of three events in a traditional Pakistani wedding: the mehndi, the barat and the walima. Following customs, both the bride and the groom were decked out in glimmering traditional wear and showered with attention and praise from the crowd.
"It's a Pakistani wedding or a mock wedding to express and represent the Pakistani culture," SASA President Adam Razaq '23 said. "And Pakistanis right now are a minority. . . within South Asian culture, which is already a minority. So yeah, it's an event for them to get to express everything."
Following the second half of the event, the bride and groom sat on the far right decorated stage to watch the performances unfold. Hamza Khan '23 was given the honor of being the groom of the event after showing dedicated membership to SASA for two years. Khan's girlfriend, Ayesha Akhtar, played the corresponding role of his bride. Before her official arrival, the bride and her friends fixed up her dress and makeup outside the doors.
"Honestly, the bride kind of just sits and looks pretty while everyone does dances and everything," Akhtar said.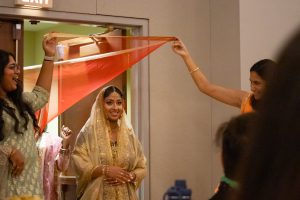 Traditional dance, as well as music, served as the centerpiece of the event. Dance performances were put on by various South Asian dance groups on campus such as Afsana and Griffin Bhangra. The event also featured guest performances from Zodiacs, a hip hop dance crew.
"Bhangra is a traditional north Indian folk dance, performed in many villages," Krishnan said. "It's really fun, there's lots of jumping. Bhangra is super high energy and the goal is that the audience is making as much noise as possible. Through their performance, they shouldn't be able to even hear their music. I get so much adrenaline watching Bhangra."
Anjali Goel '23, SASA's second Public Relations Chair, echoed Krishnan's sentiments about the joy espoused from these dances.
"The dances were a lot of fun, and I think it's a lot of fun getting to see a lot of my friends dance too," Goel said.
The audience was beyond supportive during all of the dances. Each performance consisted of cheering and clapping, and the audience expressed their excitement to see what these energetic dance groups had in store for everyone. In addition to some of the official College dance groups showcased at the event, there were also dances put on by a group of female SASA members performing as the bridal party and a group of male SASA members playing groomsmen, respectively.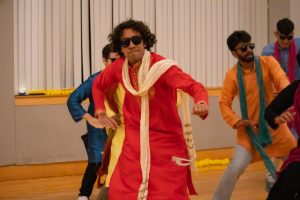 "It's very traditional for our wedding to have both the bride and groom dance, with people from their family or their friends," Goel said. "And I think that it's really sweet that we incorporated that tradition."
Indeed, one of SASA's main goals in putting on Mock Mehndi was preserving and displaying Pakistani traditions as authentically as possible.
"I'm hoping that people get an understanding of how and what a Pakistani wedding looks like and what it is," Razaq said.
Along with the dances, there was a wide variety of different Pakistani and South Asian dishes offered for dinner. The event was catered by Spice Palace, a local restaurant specializing in Indian cuisine. Foods available for attendees included biryani, rice, naan, and chicken tikka masala. For dessert, sweet dough balls known as gulab jamun were offered as well as kulfi, a traditional South Asian ice cream. In addition to food, the event featured a photo booth where guests were able to get henna art done on them if they wished.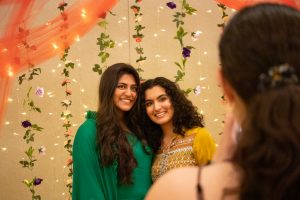 Ultimately, the event reached over 400 attendees, with guests having to queue outside in the corridors as the room had reached maximum capacity.
"It's been a lot of work," Razaq said. "But the outcome is crazy. And it's giving me chills at the moment because the people didn't believe us when we said that we were going to get 375 people. But here we are reaching 400 plus people right now."
Students did not need to be part of a specific organization to come to an event like this, it was open and available to the entire campus community. Members of SASA believe that everyone being welcomed to attend made it so popular throughout the student community.
"I think it gives exposure to a different culture and different experiences," Khan said. "So if you sit here at this event, you see a majority of non-SASA people here, and they get exposure to what a South Asian wedding is like, and the traditions and the culture."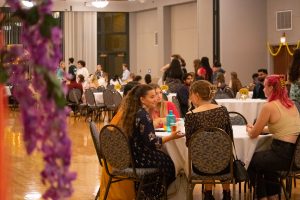 For many, the event brought a cultural nostalgia to the campus.
"It's like a slice of home in a lot of ways," Goel said. "It makes me feel really happy that we can have an event like this."
Another critical aspect of Mock Mehndi's success was the funding the event received from the College's Student Assembly through the "The Mock Mehndi Act."
"We got a lot of funding through the school, and we talked to them about how important the event would be for our community, and they were really supportive," Goel said.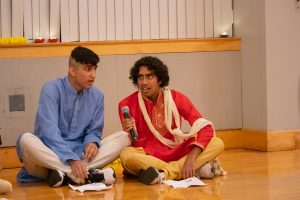 Looking ahead, planning is already underway for the next SASA event. Next semester, SASA will hold "Expressions," a cultural showcase featuring skits relating to social justice, dances, and another catered dinner.