"The Queen is coming!"— While this iconic phrase may be recognized worldwide, only the Queen's Guard at the College of William and Mary has had the opportunity to honor it.
After a brief hiatus, 2022 marked the official return of Queen's Guard, a pre-professional fraternity founded in 1961 at the College after Queen Elizabeth II visited the College in 1957.
Captain John Babbits '24 fondly remembers his excitement at being asked to help in bringing back the Queen's Guard to campus.
"My sophomore year, I was talking to a few of the members who had been part of the organization before, and they were talking about how the organization was getting restarted in Spring of 2022 and asked me if I was interested in being part of it," Babbits said. "When I was applying to the school, I'd seen it on the website and found out the organization was no longer in existence at the time. And when it came back, I was excited to join."
The society, made up of both ROTC cadets and non-military affiliated students, follows the motto of "Corona Veniet Delectis," or "victory shall come to the worthy." While the Queen's Guard is most certainly a social club, their duties consist primarily of performing the color guard, otherwise known as ceremonial rifle drills for the town and the College's official events.
And while it's not primarily a military organization, many of its aspects resemble that of the military, which offers students an opportunity to experience a rare military and networking opportunity as part of a branch of the National Society of Pershing Rifles.
"The Queen's Guard has a very rich history," Social Chair George Hage '25 said. "[By joining] I got to see past members. A lot of alumni have done it."
Members attest that the club's extensive history is part of what makes the Queen's Guard experience so unique.
"We're not existing for the sake of existing, we exist to keep history alive, which is rifle drill and to preserve the historical presence of that organization," Evans said. "It's just a dedication to practicing something to a level of excellence and really committing and fostering that sense of discipline".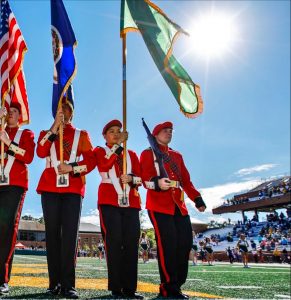 With a tartan sash and gold tassels, the color guard uniforms vaguely resemble that of the Royal Scots Fusiliers. They also bear the symbol of the Phoenix, which alludes to the Wren building's history of burning down yet rising from the ashes; the intentionality of the drill ceremony speaks to the significance of its past.
Most notably, in honor of the Queen's passing, members dressed in red and black were posted outside the Wren building at attention. Additionally, they perform at a plethora of events including the Christmas Parade, local and away football games and, should another royal visit occur, they would welcome the royal family member.
When given the honor to perform at such events, weeks of training come to fruition for newer members as they are taught to carry out rifle tricks that have been passed down for years. While the rifle tricks are taught to every member, some can opt to carry one of the three official flags: the Virginia flag, the College flag and the United States flag.
"It's pretty satisfying," Vice President Rocky Carr '24 said. "It's an honored position, and it's pretty rewarding. I think even doing the football games when we don't get paid, I think it's pretty cool. You get to go out there in the middle of the field and you're holding the flags during the anthem, which is arguably the most sacred part of the game."
Once accepted as a member of the Queen's Guard, members endure a six-week-long training process to learn the rifle tricks. On a weekly basis, they meet for an hour to go through their agenda then train for another two hours. Members note that no prior experience or supreme strength is needed to join and carry out the official tasks.
"You start with just basic facing movements, so that's essentially how to move in unison, which is, of course, is very structured," Sean Evans '24 said. "After you get through basic facing movements, you'll start working with your rifles. The rifles we use are dummies, so they're made to look like a very old, real rifle. None of them fire. You start with basic movement across the body before moving to aerials, where you're throwing the rifle."
While the rifle drills may be the club's specialty, another highlight of the organization is earned camaraderie. As an official co-ed fraternity, the Queen's Guard hosts many social events throughout the year, including mixers, group dinners and outings to Mellow Mushroom. Like many other social groups on campus, each new member, known as a Little, is paired with a senior member, or Big, to help integrate them into the group and build community.
"I think the thing I've gotten most out of this is just being around a group of people who are very like-minded, have similar goals and have just become genuine friends of mine," First Sergeant Payton Nolan '25 said. "So it's just another way to spend time with those people. I think friendship is the best thing I've gotten out of this."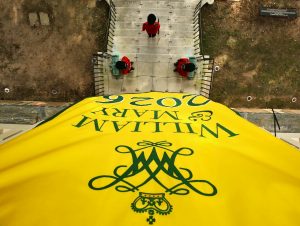 Looking forward, the Queen's Guard hopes to expand their activities to include future rifle competitions and further philanthropic opportunities. So far, the Queen's Guard has partnered with a local group — Collegiate Companions — to give back to the community.
"Members get matched with someone in one of the local districts or local youth centers, and they give them advice on applying to college and pursuing passions, getting jobs, public speaking or working on physical things like getting into shape together, things like that," Babbits said. "It builds close bonds, and that's something we find really important because something that we pride ourselves on is mentorship."
Overall, members agree that rifle training, structure and camaraderie have been their biggest takeaways from their experience in the club. Evidently, the ritual of marching and performing rifle tricks builds new skills and strengthens the friendships of the fraternity.
Furthermore, the Queen's Guard prides itself not only on being welcoming, safe and inclusive, but also accessible to anyone on campus. For any interested potential members, the Queens Guard recruitment period lasts for the first couple weeks of each semester, and the club encourages anyone searching for a community of dedicated and honorable students to join. As Nolan emphasized, the honor of having been in the Queen's Guard is something that can be held even after graduation.
"I think people should join because it's a fantastic group of people," Nolan said. "But for the bigger purpose of what the Queen's Guard is, you're doing something that has a very high level of honor attached to it. You're doing something that's significantly bigger than yourself or anything you know."