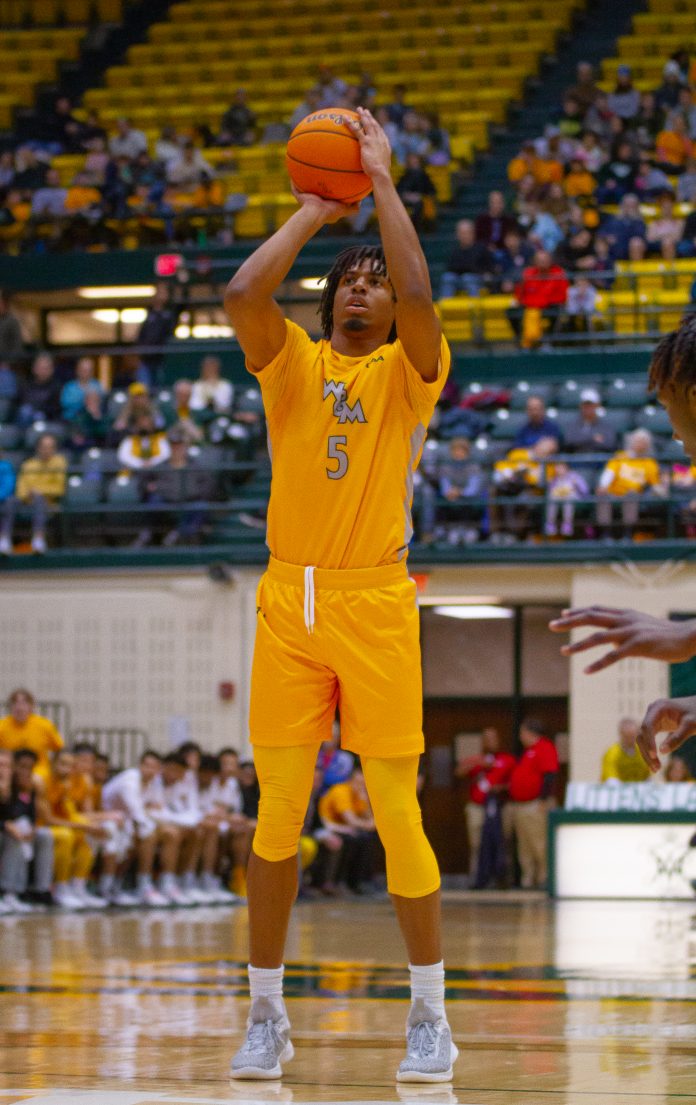 Saturday, Feb. 11, William and Mary (9-17, 4-9 CAA) struggled to find its rhythm and fell to Elon (6-20, 4-9 CAA) 66-55 at Alumni Gym in Elon, North Carolina.
Elon started the game hot with a 5-0 run. The Tribe answered with a pair of jump shots from junior guard Jake Milkereit and junior forward Ben Wight. This tight back-and-forth scoring continued through halftime.
Sophomore guard Tyler Rice found early success, making a pair of three point buckets to contribute to the Tribe's early 12-10 lead with 11 minutes, 48 seconds left in the first half. Rice's shooting streak did not last long, however, as he finished the game three for 10 from deep.
A shooting foul by freshman forward Charlie Williams led to two free throws for Elon freshman guard Max Mackinnon, extending the Phoenix lead to 32-29 as both teams entered the locker room at half.
The Tribe shot a respectable 39.9% from the field in the first half, not far off their yearly field goal average of 43.9%. The second half proved to be a different story for the Tribe, shooting just 31% from the field.
Elon came out strong in the second half, going on an 11-4 run with notable scoring contributions from Mackinnon, sophomore forward Sam Sherry, graduate student guard Torrence Watson and graduate student guard Sean Halloran, extending the Elon lead to 10 points. Elon's prolific scoring continued through the remainder of the game, as the team shot an even 50% in both halves. Mackinnon shined in the win, scoring 22 points and securing nine rebounds.
The Tribe made small scoring runs on the backs of Rice and senior guard Miguel Ayesa. A Rice assist led to a three-pointer by freshman guard Jack Karasinski, cutting the Elon lead down to six points. Elon answered with an immediate deep three-pointer from Halloran with two minutes, 32 seconds left in the game, bringing the lead back to nine and ending any potential for a Tribe comeback.
Rebounding was a large issue for the Green and Gold throughout the game. The Tribe struggled without junior forward Noah Collier, who leads the team in rebounds at 8.2 per game.
"What really hurt was their [Elon's] ability to get to the rim on us," head coach Dane Fischer said. "They had some timely offensive rebounds."
Graduate student guard Anders Nelson led the team with five rebounds. William and Mary totaled only 28 rebounds, compared to Elon's 40 boards.
Rice led the Tribe with 13 points and Ayesa finished the contest with 12 points.
The Tribe will look forward to their next game against Stony Brook on Thursday, Feb. 17 at 7 p.m. at Island Federal Arena in Stony Brook, New York.