Sunday, Jan. 29, William and Mary women's basketball suffered a two point loss to Delaware after failing to convert on its final four shot attempts. After the game, members of the Girls Sports Academy lined up to meet the Tribe players as part of National Girls and Women in Sports Days.
Though the loss snapped a four game winning streak for the Tribe, this post-game affair served as a "coming to reality" moment for many of the team's players, especially junior center Kayla Beckwith. The event reminded Beckwith and the rest of the team that their role is far greater than the game itself.
"A lot of us were upset because we lost, and it was a tough game," Beckwith said. "But, we had these little girls excited for us to sign posters and meet us. That's when you kind of realize it's bigger than you. So, it's nice to give back to them."
For Beckwith, this event further reaffirmed her passion for community outreach, a primary tenet of her recently-founded organization, William and Mary's Black Student-Athlete Alliance (BSAA). 
According to the club's mission statement, the BSAA is an organization dedicated to creating a strong, safe and unified community for African American varsity athletes, and continuing to empower their community through outreach, social and cultural events. The BSAA is also committed to creating a space to elevate and discuss challenges faced by its members, as well as promote connection with similar groups at local institutions. Furthermore, the BSAA is devoted to producing future leaders and promoting Black culture in all aspects of life.
After discovering similar clubs at other schools, Beckwith wanted to create a chapter of BSAA at William and Mary.
"I think the root of it is, as with anything in life, that you have to be the change you want to see in the world," Beckwith said. "If I want the Black student-athlete experience to change, I have to do something about it. It's definitely something in my identity, and just how I was brought up to be."
Born in Laurel, Maryland, Beckwith attended the Bullis School as a two-sport athlete. Beckwith made her collegiate debut for the Green and Gold on Dec. 3, 2020, registering a block and a rebound against Old Dominion. Beckwith played a total of five games her freshman season.
In her sophomore year, Beckwith averaged 16 minutes off the bench in 28 games. She finished second on the team with 14 blocked shots and 98 total rebounds on the year. Beckwith also led the team with a .579 shooting percentage from the field during the 2021-22 season.
As of Feb. 18, Beckwith is averaging 16.8 minutes per game. She recorded a season-high nine rebounds against Navy on Nov. 7 and a season-high 10 points against N.C. A&T on Feb. 12.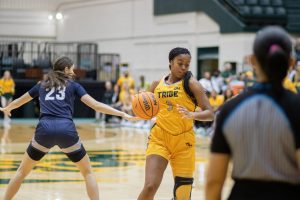 Last fall, Beckwith and her friends, including junior inside linebackers Quinn Osborne and Alex Washington from the football team, began engaging in conversations about injustices across collegiate sports. One issue they discussed was the NCAA's basketball gender inequities during the March Madness tournament in 2021. Notable disparities in the COVID-19 era bubble included quality of the weight rooms, food and gift bags.
"Regardless of race and gender, I just wanted to know how people felt about it," Beckwith said.
What began as casual conversations with her friends blossomed into the realization that she could create a community to discuss these topics on a bigger platform. Despite dedicating much of her time to academics and athletics, Beckwith wanted to make the creation of BSAA a priority this year.
Beckwith began to gauge interest from her teammates and student-athletes on other teams at the College. Around the same time, one of her friends from University of Virginia told Beckwith about the Black Student-Athlete Summit, a national event dedicated to the development of the Black student-athletes that features guest speakers, career-building workshops and more.
"I was like, 'Why is William and Mary not involved with events like the Black Student-Athlete Summit?'" Beckwith said. "My thinking was that if we can get to the event that would be cool, but if we cannot, I want to at least start something on campus of our own that does something similar to help elevate this group of people."
While setting up BSAA, Beckwith received support from staff members of the Tribe Athletics Administration, including Associate Athletics Director for Academic Services Jason Simms and Director of Basketball Operations for women's basketball Jasmine Perkins. As a member of the women's lacrosse team at Bryant University, Perkins founded a similar organization called Words of Knowledge Empower (WOKE) Athletes, which is dedicated to creating a network of student-athletes committed to the enhancement of diversity and inclusion.
"I met Kayla Beckwith when I was interviewing and knew that she was passionate about developing a Black Student-Athlete Alliance here," Perkins said. "That was something I just gravitated towards since I founded a similar organization at Bryant University."
During her time as a student-athlete, Perkins observed the struggles of being a Black student-athlete on a predominately white team at a predominantly white institution. She was one of two Black student-athletes on the lacrosse team.
"I did wish there was more of a support system and resources for Black student-athletes, because obviously everyone is in their own separate teams," Perkins said. "It's like you see each other in the cafeteria, but we're not really friends because our schedules are conflicting. So, I do think that played a large role in creating that space on my campus at Bryant."
Perkins founded WOKE Athletes in 2017-18 and earned a bachelor's degree in communications from Bryant in 2019. Before coming to William and Mary, she worked as part of the athletic departments at Georgetown and Wake Forest.
Perkins is currently the faculty advisor for BSAA. In this role, she assists Beckwith with the logistical side of running the organization. While she is excited to help the club mature, she wants Beckwith and other club members to lead the charge.
"I think it's really critical for the student-athletes to lead," Perkins said. "It's important to create a space in which they can be free of a coach or administrator being in the room to brainstorm ideas as to how they can build the Black Student-Athlete Alliance here. I'm just assisting and I think that's how it should be."
On the executive board, Beckwith serves as President, Washington is Vice President and Osborne is the Treasurer. Junior middle distance runner Mackenzie Joiner from track and field serves as Secretary. Additionally, the club's Marketing Directors are sophomore forward/center Dani McTeer from women's basketball and junior short distance runner Lizzy Gregory from track and field.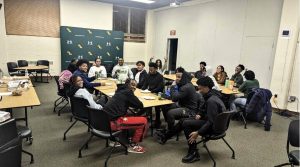 To date, BSAA has held two meetings. According to Beckwith, these initial meetings focused on organizing the club and brainstorming projects for the organization to pursue this semester. One prospective event for the club includes a collaboration with the House of Mercy, a local community service organization located near the William and Mary football facilities.
"We are discussing partnering with them and helping them out with food distribution and clothing drives for the homeless," Washington said. "It's important that we keep reaching out to the people around the Williamsburg community."
BSAA discussed visiting local schools to mentor students and spend time with them. The group talked about visiting high schools as guest speakers to explain the process of moving from high school to collegiate level sports, as well.
Additionally, this semester Tribe Athletics introduced a program to send William and Mary student-athletes to this year's Black Student-Athlete Summit in May at the University of Southern California.
"I'm hoping that at least one member from our group is going to join the conference, and be able to network with different professionals and professors," Perkins said.
Beckwith is applying for one of the three spots to represent William and Mary at the conference.
Outside of community outreach, BSAA is interested in affecting change on the campus of William and Mary. While BSAA is dedicated for Black student-athletes, Beckwith and Perkins believe that there are aligned common interests with the rest of the student-athlete population.
"I've discussed with Kayla, you can host events for all the student-athletes to spread knowledge about activism and racism for the entire athletic community," Perkins said. "I think this group will only continue to grow."
According to Washington, the organization wants to work with members of the William and Mary community outside of Tribe Athletics.
"I feel like it's a great opportunity to partner up with other organizations on campus," Washington said. "A lot of groups on campus are kind of segmented and everyone cliques up. We want to help change that and co-run events with other organizations here on campus to create a more interactive environment."
Though BSAA is still young, both Beckwith and Perkins agree that the eventual legacy of the organization is bigger than they can currently envision.
"I think the biggest thing might be the excitement from those alumni that are hearing about it," Beckwith said. "They want to talk and work with us. And then I'll say, even from the people that were at the first meeting, I think everybody left excited and ready to see what this semester has in store."
Beckwith expressed a desire for further growing the club's size and representation across the varsity sports teams. Moreover, Beckwith wants members of the organization to develop professional skills such as resume-building, as well as honing in on being the best versions of themselves on and off the court.
"My mom always taught me that you have a voice and you should use it for good," Beckwith said. "I just want to make a positive impact on my environment, and simply be the change you wish to see in the world."
The Black Student-Athlete Alliance meets bi-weekly on Wednesdays at 7 p.m. in the Green and Gold Room at Kaplan Arena. Their next meeting is March 1.