Lulu Dawes '23 is the outgoing 112th Editor-in-Chief of The Flat Hat. She refuses to let anyone cut this article, despite the sad, nostalgic rambling.
The views expressed in the article are the author's own.
During my term as Editor-in-Chief, I had often thought about what I would write in my farewell piece; but now that the time is here, I am unsure how to close this chapter of my life in one short article.
My term as the 112th Editor-in-Chief of The Flat Hat, like many other editors before me, was filled with changes that will carry into the newspaper's foreseeable future. For one, the iconic Campus Center office was moved to the new Sadler expansion, marking a new start for the paper. There were decades worth of memories (and trash) in that office, and some of my fondest college experiences occurred in that moldy campus center room as a freshman, sophomore and junior. And it makes me sad to think the new staff will never know what it was like down there. (Editor's Note: spending my summer in 2022 cleaning out that office was one of my lesser fond memories.)
That's a theme that has come up a lot for my term as Editor-in-Chief: as the last editor to serve on the Flat Hat before the COVID-19 pandemic, I often worried if the paper was changing too much and if I would ever be able to recreate what my time was like as a freshman for the newer staff members. Becoming a news editor in January 2020, I am the only person on staff who can remember what it was like having to print every week on a ten-page paper (instead of every other week with eight pages as we do now). I worried that the culture of The Flat Hat had been irrevocably changed with the pandemic, and I simply did not even know what special traditions or moments I forgot to bring back. As I am sure many other institutions and organizations at the College of William and Mary can relate to, COVID-19 had consequences (some negative but some positive) on The Flat Hat, and after my fellow seniors and I graduate, things may never return to how they were.
But that's just one over-dramatic and morbid part of my year as the 2022-2023 Editor-in-Chief. This year has been amazing, and I was very proud of the work my staff and I were able to accomplish. I am extremely sad to be stepping down, and not only because I thought I was getting the hang of it right as I was ending my term. I genuinely enjoyed our long print nights — mostly because of the wonderful people that were there — and remain proud of the incredible articles we published.
There were times in which I thought I could have done some things better and a few small moments that I wish I could go back and change. But luckily, these moments did not define my time as Editor-in-Chief, but rather provided invaluable learning opportunities that I hope I used to better the paper and myself as a leader. I am fortunate to have created lasting bonds with my staff, written interesting stories about the incredible students that go here and did not even have any issues with admin (never too late I guess)?
The Flat Hat has defined my time at the College in the most positive way possible. I genuinely cannot think of how to sum up how much I loved this paper and people. As a student newspaper, it's a difficult position to report and write about a community everyone is so deeply intertwined with. Former Editor-in-Chief Claire Hogan '22 said it best in her farewell piece: "Since we're largely left to fend for ourselves at The Flat Hat, the Editor must play both offense and defense at any given time, from any given side, on any given day. It's exhausting, but I loved every minute of it."
The past Editor-in-Chiefs I served under, Claire Hogan '22 and Ethan Brown '21, showed me what amazing leadership looks like. They exemplified how to be kind and understanding in difficult situations but being tough and prioritizing the paper's best interest when it matters. They are both amazing people who will go on to do much more amazing things than I can dream of — but everyone must read each of their farewell pieces because they say even nicer and cooler things about me than I did about them (no really, please read them to boost my ego).
As an outgoing Editor-in-Chief, I leave the paper in the most incredible hands. Molly Parks '24 will follow in my footsteps as the new Editor-in-Chief of The Flat Hat. Molly decided as a freshman to literally hold all the same positions in the same order as me. Despite her unoriginality in that aspect, Molly's ideas for how to expand and improve the paper leave me in awe. She is determined and creative, and she knows exactly what needs reporting on. It makes me sad to think I will not have the opportunity to serve under her and see her flourish as a leader.
In Molly's executive staff is Managing Editor Jake Forbes '24, Executive Editor Vivian Hoang '24, Operations Manager Anna Arnsberger '25 and Digital Media Editor Adam Jutt '25.
Jake will no doubt bring his positive energy to this new role, taking this paper to its highest level. As the former sports editor, Jake proved to be the type of person you always want around. Managing his two ridiculously talented associate editors, Jason Tukker '23 and Kelsi Putnam '23 (who I will not miss editing their weird sports jargon and metaphors), Jake is a strong leader who knows how to bring others up to his level. And as one of my close friends and forever intramural teammate, I know our news, data and sports sections are in good hands.
Vivian — who suggested I make this article "a staff roast"— is one of our strongest writers on staff. She knows how to swiftly deal with any arising issues and will be a reliable force for the opinions and variety section. Though we constantly disagreed about fonts, her creativity shines through every project she undertakes. Also serving as Flat Hat Magazine's chief of staff, Vivian is a hard worker who will answer any text even at 3 a.m. (I always loved yours and Maddie's pages, and my favorite part of production nights was looking at what insane fonts you two decided to use.)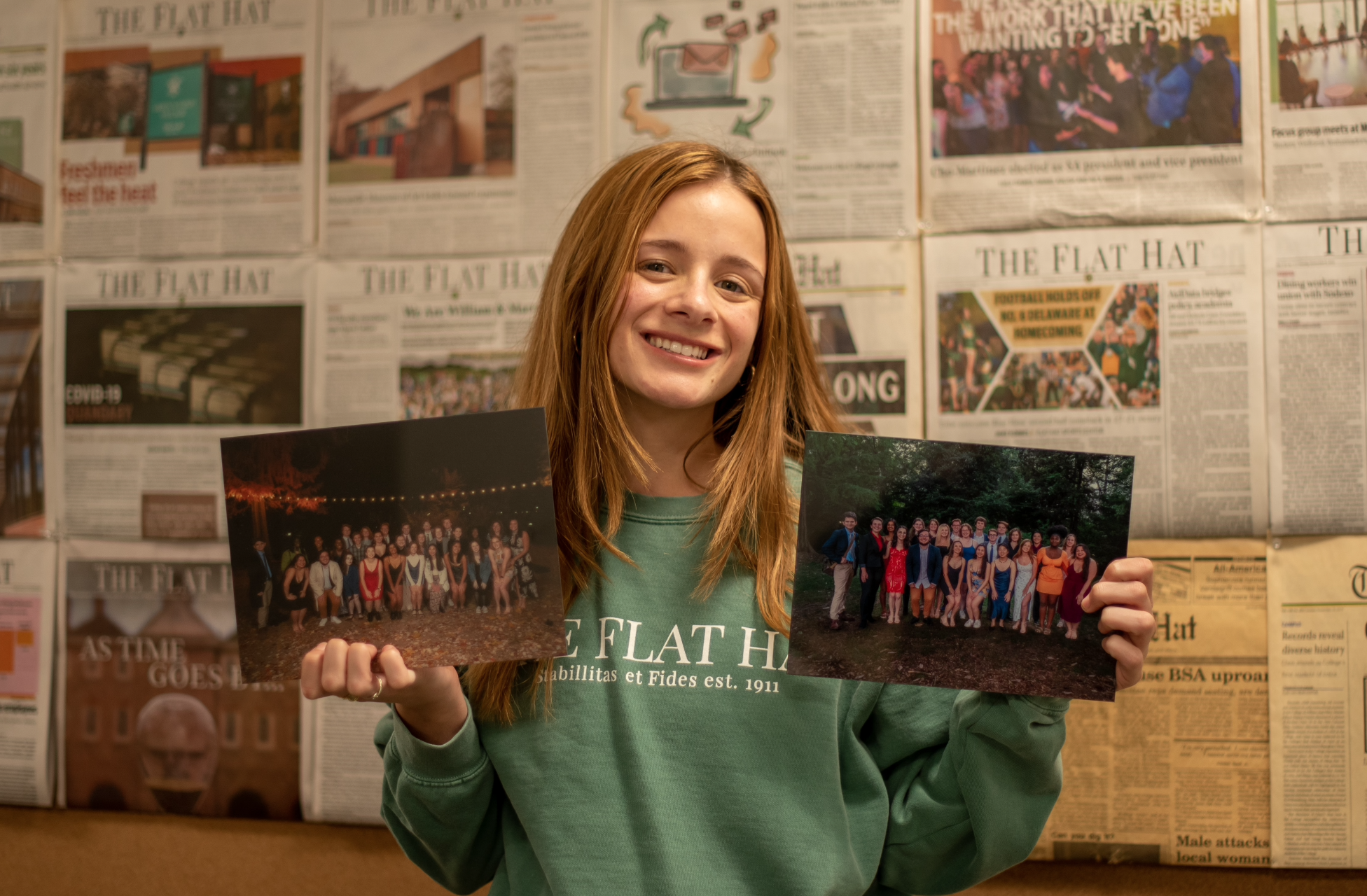 Representing the sophomore class, Adam and Anna will excel in their new positions. Adam's lighthearted energy and nuanced takes will bring a new approach to the digital section. Though currently studying abroad, Anna follows through on any project and will bring her wittiness and friendlessness to this new challenge as operations manager. On a side note, these two hid that they were 1693 Scholars for almost an entire year until they were exposed one print night by Molly Parks. I hope you two use all the free laundry you can get.
For the news section, Emma Henry '25, Daniel Kalish '25 and Abigail Connelly '25 are a force no one wants to reckon with. All brilliantly talented writers and editors, I am excited for how they will elevate the news section. Becoming the first news editors since me as a freshman to work with four news pages, I know they are going to bring high-quality and important content.
Chief of staff writers Hannah Ray '25 and Betsy Mahoney '24 will take the helm of news writing. Two both incredible writers, I wish them all the best as they investigate and report.
Our two new intern editors Ethan Qin '26 and Max Grill '26 will help revitalize the sports section from one page to two. Both editors have already proved to be passionate and hardworking, and I wish them all the best as they navigate new challenges and adventures.
Lisa Coleman '26 will lead the data section. Also coming straight from the intern program, Lisa once had to listen to me explain how to incorrectly write a data article (something I have never done) for approximately 30 minutes. Lisa, I apologize you had to listen to someone who had no idea what they were talking about. I hope by our next intern program, you'll be there to guide the data way.
Miles Mortimer '25 and Agavni Mehrabi '26 enter as our new variety editors. Miles currently holds the record of having written my favorite article. Agavni has also proved to be a strong writer, and I hope she will enjoy the creativity that comes with being a variety editor.
New Opinion Editors Avi Joshi '26 and Mollie Shiflett '26 will lead a section I have always been wary of. The opinion section is sometimes tricky to navigate, and it comes down to the editors to decide what voices of our community are to be heard. While some may find this intimidating, Mollie and Avi approached their roles with confidence. I wish them luck for their terms and know they will do an absolutely incredible job.
Chris Schneider '24 and Greta Bach '25 will continue to kill it on the video team. Working harder than possibly any other staff member last semester, both Schneider and Bach bring more fun to college journalism than any other section.
Our new social media editors, Camila Anderson '26 and Karis Koutsourelakis '26, may have one of the more overlooked jobs in difficulty. Running the social media is constant; it's receiving texts every day about a new issue or idea. Camila and Karis will do a fantastic job in bringing new ideas to the table!
Yelena Fleming '25 will return as our graphics and podcast editor. Yelena is one of the kindest people on staff, and she has done an incredible job managing more work than anyone else. She has created some of the most beautiful graphics, and her amazing work will forever be remembered around the office.
Ryan Goodman '25 is already filling big shoes as our new photos editor. Though editors ask for photos multiple times a day (sometimes less than an hour before an event), Ryan is always there ready to help. He has taken some amazing photos over the last year, and I can't even imagine what amazing things lie in his future.
Conor Downey, Julia Patronik and Myles Rescher will take over as business managers. Starting completely new roles, this year's staff will have with a business manager, an external business manager and an internal business manager. I am excited for this change and hope they will follow in their very gifted predecessor's footsteps, Taylor Robertson '23.
Copy Chief Crystal Wang '25 will lead the team of copy editors and fact checkers. Crystal provides an ever-calm energy, and as I just learned, is also on the archery team, which is pretty super cool. Returning copy editors, Ian Ha '24, Veronica Bondi '25 and Anu Desai '23, are some of the people who made me laugh the most during print nights. Even though our new Sadler expansion separated them to a different office, I will never forget the crazy funny conversations they had during production nights.
Our returning Standards and Practice Editor, Sarah Devendorf '25, is instrumental in the workings of this paper. She was someone I could not imagine my term without. She is there in an emergency and is someone who always had an answer when I was at a loss. Now leading our largest ombuds team to date, I wish her the best as navigates this still very new role.
To my staff, the ones who will not be returning to their editor roles, I loved being on a team with you all. Each staff member taught me something new and made me into a better leader and person.
Ashanti Jones '23, as most people on this campus will agree, is one of the most amazing people you will meet at the College. Forever over-involved, Ashanti always brought her positive energy to the variety and opinions section as well to the other various organizations she's involved in. Continuing to lead as the media council chair, Ashanti's presence cannot be replaced, and I feel lucky to have been on staff with her.
Alexandra Byrne '23 has been described as an overachiever and even that is an understatement. Probably the most talented journalist and writer at the College, Bryne is a fearless reporter and confident force to be reckoned with. Spearheading this year's internship program, Byrne's impact can not be overstated; she mentored over 60 students, most of which have permanently joined our staff.
Leading our digital team, Erica Smedley '23 and Justin Sherlock '23 helped the paper flourish. Erica created a stable foundation for those in the digital media section, promoting growth for her team. As both social media and photos editors, Justin spent more time responding to Slack requests than any other staff member. I will forever appreciate his photoshopped graphics and the photo wall him and Ryan constructed in our office. His work ethic inspires me, and I wish him the best as he continues to quietly still be on staff.
Print editors Callie Booth '24, Caitlin Noe '24 and Madeleine Harris '24 are diligent team players who I was lucky to have worked with. I only wish them the best as they pursue new goals and adventures, with Caitlin and Madeleine transitioning into the role of copy editor.
Ellie Kurlander '24 and Linda Li '24 served relentlessly as the Flat Hat Magazine's Editors-in-Chief. They, along with their incredible staff, produce two beautiful issues that literally make parents stop to look during activities fair, and I look forward to seeing what they do as opinions and variety associate editors, respectively. Incoming Editor-in-Chief JR Herman '24 will follow in their footsteps to make the magazine like "The Flat Hat but artsy."
I have already gone over my word count, so even though I could keep going on and on about how much I love The Flat Hat, I guess I'll close it out here.
The Flat Hat's role in the College's community is complex and sometimes confusing. We report on the good, the bad, the unnecessary and sometimes the groundbreaking. We are unpaid, and most of the time overworked. But what we create lasts for years and decades after we graduate.
I hope in the future that a Flat Hat staff member who never met or worked with me comes across my author profile. I hope they think it was cool that I was a news editor when the pandemic hit or that I was Editor-in-Chief when we moved to Sadler. I hope, in years to come, they continue to feel that The Flat Hat is a family like no other.
But if my memory on this paper is short lived and quickly forgotten, at least it was fun wasn't it?
Stabilitas et Fides.