Dr. Jody Allen Ph.D. '07 originally thought she was on her way to a career in social work when she received her undergraduate degrees in criminal justice and political science at the University of Delaware and her masters degree in criminal justice from Michigan State University. What she did not expect, however, was to end up as an assistant professor of history and Robert Francis Engs Director of the Lemon Project: A Journey of Reconciliation at the College of William and Mary.
"I realized that I'd always wanted to study history, but I had been guided away from it by my high school guidance counselor because, at the time, I didn't want to be a teacher," Allen said. "She said, well, if you don't want to be a teacher, that's all you can do with a history degree, which now, of course, I know you can do many more things."
Originally from Hampton, Virginia, Allen moved out of the state for her undergraduate and graduate studies and later took a job at Stony Brook University in New York. As time went on, she found herself ready to return to Virginia. Allen began working at Virginia Commonwealth University in their Residence Life department then took on the role of Acting Director of Minority Affairs. Following her career at VCU, Allen attended the College to pursue a Ph.D.
In 2007, the College hired Allen as an assistant professor. In 2010, she became the first director of the Lemon Project, an initiative which began a year earlier after students and faculty demanded that the College reckon with its past, specifically its involvement with slave labor and segregation. The Lemon Project is part of the Universities Studying Slavery Consortium, which includes nearly 100 educational institutions across North America, Europe and the West Indies.
"The Lemon Project is named after a man who was enslaved by William and Mary in the late 18th, early 19th century," Allen said. "The idea was for it to be a kind of archival research project. But we figured out early on that it needed to actually not just be in the archives, but we also needed to get out into the community and work in the community and do some research."
To Allen, the Lemon Project is an opportunity for the College to improve its relationship with the broader African American community within Williamsburg, as well as a chance to begin to answer questions about the College's past.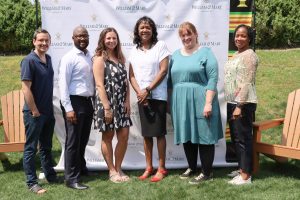 "There's this understanding that slavery is really at the foundation of this country," Allen said. "A lot of institutions, even if they never owned or enslaved people as an institution, most institutions in this country have somehow benefitted from that labor source. So Lemon is William and Mary's answer to this question."
Allen also highlighted the Lemon Project's genealogical initiative under the direction of Postdoctoral Research Associate Jajuan Johnson. Allen mentioned that the Lemon Project has received an extremely positive response from the student body and Williamsburg community.
"One of the things that we heard from a lot of people was this one phrase, that if you were Black you couldn't be on the William and Mary campus unless you were pushing a broom," Allen said. "And that was true. You know, you couldn't, the campus was segregated. And so now you see all kinds of people from the community walking across campus with their dogs or just taking a walk or whatever. And Black people couldn't do that."
Allen mentioned that though she believes the College is developing a better reputation within the community, she recalled moments when she heard from students that guidance counselors would not encourage Black students to attend the College due to a concern that they would have an uncomfortable experience.
"What we're responsible for now is what we do moving forward," Allen said. "And I do think there's a genuine desire to repair those breaks, those feelings, and to replace them or add on better experiences, positive experiences."
Outside of the Lemon Project, Allen is working on her first book, as well as teaching a graduate course titled "The Miseducation of America." Her inspiration for the course came from a t-shirt she saw in 2015 when local officials took down the Confederate flag outside the capitol building in South Carolina. The phrase on the shirt stated: "If you think this is hate, you don't know your history."
"I think a lot of what we're seeing today is a result of miseducation," Allen said. "I think that it's important that this truth, that history as it is, all of it, as they say, the good the bad and the ugly, needs to be told. You know, people have to know and want to know where they come from."
Allen's first book is intended to be a shorter version of her dissertation on Black life in Hanover County, Virginia. According to Allen, most historical sources in this area focus on white history, including books related to Patrick Henry or Henry Clay. Thus, she felt it necessary to further research the Black majority in Hanover County that existed until 1870. Her book follows the 100 year period from the end of the Civil War through the Reconstruction era.
Allen explained that by 1902, Virginia began thinking of ways to further disenfranchise Black men, thus taking away citizenship rights such as voting. Her interest in this period is not only regarding Black resistance, but also their resilience in a time where their rights were being stripped away.
"They were working, they were building churches and schools and they were starting these self-help organizations," Allen said. "And they were literally putting their pennies, nickels and dimes together and they were figuring out how to hire a teacher. And throughout this entire process, throughout this time, despite what was happening around them, they just kept moving forward."
Allen hopes to have her book published by Summer 2024.
Allen mentioned that the most rewarding part of her time at the College has been working with students and spearheading the Hearth: Memorial to the Enslaved with her team at the Lemon Project. She recalled the memorial's dedication in 2022, discussing the overwhelming experience of this project coming to fruition after eight years of planning.
"I heard so many times over the years 'it will never happen,'" Allen said. "I think also that is because the names of the enslaved that we've found, and the ones whose names we don't know, they are also marked on the memorial. I think, for me, because we haven't found a cemetery, we don't know where they were buried. And so this pulls them out of the archives, out of the pages, onto a place where now they can't be forgotten."
Allen also discussed the recent addition of the Student Assembly Community Values Pledge taken by incoming freshmen and transfer students during orientation at the memorial.
"That was one of the things we hoped — that these new traditions would grow up around Hearth because there are a lot of traditions at William and Mary," Allen said. "Most of them were established when African Americans couldn't attend and weren't generally welcome on the campus. So having new traditions come up that everybody can participate in is great."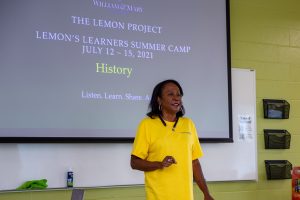 Allen also highlighted the Lemon Project's new summer camp for middle school students which will highlight their genealogy project, as well as local history. The Lemon Project will also hold their 13th annual symposium on March 24-25 at the School of Education and over Zoom. Allen mentioned that the Lemon Project team would like to expand opportunities for student internships and continue the research and work that the project has cultivated.
"I've always worked on a college campus, I think it's where I'm supposed to be," Allen said. "Hopefully, we will be able to continue to expand the size of the Lemon Project because we have lots of ideas that I think will be positive for the campus community and the off-campus community. But we need more people to do some of those things. So right now, I am pretty happy with life."