Monday, Feb. 20, the presidents of approximately 30 different clubs and organizations at the College of William and Mary gathered on the Sunken Garden to compete in the Nerf Club's first (and potentially annual) President's Day Tournament. With spectators consisting of supportive fellow club members, intrigued tour groups and student passersby, the event created a larger crowd with every dart shot through the air.
Nerf Club President Nathan Mo '24 came up with the idea for Monday's event after looking at the club's calendar and noticing a lack of special events in February.
"I saw that Monday just so happened to be President's Day," Mo said. "So I got into my head, 'Why don't we invite [club] presidents to come out to Sunken Garden and do a little friendly duel, like kind of showcase what William and Mary is?'"
Indeed, the event was a quintessential representation of the student body's quirks, showcasing both friendly yet intense competition and student pride in their clubs.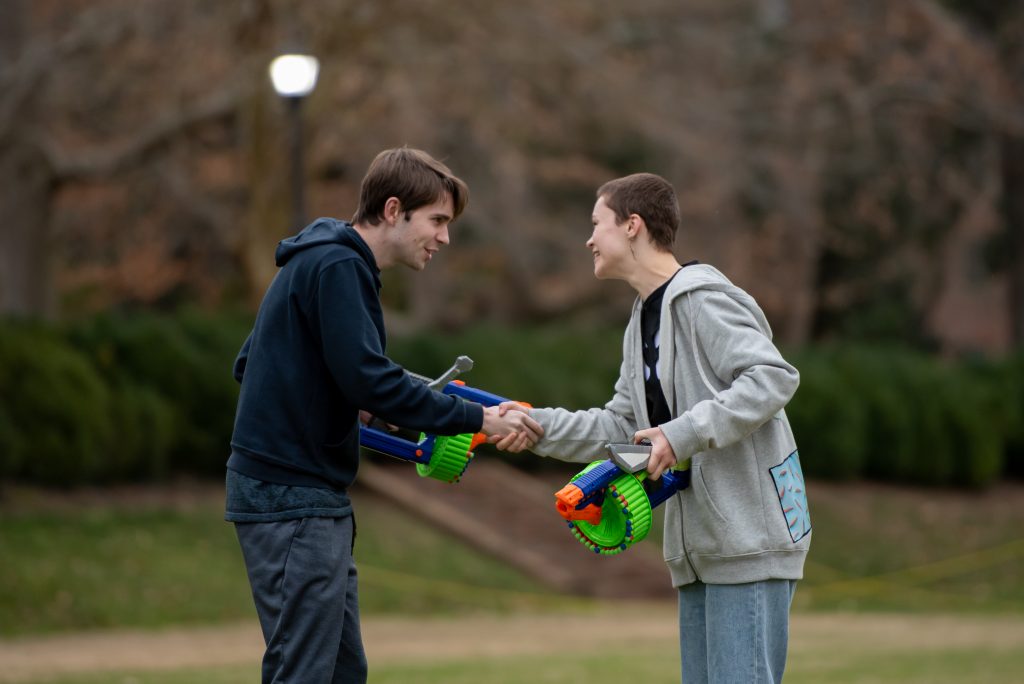 The rules of the competition were relatively straightforward: each duelist began with one Nerf blaster that had two reloads of darts and a foam knife. Any blaster could be used in the duel as long as both duelists agreed to use the same one. With the knife, three hits above the wrist counted as a "tag," causing a duelist to be "out." The duelists started on opposite ends of the "arena" and began competing after "three, two, one, game on" was called.
Additionally, while the Nerf Club usually plays inside of an academic building at its weekly meetings, the nature of this specific tournament required an open arena style that seemed to come straight out of an action movie like "The Hunger Games".
"I think it's a really balanced game mode, so it should be really fun to watch," Mo said. "Honestly, I think it's anyone's game."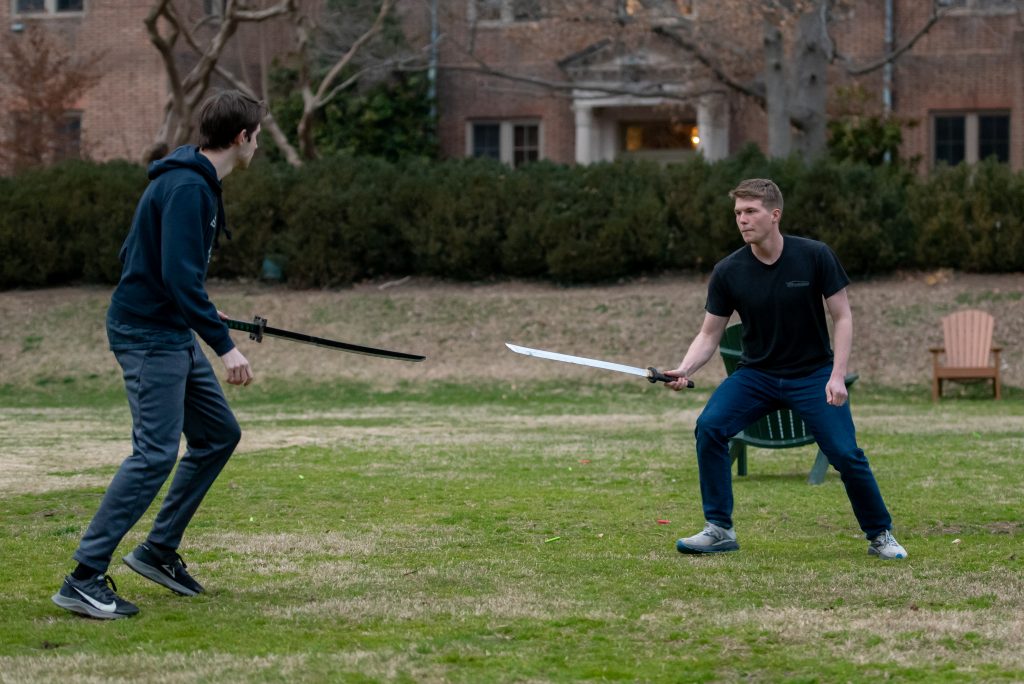 For every round other than the semi-finals and finals, there were two duels occurring simultaneously. Nerf Club member Jake Poppiti '24 kept the growing crowd of spectators informed with his humorous play-by-play while also keeping careful watch for and calling out tags.
"I'd like to see [College President Katherine] Rowe be available and come over and duel us," Poppti said. "We did invite her, but she was away, unfortunately."
Kate Balint '24, who represented the College's Harry Potter fan club Wizards and Muggles in the tournament, decided to participate in the event after learning about it through an email sent out by the organization through TribeLink.
"I've always just thought the club was cool, and I've been kind of watching for things to participate in," Balint said.
As for how she expected to perform in the duel, Balint tried to keep her outlook grounded in realism but didn't shy away from optimism as well.
"It has been years since I shot a Nerf gun, but, you know, I see two ways this goes," Balint said. "Either I fall in the mud on my face and get out immediately, which is just hilarious, or I win, and I have defended the honor of the nerdiest club on campus."
Balint ended up getting out in the first round to Jack Weisgerber '25, who represented the Gentlemen of the College, the oldest a cappella group on campus. Zero points to Gryffindor, unfortunately.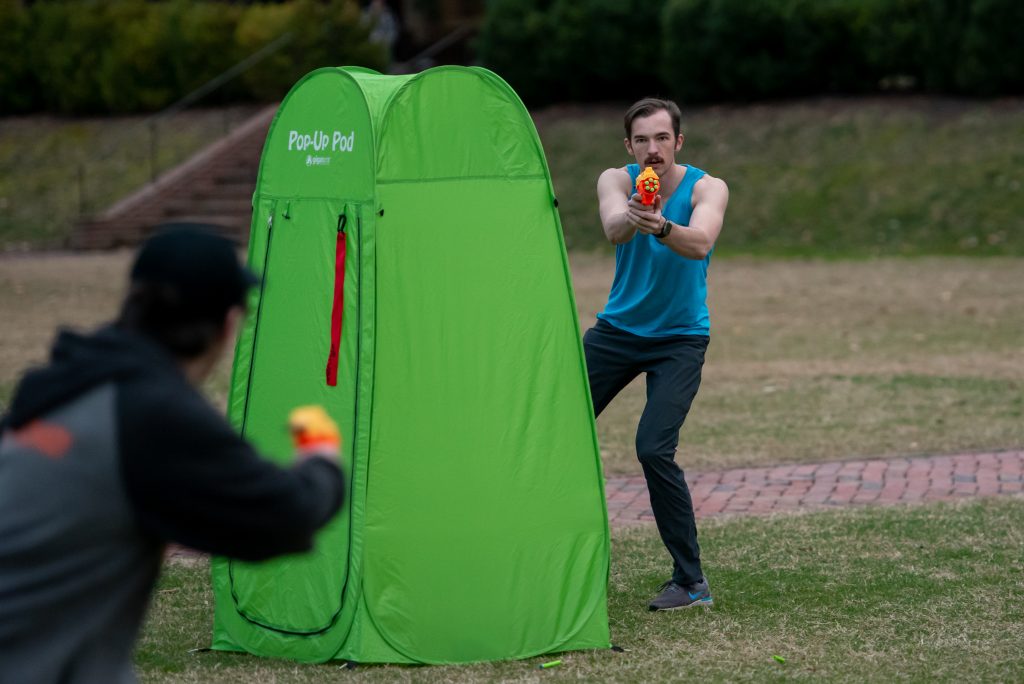 Cara Davis '23, another player in the competition, represented WCWM 90.9 FM, the College's student-run radio station. Competing with a broken foot, Davis' "duck and hide" technique allowed her to make it to the second round, farther than much of the competition.
After nearly an hour of fierce competition among the participants, there were only two presidents left standing: Jude Bedessem '23, the president of the Society of Physics Students, and Patrick Doyal '24, the president of the Climbing Club.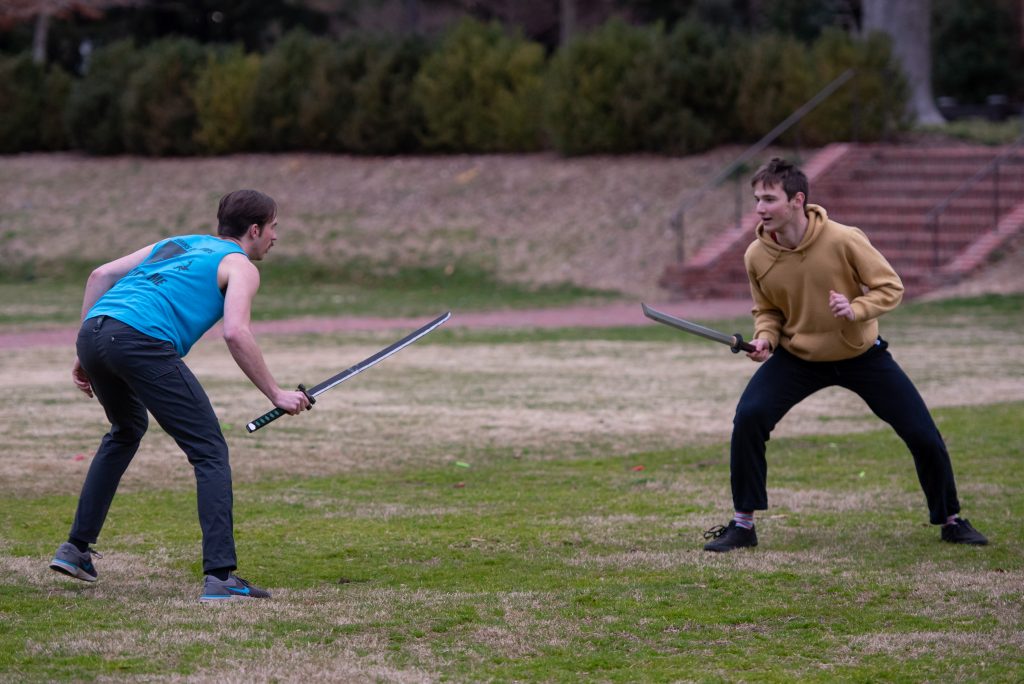 Although both played well and fought hard, Doyal eventually became the winner of the tournament after winning two rounds against Bedessem. When asked by Poppiti how he felt about his victory, Doyal could only describe it as "glorious."
Doyal expressed confidence in his Nerf skills from the beginning, even anticipating making it as far in the duel as he did.
"I've been playing with Nerf Gun since probably kindergarten or preschool," Doyal said. "So, I was going in feeling strong in my abilities. And, you know, I think they served me well.
For his strategy, Doyal made sure to play to his strengths, a strategy which evidently paid off well for him considering his placement.
"Every time I ran left because I'm stronger in my right hand," Doyal said. "Then if they got close, I used the knife to finish my opponent — that worked pretty well."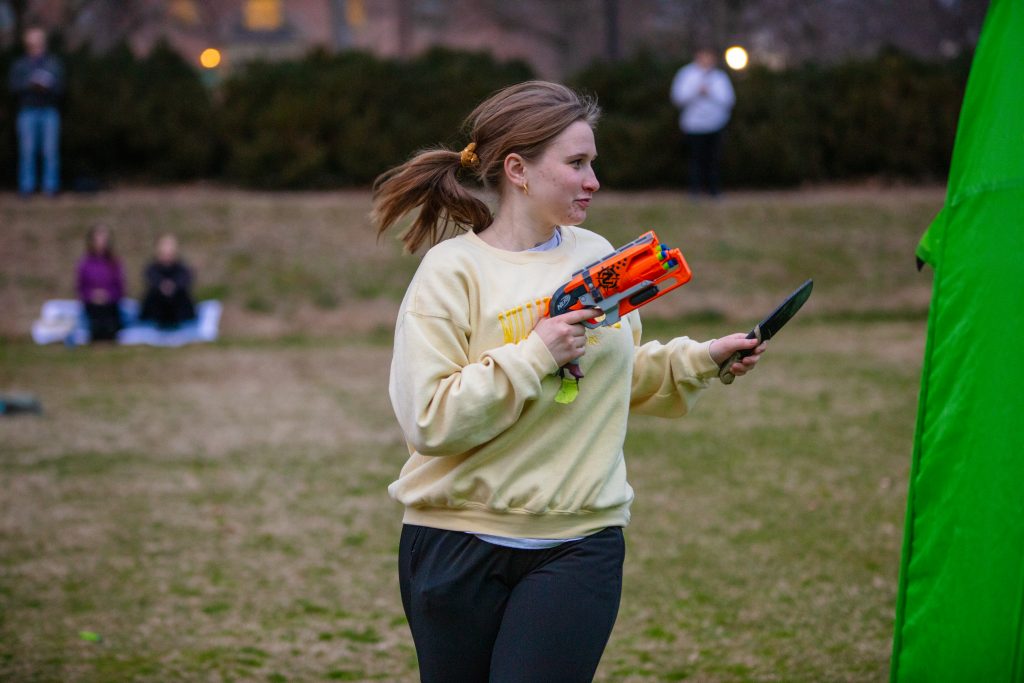 The crowd's ecstatic reaction to the outcome of the final duel was an authentic reflection of the overall enthusiasm that was present from the beginning of the event.
"I think just the general bloodlust of the crowd was quite a memorable part," Poppiti said. "I'm glad to see that so many nerds at William and Mary — students who are usually diplomats — gave in to the need for violence."
Poppiti also conveyed how impressed he was with the high intensity of the event, which defied his expectations going into the event.
"I thought it was a bit more epic than I would have expected. I thought people were just going to walk ten paces and then shoot each other," Poppiti said. "I'm very glad people were getting creative, dynamic, sliding in mud and hiding behind tents and things, really getting into it."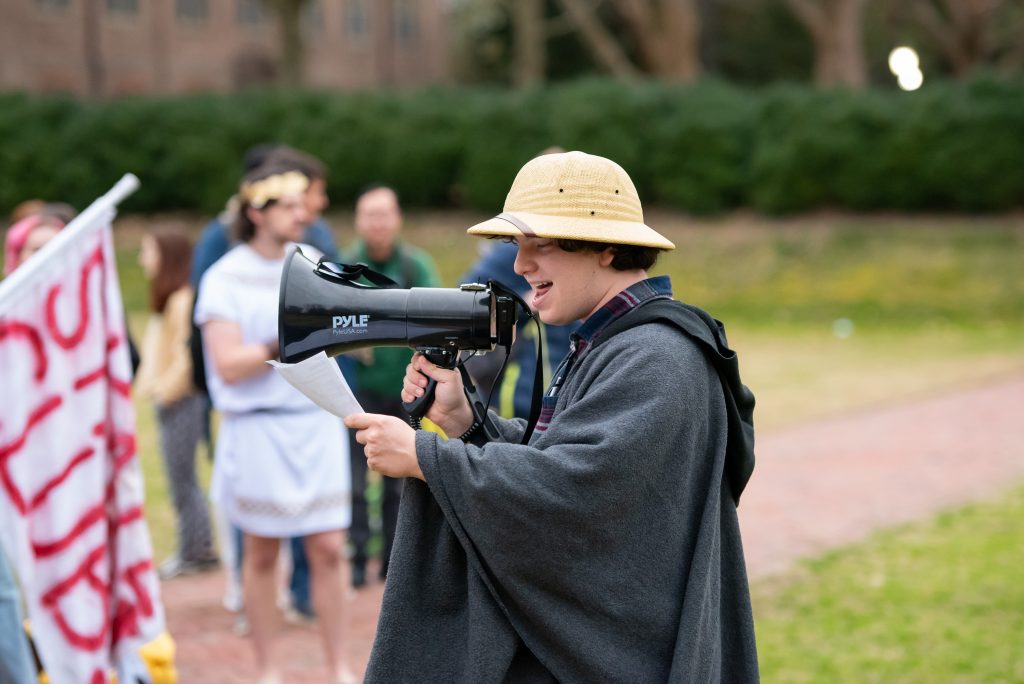 In the eyes of not only the spectators, but also the Nerf Club, the tournament was seen as a resounding success that, as expressed by Mo, would do well to become an annual Nerf Club tradition for years to come.
"I think this event went really well," Mo said. "I think everyone had a lot of fun. I think this is really good for engagement for a lot of clubs. Hopefully this is going to foster a lot more interconnectedness on campus because I don't know of any other event where you could bring such a diverse number of clubs together."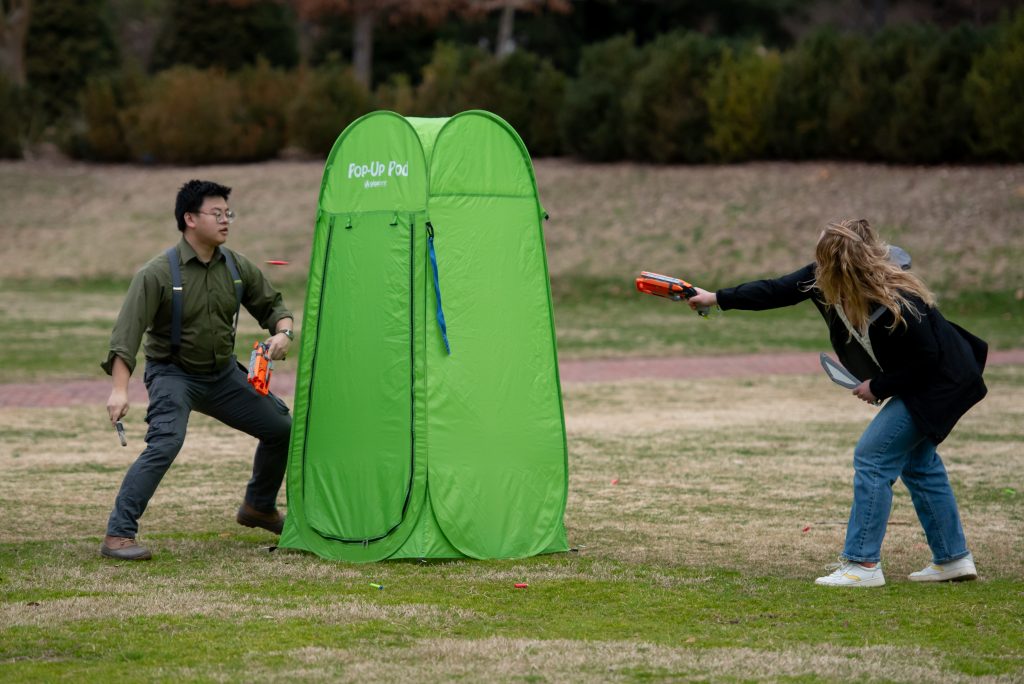 Priding itself on its inclusivity and welcoming nature, the Nerf Club hopes that high-profile events such as the President's Day Tournament will show the College their strong community, and potentially, serve as a way to connect with students interested in joining.
"Nerf Club is a very wonderful place accepting of all," Poppiti said. "So long as you have the desire to blast somebody with darts, you're more than welcome to join in."