Monday, Feb. 13, workers erected the construction fence marking the grounds of the Integrated Science Center Phase IV construction area. The area between Earl Gregg Swem Library and the existing Integrated Science Complex is expected to be closed to pedestrians until Aug. 1, 2025 as ISC IV undergoes its $94,300,000 construction project.
Phase IV of the Integrated Science Complex will accommodate several STEM academic disciplines, including Mathematics, Computer Science, Kinesiology, Design and Engineering.
College Provost Peggy Agouris wrote in an email to The Flat Hat that the ISC IV project contributes to all three of the College's goals of Vision 2026: expanding the College's reach, educating for impact and evolving to excel.
"Vision 2026 includes efforts to offer students expanded options in computing and information sciences, applied science and engineering and to modernize campus so that our people thrive," Agouris wrote in an email to The Flat Hat. "This project helps to further that work by bringing computer science, math, applied science and design/engineering courses under one roof where they can collaborate and offer new opportunities for learning and research in computational sciences in general. This is an entire ISC complex designed to promote collaboration and fresh connections."
ISC IV initially entered the pre-planning stage of the College of William and Mary Board of Visitors Committee on Administration, Buildings and Grounds in November 2017. Building committee meetings and initial designs for ISC IV began in October 2018. The construction of ISC IV began nearly 15 years after the 2008 ribbon cutting ceremony of Phase I of ISC.
Agouris spoke on how the various phases of the Integrated Science Complex have helped improve the STEM program and overall education at the College.
"The existing phases and integration have replaced outdated facilities and promote the cross-pollination of ideas and disciplines for students and faculty both in the sciences and in other areas," Agouris wrote. "ISC has elevated the university's ability to educate for impact in the modern world, and it has helped William & Mary continue to attract the best students from around the world."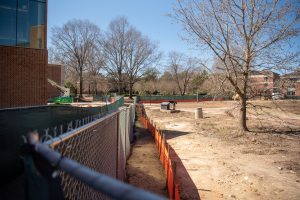 Architectural firms Goody Clancy and Baskervill are collaborating to lead the architectural design of ISC IV, along with Senior Project Manager Adam Witkowski. Witkowski noted how the new building should be seamlessly integrated into the architectural design of the College's campus.
"The architects took many different aspects from different types of buildings on campus," Witkowski said. "They took inspiration from 1920s buildings and the details around the Sunken Garden, as well as the different parts of ISC I, II and III. So from a visual and architectural standpoint, we want ISC IV to look like it belongs with ISC I, II and III and make it a complex of buildings instead of individual buildings."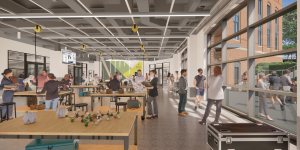 Witkowski also described the rooms and spaces that students should expect when the building opens in 2025, including large makerspaces, server rooms, computer labs, lecture halls, classrooms, study spaces, theaters and an outdoor courtyard.
"You're going to have outdoor spaces, you're going to have indoor private and public spaces. It's going to be a vast range of different types of areas where students can learn and congregate and just enjoy the building," Witkowski said.
Although ISC IV is dedicated to the sciences, the managers of the project want students to know that the area will also have cross-campus, interdisciplinary benefits. Professor of Biology Eric Bradley is involved with the ISC IV expansion project as the Arts and Sciences Emergency and Planning Coordinator.
"One of the things we're attempting to do, one of the things that the provost is attempting to do, is to make sure that in the sciences we have the highest and best use of all of our facilities," Bradley said. "There's less of a department or program orientation and more of an orientation to put activities that need particular kinds of support together with some level of adjacency in order to facilitate what they do. So people who need, for example, wet laboratories and fume hoods and so on, regardless of the discipline or the department in which they're located, ultimately need to be put in the best place to support their work."
Bradley noted that he sees ISC IV as a space where the digital humanities can thrive.
"In digital humanities where, in areas one and two as opposed to STEM in three, people are using computational and data driven approaches to their disciplines," Bradley said. "Providing places for not only students to learn how to do that, but also places for that to happen, will be an addition, something that is now distributed less than adequately. So my feeling would be that the student body will, regardless of their discipline, will benefit to some degree … But the people who are using these disciplines, which would be computational and data driven and applied, I would say that in those three areas you will see an enhancement of opportunity for the concentrators who are in those areas, which is a very large component of our student body."
Bradley noted that this new building will not only provide more classroom spaces, but will also increase environmental efficiency and sustainability on campus. The building is required to reach at minimum a LEED silver certification.
"The infrastructure will be modern and the cost to operate it per square foot will go down compared with buildings that are fifty years old and older," Bradley said.
Devangi Kanyal '25 is a current economics and potential Computational and Applied Mathematics and Statistics major at the College who is looking forward to the increased learning benefits she expects the ISC IV expansion to provide.
"As a student who has taken data science and computer science classes at William and Mary, that have all been in Small Hall and Blow, I am excited to hear about the expansion," Kanyal wrote to The Flat Hat. "I feel that this expansion would definitely attract a lot more students and possibly a more diverse group of majors."
The ISC IV expansion project falls in line with the 'data' initiative of Vision 2026 that has previously received backlash from members of the College faculty. On Sept. 26, 2022, over 214 members of the College faculty signed an Open Letter which contained concerns about the alienation of faculty involvement in strategic planning and about the tenets of Vision 2026. In an October 2022 Faculty Assembly meeting, College President Katherine Rowe fielded several questions concerning Vision 2026 and Agouris's September 2022 BOV announcement that the College is exploring the possibility of establishing a computing and data science school.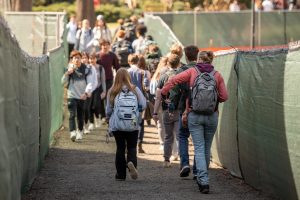 Although excited about the expansion of space for data and computing science disciplines in ISC IV, Kanyal is concerned about the construction of the building re-routing pedestrian access of the frequented staircase that leads from Landrum Drive to Earl Gregg Swem Library.
"The stairs leading to Swem are definitely a big interruption in many people's daily routines. It was the fastest connection from the old campus to the new campus and also to Swem and so it has definitely been an inconvenience to many," Kanyal wrote.
Witkowski also spoke to the circumstance of pedestrian rerouting.
"That's unfortunately, you know, an inconvenience to the campus community," Witkowski said. "However, it is required in order for us to construct the building."
The project, expected to be completed in time for the fall semester of 2025, will renovate 124,000 gross square feet of new space and renovate 10,000 gross square feet of existing space to connect ISC IV to the existing buildings of the Integrated Science Complex.