History major Jack Boyd '23 was approached by College of William and Mary Chancellor Professor of Biology and Director of the 1693 Scholars Program Dan Cristol in the spring of his freshman year with an opportunity to conduct oral histories in Williamsburg with Black elders and community members. The ultimate goal of this project was to see if community members would be interested in the construction of an African American Heritage Trail and to receive input about the erection of historical markers.
The suggestion came at the behest of Williamsburg City Councilmen Caleb Rogers, who previously recognized the City's interest in an African American Heritage Trail within the City Council's 2020 Goals, Initiatives, and Outcomes — a two-year plan that culminates in various goals for the city government. Rogers worked with Cristol and the Roy R. Charles Center to create a City Scholars Initiative which is a partnership between the City and the College to sponsor student research.
"The solution was right in front of us, you could say, by outsourcing this project to a William and Mary student who could work on it full time over the course of, in this case, a summer talk to descendant community members, learn about areas of the city worthy of recognition, and then actually put together the first draft of what a trail could look like," Rogers said.
With the help of the Lemon Project Gaither-Johnson Summer Research Grant, Boyd interviewed over 20 Williamsburg community members throughout the summer of 2021 about their personal experiences, as well as their knowledge of the broader history of the area. He began by sitting down with assistant professor of history and Robert Francis Engs Director of The Lemon Project Dr. Jody Allen to finalize a list of five to six community members with broader connections. He then presented an initial strategic plan for the Williamsburg African American Heritage Trail in September 2023.
"I'll admit, I was not expecting anything to come of this," Boyd said. "I just couldn't imagine that a 19 year old's little position paper meant anything, you know, to anyone. And so I just moved on. I never touched it again. And then, you know, six months later, I got a text from Caleb and it was like, 'Hey, you know, we submitted it for this grant.'"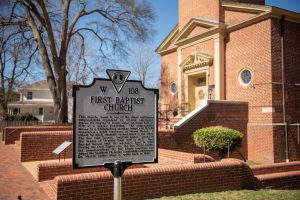 After the release of Boyd's initial report, Rogers worked with former Congresswoman Elaine Luria to include the heritage trail in a portion of the federal budget. In January 2023, Phase One of the project was approved by the federal government for $357,000 in federal funding. This money is allocated to build a trailhead, the first part of the trail and a public restroom between Lafayette Street and Virginia Avenue.
"I know the student, Jack Boyd, feels really good about it, having spent a whole summer working hard, like many researchers, but not knowing if his findings would make a difference or see the light of day," Cristol wrote in an email to The Flat Hat. "Now they are going to affect thousands, maybe eventually millions of visitor experiences. And lots of almost forgotten people and places will now be better known. That's a big deal for a student researcher."
In Boyd's initial report, he identified 25 Williamsburg sites within walking distance, including the First Baptist Church, MLK Jr. Memorial in the Triangle, the Bray School, College Landing on Jamestown Road and Braxton Court. He selected these sites based on specific criteria, including the site's proximity, relevance to one of four topics — commerce, education, faith and leisure — and significance in themes of oppression versus joy and endurance versus accomplishment.
"Through a series of conversations with community members, dutifully chronicled and presented here as attachments, I was introduced to a plethora of sites, stories, and persons," Boyd wrote in his report. "I should note, however, that in my position as a student researcher — rather than a stakeholder — my hope is not for this report to serve as a zenith, but rather as a foundational building block. This strategic plan is a touchpoint from whence the City Council, in tandem with the Black community and tourism leaders, can designate a trail that best serves all interested parties."
Associate professor of English & American studies Arthur Knight mentioned that oral histories contribute immensely to projects such as this and are capable of creating alternative research methods that are accessible to many people.
"It gets students to talk to people and encourages them to understand research as not only 'text' or 'material' or 'data' based," Knight wrote in an email to The Flat Hat. "Oral history is socio-cultural-historical research where the 'subject' (a word that often gets used in research, but not oral history!) profoundly shapes the research, not just the researcher. And oral history is an important way of enriching the historical record — of getting information and ideas about the past that are not available in print materials and conventional, official archives."
Knight is also the former director of the Williamsburg Documentary Project, which was founded through the College's American studies program. This project allows students to interact with the local community and get practical research experience. Knight discussed the importance of recording Williamsburg's post-colonial history.
"Williamsburg's African American community and citizens who have been major contributors to Williamsburg's history and fortunes have for far too long been excluded from how the town's history is portrayed and, especially, from the economic development of the town that begins with the founding of Colonial Williamsburg," Knight said. "Giving visitors a way to experience the fullness of African American contributions across Williamsburg's history will tell a more complete and just story of the town."
According to Boyd, the experience of working with community members has been rewarding and hearing detailed stories from interviewees has struck him the most. His most memorable story involves former City Councilman Bobby Braxton, who served one term on the City Council in 2006. Braxton Court is named after his family.
"He was also in these stories, and he's not particularly old," Boyd said. "What we know as Colonial Williamsburg, what we know as William and Mary and what we know as the City of Leesburg and how this all looks, this isn't something that's always been this way. It hasn't been this way for very long at all."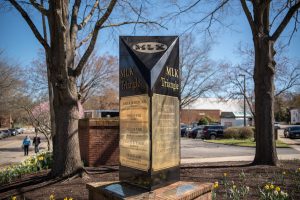 Boyd emphasized that though Colonial Williamsburg often feels like a theme park, it is vital for individuals to dig deeper into recent eras to capture a bigger picture of the area which includes often glossed-over narratives of African American experiences.
"I think it's important for kids or anyone who's visiting CW or campus to actually be able to walk around and not just see it as it is, but as it was," Boyd said. "Some of these stories are really positive and some of these stories are really negative. But that's, you know, the honest scenario."
Rogers discussed that one of the next steps for the heritage trail is to create an African American Heritage Trail Advisory Committee primarily made up of members of the descendant community in Williamsburg to engage residents and advise the City on how the trail should look. Outreach is still in progress to finalize members of the committee.
Two community input meetings are scheduled to take place. One occurred on Saturday, Mar. 4, and a virtual session is scheduled for 7:00p.m. on Tuesday, Mar. 7. An online form for suggestions is also available on the City website. The committee will alter Boyd's initial proposal based on community feedback and advisory meetings.