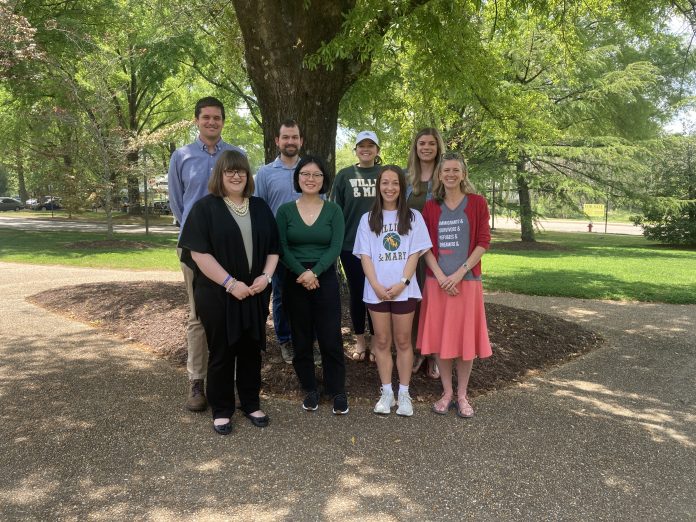 When Director Stacy Kern-Scheerer, a clinical associate professor of law at the College of William and Mary Law School and Williamsburg City Council member, founded the College's Law School Immigration Clinic in fall 2019, she was determined to make a direct impact in the local community. Since then, the clinic has filled a gap in legal representation, namely for noncitizens. In United States immigration courts, noncitizens do not have a right to a government-appointed attorney, leading many universities across the country to establish immigration law clinics to provide legal services to those seeking asylum, facing deportation or other matters. In the College's clinic, supervising attorneys help participating law students provide immigrants and refugees in Hampton Roads pro bono immigration services. 
Last month, the clinic won its first asylum case for a client from Afghanistan. 
Mr. R, whose identity remains anonymous for confidentiality, is one of thousands of individuals evacuated from Afghanistan after the Taliban took control of Kabul in August 2021. According to Immigration Clinic Postgraduate Fellow Nicole Medved, the clinic has taken on more than 50 Afghan refugee cases similar to Mr. R's story.
"We have so few resources for noncitizens in Williamsburg all the way down to Norfolk, especially a lack of pro bono legal representation," Kern-Scheerer said. "There is just not a lot of access to [it] in our area."
The clinic provides services on both affirmative and defensive asylum cases for individuals arriving in the United States and claiming asylum before the Department of Homeland Security or facing deportation before a Department of Justice Immigration Court. Additionally, the clinic assists individuals applying for citizenship and naturalization, and also aids noncitizens who are victims of crime, domestic violence and human trafficking.
"Our Afghan neighbors are in the affirmative asylum process," Kern-Scheerer said. "We help Afghan special immigrant visa pathways for those who assisted the [U.S.] military in Afghanistan."
Medved noted the diversity of the community in the Hampton Roads area.
"We have such a large and diverse community here that I think people don't always realize," Medved said. "Whether it's people who are resettled refugees from countries like the Democratic Republic of the Congo, Afghanistan, Venezuela, Ethiopia, Central America and certainly Mexico, there's a lot of different people here."
A local sponsorship circle contacted the clinic on Mr. R's behalf in spring 2022 seeking immigration representation.
"Most of our clients find us through domestic violence shelters, hospitals, social services or concerned community members," Kern-Scheerer said. "Also by word of mouth. People just find us."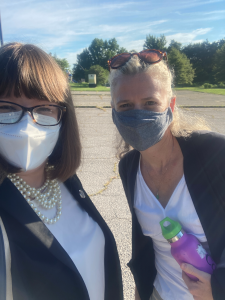 Kern-Scheerer and Medved are the Clinic's sole supervising attorneys, who select which cases the team takes on. They also advise participating students who receive academic and experiential learning credit by representing clients.
Valerie Stoneback J.D. '22 and Michael Arnone J.D. '22 prepared Mr. R's case, drafting his affidavit and researching country conditions to corroborate the written statement.
Stoneback helped prepare the affidavit with help from Kern-Scheerer by conducting two interviews with Mr. R, asking questions through an interpreter. Stoneback shared why they conduct these interviews.
"To get a sense of their story and what they were afraid of," Stoneback said. "If he or his family has experienced persecution, threats or a credible basis to experience that if he would go back. After these interviews, we got a better understanding of what happened in Afghanistan, why he came to America and is applying for asylum."
Stoneback noted the importance of representing the various eligibility requirements that Mr. R met for asylum in his statement.
"You're drafting it with their voice in mind and explaining their story," Stoneback said. "Then obviously you review it with the client. They read through it. It's their word."
To combat challenges that may arise in immigration cases, the clinic teaches and practices what Kern-Scheerer calls "trauma-informed advocacy." This training requires the team to gather the necessary facts and information needed for cases as both advocates and lawyers, while also being mindful of the history of trauma and violence experienced by many clients. 
"You have to have very difficult conversations and people have to talk about the worst things you could possibly imagine," Kern-Scheerer said. "Then I put that in the context of our legal system. There's not a lot of trauma-informed mechanisms built into [it]. We have to bridge that space as attorneys and representatives."
Most of Arnone's work on Mr. R's case focused on researching country conditions to corroborate the client's affidavit. This involved drawing from reputable sources, including news articles, academic papers and government documents. Both Medved and Arnone said that Taliban rule in Afghanistan made it harder to gather evidence such as certificates, photos, army uniforms or government identification to prove that refugees worked alongside U.S. forces. Threats made towards journalists and women being barred from working with international organizations in the country have made it more difficult to document up-to-date reports.
"People sometimes have to destroy the evidence or leave it in their home country," Medved said. "Even though the law says that you should be able to prove asylum by testimony alone, the reality is you need so much more."
Arnone spoke about specific struggles obtaining information in Mr. R's case.
"It was challenging because a lot of things that might be useful would be from the Afghan government that fell in 2021. Obviously that's not online because the Afghan government doesn't exist. Even if it was, not all of it would necessarily be in English," Arnone said.
Almost one year after beginning work with the clinic, Mr. R's asylum case was approved, allowing him to live in the United States and pursue his dreams of higher education. Stoneback and Arnone, who have both graduated from the Law School, reflected on their time at the clinic.
"I found the Immigration Clinic so rewarding and impactful for me personally because it was a chance to work with clients who would otherwise just fall through the cracks," Arnone said. "I felt like I was making a difference."
Stoneback echoed a similar sentiment.
"It was the best experience of law school for me," Stoneback said.
Mr. R. will be eligible for his green card in one year and his U.S. citizenship five years after that. 
"This job is hard," Medved said. "But we also get really big wins."
"To be able to grow the clinic and serve more students and community members is incredibly important to me," Kern-Scheerer said. "The experience that students are having here will have a ripple effect. There will be more people who do this work and are able to provide that representation that is so needed."
Update (4/13/23): Article was updated by Sarah Devendorf, the Standards and Practices Editor to provide captions and descriptions for the courtesy photos featured in the article.